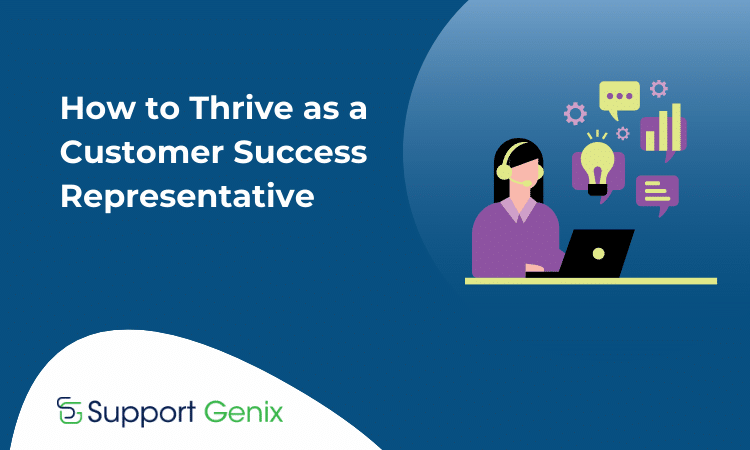 As a customer success representative, your job is to be the face and voice of your company. You're responsible for understanding and helping customers solve their problems. As a CSR, you must have a vast knowledge base on all the products and services offered by your company to handle customer inquiries effectively.
The role is incredibly important, as it can make or break the reputation of a business. To become an outstanding customer success representative, there are several key skills that need to be developed and honed. In this article, we will discuss how to excel in this role and thrive as a customer success representative.
How to Thrive As An Ideal Customer Success Representative
Customer Success Representatives play an important role in helping customers achieve the best results with their products and services. These steps can take to ensure they are successful in providing excellent customer service.
Understanding Customer Success Representatives
Establishing yourself as a Customer Success Representative requires more than just basic customer service skills. It requires the ability to understand the needs of their customers and effectively balance those needs with the company's requirements. In addition, they must remain professional and possess strong communication, negotiation, interpersonal, problem-solving, and decision-making skills in order to thrive in this role.
Additionally, Customer Success Representatives need to have an understanding of their company's values, goals, and processes for success. By possessing a combination of these necessary skills, they can serve as advantageous advocates for their company while contributing to their customer's overall satisfaction with the product or services they provide.

Cultivating a Customer-First Mindset
Customer Success Representatives assume the often daunting role of being the frontline champion for customer satisfaction. This can only be accomplished by cultivating a Customer-First mindset. They should listen intently to customers and fully understand their wants, needs, and expectations in order to provide timely solutions that satisfy customer requirements.
In addition, Customer Success Representatives must possess keen problem-solving skills in order to quickly identify customer problems and develop effective resolutions on their behalf. Finally, they must build strong relationships with customers in order to maximize customer success while increasing business opportunities. With the right Customer-First mindset, they can thrive in this key role and ensure that customer satisfaction is consistently achieved.
Establishing Positive Relationships with Customers
Customer Success Representatives are a crucial part of any business as they serve as the direct link to customers. An effective Representative should focus on building positive relationships with each customer they interact with. Engaging customers in a professional but warm manner builds trust and rapport, setting the foundation for successful collaboration.
Taking the time to understand their unique needs and preferences allows Customer Success Representatives to customize solutions that best meet those needs and achieve satisfactory overall outcomes. Doing so not only helps customers feel heard and valued, it enhances loyalty and boosts customer satisfaction ratings, resulting in gains for both parties.

Overcoming Challenges as a CSR
Being a Customer Success Representative can be both very rewarding and difficult at the same time. Customer relationships are often complex, and navigating through them takes a great deal of skill and understanding. To thrive in such an environment, it is essential to become an expert at customer service best practices and stay abreast of related industry trends.
Additionally, it's important to maintain the highest level of professional integrity when dealing with customer matters so as not to cause mistrust or further antagonism. By acquiring both technical knowledges as well as specialized customer service skills, Customer Success Representatives can overcome any challenge that comes their way.
Other Important Skills for a CSR
Customer Success Representatives play a vital role in ensuring customer satisfaction and loyalty. Therefore, strong communication and problem-solving skills are essential for success in this position. In addition, understanding and empathy go hand-in-hand to build trust and rapport with customers, which will help them handle their inquiries more effectively.
Along with these abilities, Customer Success Representatives should have the proficiency to navigate multiple computer applications at once, a knack for understanding customer needs quickly, and a positive attitude while dealing with difficult situations.
Aspiring Customer Success Representatives must also be high-energy self-starters who stay organized with sound time management skills and work diligently towards building long-term customer relationships. This combination of traits will enable them to thrive as ideal Representatives in any organization.
Support Genix
WordPress Support Ticket Plugin
Take Your Customer Support to The Next Level and Boost Customer Satisfaction Rates
Frequently Asked Questions
What traits should I strive for as a customer success representative?
As a successful customer representative, it is important to develop a customer mindset, adapt, collaborate with other teams and be able to identify potential problems.
What do I need to know in order to provide solutions that meet customers' needs?
You should take the time to understand your current customer needs and expectations as well as any changes that may occur in the future. It's also important to familiarize yourself with your company's products or services to ensure you can provide the right solution.
What strategies should I use when working collaboratively with other teams?
Establishing clear communication channels between different departments is essential when it comes to collaboration. It helps ensure that tasks are completed efficiently and that all stakeholders are updated on progress.
Conclusion
Being a Customer Success Representative is an extremely rewarding experience. With the right strategies and approaches, they are able to readily develop relationships with customers and establish long-term success with them.
Utilizing strategic problem-solving, effective communication tools, robust data analysis, and personalized customer service, Customer Success Representatives build trust and loyalty, which can provide many benefits to the business. Overall, they are integral to overall success as they are vital in managing long-lasting relationships with customers.