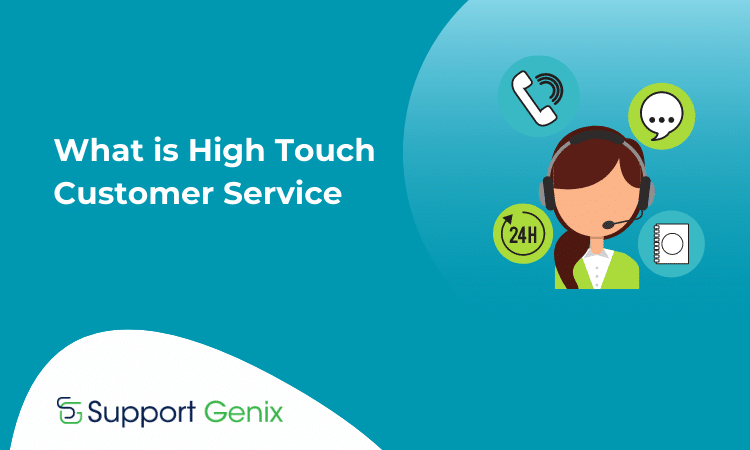 What is High Touch Customer Service? It is an individualized level of customer service that emphasizes personal relationships and achieving a personalized customer experience. High touch customer service is a concept that refers to the provision of personalized service to customers, which goes the extra mile in terms of meeting the individual needs of each customer. It involves positioning a company as understanding and knowing its customers' needs and ensuring those needs are fulfilled.
This can range from proactive outreach to tailor services or discounts for customers to addressing customer emails with a personalized approach all the way down to ensure every customer call is answered by a real person rather than an automated system. High-touch customer service is instrumental in building better customer relationships, creating loyalty, and enhancing the overall customer experience.
Benefits of High Touch Customer Service
High touch customer service brings numerous benefits to businesses. It provides customers with a personal experience and contributes to enhanced loyalty and greater customer satisfaction, leading to increased profits. In addition, research shows that customers are more willing to share their opinions and feedback when they feel that their relationship with the company is one of familiarity and trust.
By providing high touch customer service, businesses have an opportunity to build relationships with their clientele and take steps to improve their services based on customers' direct feedback. This process creates a positive chain reaction where customers receive personalized service while also enabling companies to gain valuable insight into the behaviors of their target market.
In conclusion, high touch customer service shows itself as a clear winner for companies who wish to foster strong connections with their customers.

Why Investing in High Touch Customer Service Is Worthwhile
Investing in high touch customer service is not only important to create a positive experience, but also a great way to benefit both the company and the customers. Focusing on providing personalized attention to customers helps build stronger relationships with them and leads to greater customer retention. Customers with access to quality customer services usually stay longer with the company, increasing financial returns for the business.
In addition, investing in high touch customer service can help increase brand awareness and improve the company's overall reputation. It also allows companies to stand out from their competitors by showing their commitment to excellent customer service.
Furthermore, By utilizing customer service plugins, companies can provide better facilitate the customer experience and increase customer satisfaction, and create a customer experience that leaves a lasting impression.
The happy customers are more likely to recommend a company resulting in increased revenue due to additional sales. For these reasons, investing in high touch customer service is an invaluable strategy that can greatly benefit any business venture.
How to Implement High Touch Customer Service
Implementing high touch customer service should be a top priority for any business.
First, have your customer service team develop a deep understanding of your product and fully engage with customers as soon as possible.
Then make sure to regularly check in with customers and listen to feedback or suggestions.
Additionally, make sure you respond quickly in a timely manner and remain empathetic while helping customers solve their problems.
Finally, remember to consistently evaluate how satisfied the customer is with the interaction and adjust procedures accordingly.
High touch customer service can lead to greater loyalty which will help grow your business's reputation long-term.
Support Genix
WordPress Support Ticket Plugin
Take Your Customer Support to The Next Level and Boost Customer Satisfaction Rates
Strategies for Maximizing the Impact of High Touch Customer Service
High touch customer service has become a leading indicator of success for many businesses. Incorporating strategic approaches to maximize the impact of this service can make all the difference when it is providing an outstanding customer experience.
To ensure that high touch customer service is noticed, it's important to create a clear structure and approach for your team to follow. Providing tailored touchpoints based on customer needs and preferences is also beneficial, as this will generate a deeper connection with customers.
Additionally, deploying technology such as AI and automation can help streamline processes while still allowing customers to feel heard and appreciated. When used correctly, maximizing the impact of high touch customer service will lead to improved customer retention, satisfaction, and loyalty.
Conclusion
High touch customer service has become the gold standard in the world of customer support. This approach puts customers first, giving them an individualized experience that delights and helps to build lasting relationships. Companies that use this method often find that customers are more loyal and return for repeat business.
All in all, investing in high touch customer service is a great choice for businesses looking to foster strong customer relationships, gain greater loyalty from customers, and lean on a team of trained experts who can provide personalized care with every interaction.