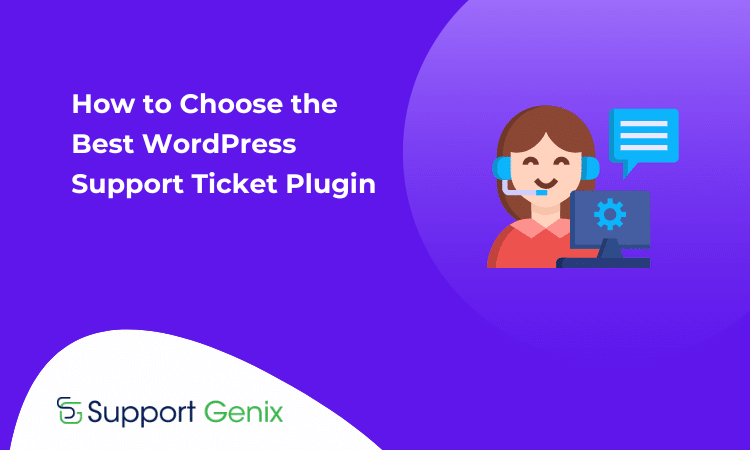 Are you looking for a WordPress support ticket plugin for your business? There are many factors to consider when choosing a plugin, including cost, features, and ease of use. In this blog post, we'll give you an overview of the most popular WordPress support ticket plugins and how to choose the best WordPress support ticket plugin for your needs.
Factors to Consider When Choosing a Plugin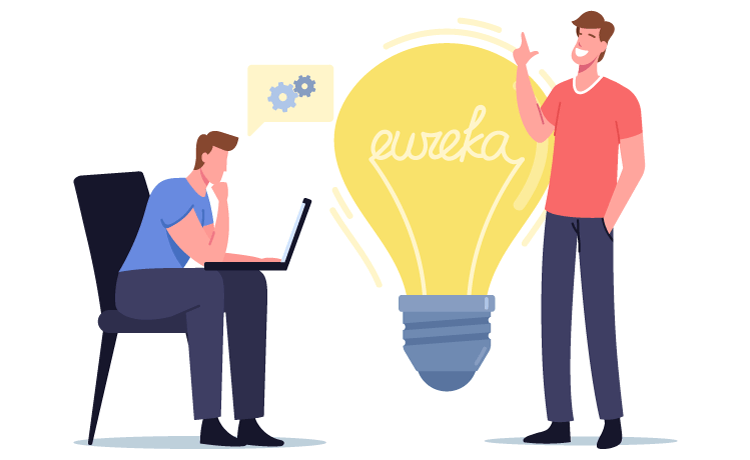 Features
When it comes to how to choose the best WordPress support ticket plugin for your business, it's important to take into consideration the features it offers. The goal is to find a plugin with the capabilities you need, whether customizable ticket forms, automatic ticket assignments, or canned responses. These key elements can make your day-to-day operations run smoother, ultimately leading to a more efficient and productive workplace.
As a professional, you want to make the smartest decisions for your business and ensure that you're utilizing resources tailored to your needs. Keep this in mind when deciding how to choose the best WordPress support ticket plugin.
User Experience
When searching for the perfect WordPress helpdesk ticket plugin, it's important to consider your and your customer's user experience. After all, the purpose of any plugin is to make things easier, not more complicated. A good Support ticket plugin should be intuitive and user-friendly without requiring hours of training or support.
In particular, you'll want to pay close attention to how easy it is to create and manage tickets, as well as how simple it is for customers to submit and track their support requests. By considering these factors carefully, you can choose the right plugin for your business and ensure that you offer the best possible customer experience.
Integration
As a professional, ensuring that your website is integrated well with your other tools and systems, including your CRM, eCommerce platform, and other WordPress plugins, is critical. The support ticket plugin you select must work seamlessly with your existing infrastructure to avoid causing disruptions in other areas of your website. Therefore, it is crucial to take the time to research, read reviews and make an informed decision when selecting a plugin for your website.
Support and updates 
One of the top considerations should be the level of support and updates offered by the plugin. You want to make sure that the plugin is regularly maintained and updated to ensure it stays compatible with any new WordPress versions or security updates. Ultimately, carefully evaluating your plugin options will help you make the best decision for your website and business needs.
Pricing
When it comes to choosing a plugin, pricing is one of the key factors to consider. After all, you want to make sure that the plugin you choose provides good value for the money you spend.
That being said, simply focusing on the price tag alone isn't enough. You also need to pay attention to the plugin's features and how they align with your business needs. To ensure that you make an informed decision, it's important to weigh the cost of the plugin against the benefits it provides.
Reviews
One prominent factor you don't want to overlook is user reviews and ratings. These can give you a good sense of the plugin's performance, reliability, and user-friendliness. By taking just a few minutes to read through reviews, you can save yourself a lot of time and hassle in the long run. Plus, you can feel more confident that the plugin you choose will meet your needs and deliver the results you're looking for.

Comparison of the Most Popular Plugins
Support Genix
If you run a business online or provide support for a digital product, you know that customer service is key. That's why Support Genix comes in. This WordPress Support ticket plugin streamlines the process of providing support to your customers. It lets you add an easy-to-use ticketing system to your website so users can easily create tickets.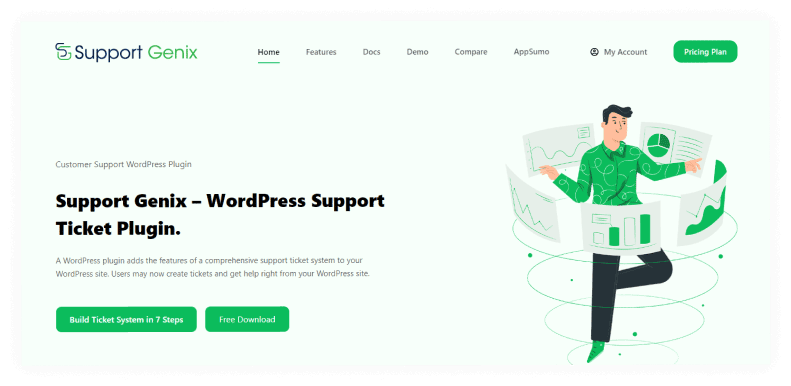 Plus, Support Genix helps you manage incoming requests and respond quickly and efficiently. Instead of spending valuable time navigating through complicated support processes, this innovative platform streamlines the entire process for you. It automatically connects you with the right team member and provides all of the information needed to resolve any issues your customers may have.
But that's not all. Support Genix support WordPress plugin also includes a knowledge base that offers self-service options for common problems. By simplifying the support process, you'll have more time to focus on providing excellent service and ensuring your customers' satisfaction.
Key Features
Unlimited Tickets
Unlimited Agents
Unlimited Customers
Tickets on Behalf of Users
Easy Email Handling
Elite Licenser Integration
Webhook
Pricing– Support Genix offers cost-effective and simple services for small and medium enterprises.
Yearly plan-
Personal for $29 (1 website)
Developer for $59 (5 websites)
Agency for $89 (100 websites)
Lifetime Plan-
Personal for $59 (1 website)
Developer for $99 (5 websites)
Agency for $149 (100 websites)
WP Support Ticket
If you're looking for a customer support system for your website, WP Support Ticket is one of the popular plugins you need. With this handy plugin, your customers can generate support tickets whenever they need help. You can easily see these tickets, post reply messages, and help your customers resolve issues.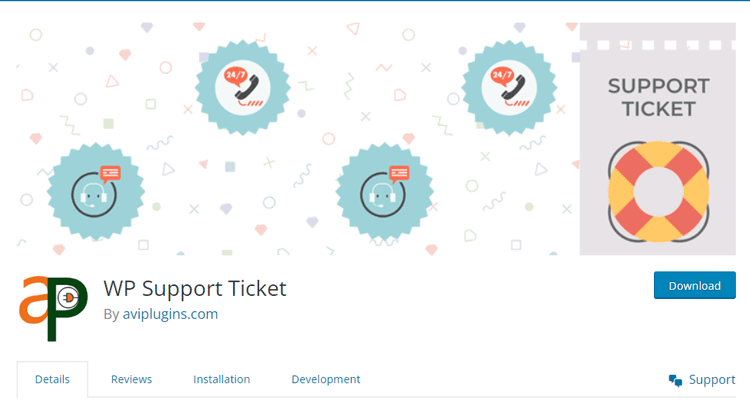 And, to make sure that your customers stay updated on the progress of their tickets, they'll receive email notifications whenever you post a reply message. With WP Support Ticket, you can easily streamline your customer support process and provide your customers with the help they need.
Admin support is fast and efficient, with the ability to answer tickets directly from the admin panel with this WooCommerce support ticket plugin. Additionally, files can be attached to messages for added convenience. The supported file types include JPG, JPEG, PNG, GIF, DOC, DOCX, PDF, and Zip.
Key Features
Registered Users can create support tickets.
Customers can search for tickets from the tickets list.
Admin can reply to support tickets from the admin panel.
Awesome Support
With Awesome Support, businesses of all sizes have access to a powerful and easy-to-use support platform that can compete with top SAAS solutions. This support WordPress plugin offers a range of useful features, including ticket management, chat functionality, and customer feedback tools. Unlike competing platforms, Awesome Support WordPress provides superior customization options, allowing businesses to tailor the platform specifically to their needs.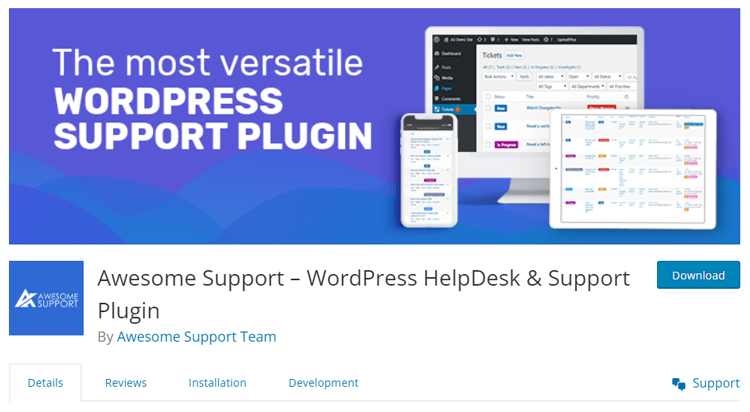 Plus, with its sleek and intuitive interface, it's never been easier to keep track of customer inquiries and deliver top-notch support. With the ability to seamlessly submit tickets from the front end or access your account from within WordPress itself, managing customer inquiries has never been easier. In addition, the email notifications for relevant parties ensure you never miss a beat, keeping you up-to-date on everything happening in your company's ticketing system.
Key Features
Unlimited Tickets
Unlimited Agents
Unlimited Custom Fields
Private Tickets
Agents can create tickets on behalf of users
Agents can view only their tickets or all tickets
Agents can receive email notifications by email for ticket events such as a new ticket, reply to the ticket, etc
Pricing
Standard for $149/year
Pro for $229/year
Enterprise for $289/year
Agency for $409/year
Tips for Choosing the Best Plugin for Your Business Needs
As a business owner, it's important to understand the value that WordPress helpdesk ticket plugins can bring to your website. They can optimize your site's functionality, security, and overall user experience. However, with so many available options in the market, it can be overwhelming to answer how to choose the best WordPress support ticket plugin for your business needs.
Here are some tips for choosing the best plugin for your business needs:
Define your requirements and budget. Determine exactly what features you need and how much you are willing to spend on them.
Do your research. Look into available plugins and read user reviews to get a better understanding of their capabilities and limitations.
Consider scalability. When looking for a plugin, make sure it can grow with your business as it expands.
Look for reliability. Be sure to look for reputable vendors that offer reliable plugins with regular updates and maintenance.
Test before purchase. If possible, test out the plugin prior to purchase in order to ensure that it meets all of your needs and expectations.
Support Genix
WordPress Support Ticket Plugin
Take Your Customer Support to The Next Level and Boost Customer Satisfaction Rates
Frequently Asked Questions
What are the main features to look for in a support ticket plugin?
Look for a plugin that offers features such as an intuitive user interface, efficient ticket management, quality customer service, and reporting capabilities.
What types of payment options do support ticket plugins offer?
Most plugins will offer various payment options such as one-time fees, monthly subscriptions, and discounts for multi-year packages.
How can I ensure that my chosen plugin is secure?
Choose a reputable vendor with good reviews, and make sure to read their terms of service carefully. Additionally, be sure to keep your plugins up to date with the latest patches and security updates.
Final Thoughts on Choosing the Best WordPress Support Ticket Plugin for Your Business
Choosing the best WordPress support ticket plugin for your business can be a daunting task. With so many options to choose from, how to choose the best WordPress support ticket plugin can also be a difficult question to answer.
However, making the right choice in choosing a plugin can save you time and money, and more importantly, enhance your customer experience.
It is important to consider the features, pricing, and compatibility of the plugin with your WordPress site. Additionally, it is crucial to evaluate the level of customer support provided by the plugin's development team. Remember, choosing the best WordPress support ticket plugin is ideal for managing your customer queries and building brand loyalty.