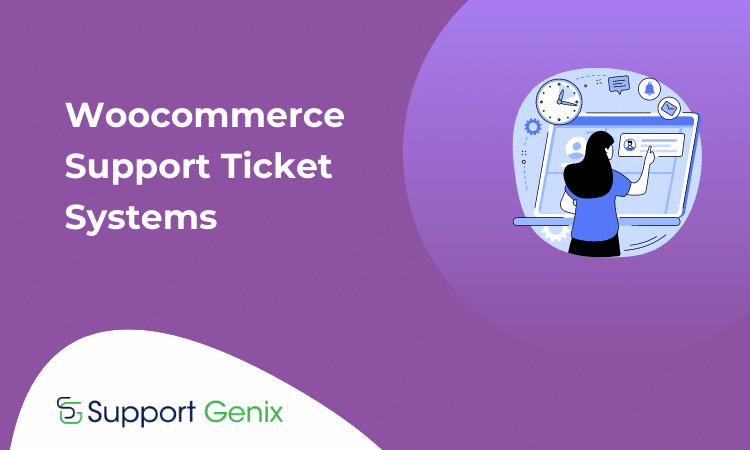 If you are running a WooCommerce store, then you need to be using a support ticket system. A support ticket system allows your customers to easily submit tickets with their questions or problems and allows you to easily manage and track these tickets. In this blog post, we will discuss the top 5 WooCommerce support ticket systems. These systems are all great options for managing support tickets in your WooCommerce store.
What is a support ticket system
A support ticket system is a tool that businesses use to provide timely and effective customer support. This type of system allows customers to submit tickets through a web-based interface or by sending an email and gives representatives the ability to view, sort, and respond to each individual ticket as needed.
By using a support ticket system, businesses are able to address customer concerns in real-time, streamlining the process of resolving issues and leaving customers feeling satisfied and supported.
Whether you're a small business owner dealing with occasional glitches or a major corporation handling hundreds of thousands of requests per day, having a robust support ticket system in place can help you provide the level of service your customers deserve.

The top 5 WooCommerce support ticket systems
Support Genix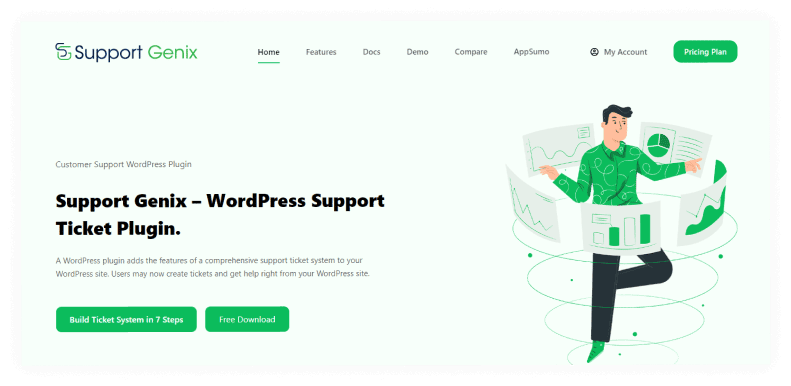 If you're looking for a user-friendly Woocommerce Support Ticket Systems that makes offering customer support a breeze, then Support Genix is the one of the best plugin for you. This powerful tool seamlessly integrates with any WooCommerce site, giving you instant access to a comprehensive ticket system that makes managing customer queries simple and straightforward.
With its intuitive interface and unmatched functionality, this plugin can help you provide better service to your customers and build lasting relationships with them. This powerful software application streamlines the entire process of creating and managing ticket requests, allowing you to get the help you need quickly and efficiently.
After a customer submits a ticket request, Support Genix automatically notifies the appropriate staff member and provides them with all of the information that they need to address the problem. What's more, it also includes a built-in knowledge base feature that allows customers to find self-service solutions for common issues.
Not only does this system make it easier for agents to respond to customer inquiries, but it also enables them to generate tickets on users' behalf, thereby letting them focus on the tasks that really matter. Additionally, the system offers many additional capabilities that can help companies greatly enhance their customer service operations.
Whether you're looking for tools that allow you to track agent performance or receive notifications when a ticket has been resolved, this support ticketing system truly has something for everyone.
Key Features
Unlimited Tickets
Unlimited Agents
Unlimited Customers
Tickets on Behalf of Users
Easy Email Handling
Elite Licenser Integration
Webhook
Pricing- Support Genix offers cost-effective and simple services for small and medium enterprises.
Yearly plan–
Personal for $59 (1 website)
Developer for $99 (5 websites)
Agency for $149 (100 websites)
Lifetime Plan-
Personal for $99 (1 website)
Developer for $199 (5 websites)
Agency for $239 (100 websites)
WooCommerce Support Ticket System

If you run an online store with WooCommerce and find that managing customer support tickets is becoming a major challenge, then look no further than WooCommerce Support Ticket System. This powerful tool integrates seamlessly into your WooCommerce installation, allowing you to quickly and efficiently manage your customer and order support tickets.
Whether you need to provide support for existing customers or track the ticket history of new orders, WCSTS makes it simple. With this support ticketing system, you can easily and quickly resolve any issues that your customers may have, improving customer satisfaction and boosting customer loyalty.
Not only does WCSTS help you to address customers' concerns in a timely fashion, but it also provides valuable insights into customer behavior, allowing you to identify potential problems early on and track and resolve issues quickly and efficiently.
Furthermore, the plugin allows customers to submit tickets directly via frontend pages, making it even simpler for both admins and customers to navigate the system. If you require even more customization, the Woocommerce Support Ticket Systems includes email notifications as well as customizable text messages, giving you complete control over how your support process operates.
Key Features
Email Notification
Message thread
Ticket Management and Collaboration
Large File Support
WPML
Pricing: WooCommerce Support Ticket Systems offers two licenses for users.
Regular License: $19
Extended License: $155
Zendesk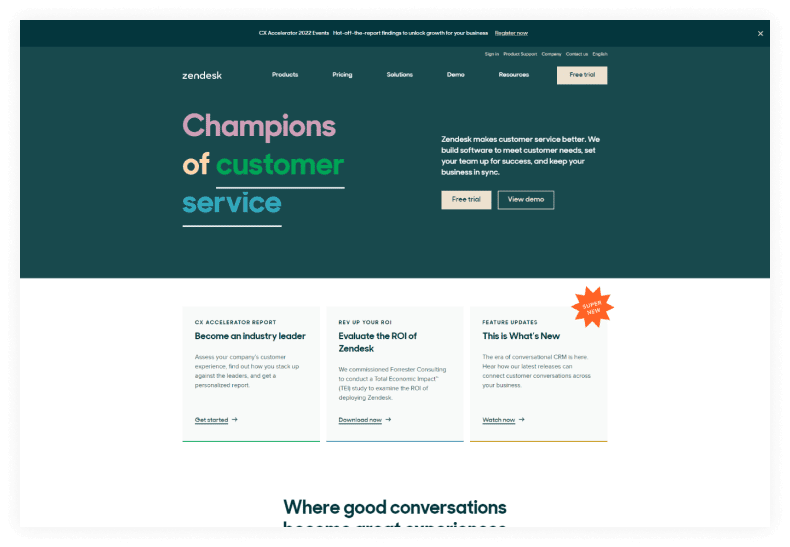 One of the most popular help desk software programs on the market today, ZenDesk is known for its flexibility and ease of use. Zendesk offers both basic and suite plan options to suit any need. The basic plans are less expensive than the suite plans but offer email support only.
In addition, they include a shared inbox, a live chat tool, a knowledge base builder, reporting features, productivity tools like automation and integrations, and even AI-powered automated responses. However, if you need more advanced features like omnichannel assistance, you'll need to opt for one of the suite plans.
With these plans, you get everything available in the basic and fundamental packages plus access to additional tools like interactive widgets that make customer service easier than ever before.
With its robust set of features and functionalities, this Woocommerce Support Ticket Systems platform makes it simple for businesses to stay on top of all the important details needed to keep customers satisfied. If you ever need to alter your Zendesk experience to fit your specific needs, the flexible pricing options, the wealth of integrated apps, and integrations give you all the flexibility you could possibly want.
Whether you're a small startup just getting off the ground or a large, established business requiring greater scalability, Zendesk has you covered.
Key Features
Zendesk Support
Zendesk Support Suite
Zendesk Chat
Zendesk Explore
Zendesk Guide
Zendesk Sell
Zendesk Gather
Zendesk Sales Suite
Pricing:
Suite Team: $49 per agent/month billed annually
Suite Growth: $79 per agent/month billed annually
Suite Professional: $99 per agent/month billed annually
Richpanel

For merchants looking to manage customer interactions more efficiently, Richpanel is another solution. This powerful WooCommerce CRM and ticketing system combines all of the tools you need to provide fast and effective customer support, all from one intuitive dashboard.
Plus, this powerful plugin integrates seamlessly with Woocommerce Support Ticket Systems, allowing you to display vital order info right alongside each ticket. And with features like automated tagging and custom statuses, managing your customer interactions has never been easier.
With live chat capabilities, you can easily interact with your customers and provide the personal attention they need to make informed buying decisions. And by managing all customer messages from one central location, you can keep track of each interaction and quickly resolve any issues that arise.
Whether you're looking to increase sales or simply improve
communication with customers, the Richpanel helpdesk has everything you need to succeed.
Key Features
More sales with live chat
Measure the ROI of customer service
Multichannel support
Support performance
Routing and automation
Pricing
Yearly plan–
Starter for $150/month
Regular for $400/month
Pro for $600/month
Enterprise for custom
Monthly Plan-
Starter for $250/month
Regular for $500/month
Pro for $800/month
Enterprise for custom
TotalDesk

If you're looking for the ultimate help desk solution for your WordPress website, look no further than TotalDesk. This complete and powerful Woocommerce Support Ticket Systems tool combines all of the essential features you need to provide world-class support to your customers. Plus, it's integrated with popular WordPress plugins like Gravity Forms and WooCommerce, so connecting it to your existing website is a breeze.
Overall, TotalDesk is known for its unparalleled customer service and cutting-edge features that help businesses take care of their customers. The My Tickets page, for instance, allows businesses to set default values for new tickets so they can easily create new tickets without having to enter the same information over and over again.
Additionally, the Inbox Fetching feature enables businesses to keep track of all their conversations with customers in one convenient location, making it easy to manage their interactions.
Finally, TotalDesk's live chat feature offers businesses an incredibly efficient way to provide excellent customer service by allowing them to connect with customers in real-time. With these amazing features and more, it's no wonder that TotalDesk continues to be a leading choice for businesses around the world.
Key Features
3 Differnt New Tickt Forms
Inbox Fetching
2 Roles: Agent & Reporter
My Tickets Page
Email Notifications
Desktop Notifications
Pricing: TotalDesk offers two licenses for users.
Regular License: $39
Extended License: $199
How to choose the right support ticket system for your store
When it comes to online stores, a Woocommerce Support Ticket Systems is an essential tool for delivering fast, effective customer service. But with so many different options to choose from, how can you be sure that you're picking the right ticket system for your business? Here are a few tips to help guide your decision-making process:
First, think about your budget. Many systems offer different pricing tiers depending on the features you need and the size of your business. Keep in mind that features like automated ticket routing and advanced reporting can be extremely valuable tools when handling large volumes of customer support requests, but they may not always come cheap.
Second, consider the options for customizations and integrations. If you intend to incorporate your support tickets into an existing CRM or helpdesk platform, look for a ticket system that offers seamless integration with other existing software.
And if there are particular features that would be especially useful for your business (such as dynamic knowledge bases or chatbots), be sure to find a ticket solution that allows for customizations and add-ons.
Ultimately, choosing the right support ticket system is about finding a solution that meets both your current needs and your long-term goals. By keeping these considerations in mind, you're sure to find a tool that can help make providing top-notch customer service a breeze!
Support Genix
WordPress Support Ticket Plugin
Take Your Customer Support to The Next Level and Boost Customer Satisfaction Rates
Benefits of using a support ticket system for your WooCommerce store
There are many benefits to using a support ticket system for your WooCommerce store.
For one thing, using such a Woocommerce Support Ticket Systems can help you to stay organized and on top of all of your orders and customer inquiries.
With a ticketing system, you can assign each request a unique ticket number so that you can track its progress over time as well as access previous conversations if necessary.
Additionally, a support ticket system enables you to provide customers with prompt and efficient service, which is crucial in the world of e-commerce.
Finally, having a dedicated support platform means that you can more easily prioritize tasks since customers know exactly where to go for assistance rather than contacting you directly via email or phone.
Ultimately, there are many great reasons to consider using a support ticket system for your WooCommerce store – so why not give it a try today?

Final Thoughts
As most online businesses know, a support ticket system is essential for providing excellent customer service. A good Woocommerce Support Ticket Systems make it easy for customers to get in touch with your team, while also making it easy for your team to manage and resolve these tickets quickly. At the same time, a support ticket system is also a great tool for collecting user data and improving your overall workflow. With this in mind, I believe that every WooCommerce store should have a robust and effective ticket system in place. Such a system may not only help you provide better customer service to your users, but it can make your work easier and more streamlined.