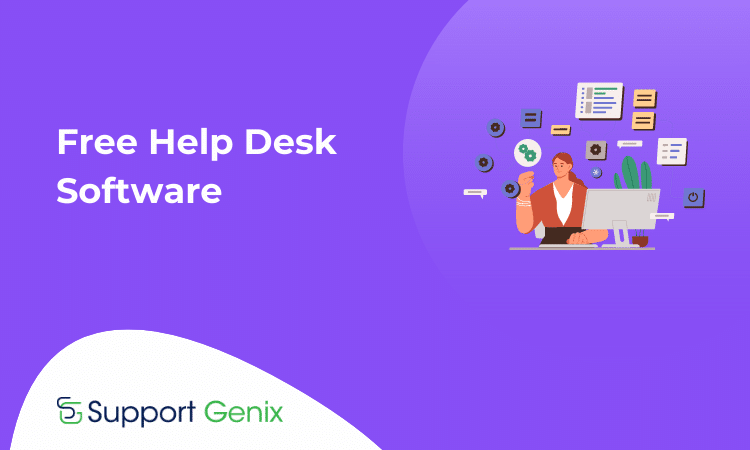 For any small business, no matter the size or industry, having free help desk software can be integral in providing exceptional customer service. With today's modern technology, companies are able to outfit their clients with access to dynamic and effective help desk software at virtually no cost.
This type of software is affordable for all budgets, requires minimal setup and training time, and helps businesses streamline communication between customers, employees, and management. So get ready to dive into the world of free help desk software – it might just provide the perfect solution you've been looking for!
What is help desk software?
Help desk support software is an automated customer service program designed to help businesses provide fast, efficient support to customers. Free help desk software offers companies the opportunity to save time and money as well as maintain a high degree of customer satisfaction. It does this by automating processes such as ticket management and issue tracking, making it easier for customers to submit their issues and receive responses more quickly.
The technology also provides businesses with valuable insights, such as user behavior analytics, often enabling them to identify potential problems even before their customers do. Free help desk software is a great resource for any business looking to improve its customer service capabilities.
Why should small businesses use help desk software?
For small businesses with minimal IT infrastructure, help desk software can prove invaluable. Free help desk software can provide a more efficient workflow management system, as well as providing improved customer support through ticketing systems and better communication tools. In addition, the Help desk software helps foster positive customer relations by tracking all customer inquiries quickly and securely.
This leads to an improved reputation for a company and better customer retention rates. Free help desk software also allows for streamlining IT resources such as document storage, search and recovery, problem-solving tools, and more. With better organization in all departments, small businesses are able to focus on growth and expansion by cutting costs instead of relying on extra human capital.
Benefits of using free help desk software for small businesses
Small businesses face immense pressure when trying to grow their customer base and build a strong reputation within their industry. Free help desk software can be a very effective tool to protect such investments. Benefits of using free help desk software-
Cost efficiency: Free help desk software for small businesses provide basic features for handling customer service inquiries without requiring additional costs and fees associated with paid solutions.
Easy implementation: The free help desk software comes with a simple setup process, allowing you to quickly get started providing better customer service without requiring additional training or technical expertise.
Scalability: Free help desk software is usually designed to handle increasing levels of customer service requests as your business grows, making it easy to scale up operations when necessary.
Open source integrations: Many free help desk software offer open source integrations that allow you to connect with other tools, apps, and services to extend your solution's functionality and improve efficiency.
Popular Free Help Desk Software for Small Businesses
Support Genix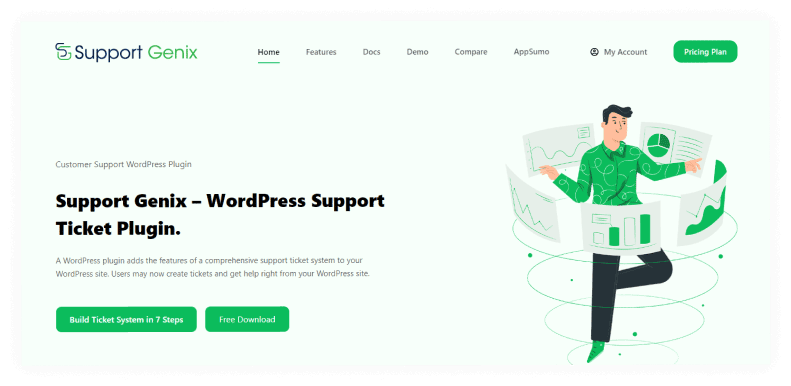 Support Genix is an invaluable asset for any business with a WordPress site. This free help desk software allows users to quickly and easily create support tickets from the comfort of the WordPress platform, providing the convenience that any time-conscious customer would love. With valuable features like customer support ticketing and ticket management, Support Genix helps streamline the communication process between businesses and their customers, allowing them to respond to queries faster than ever before.
This powerful plugin allows users to create tickets and get reliable help right from their WordPress site. Installing Support Genix is a breeze, and both free and premium versions of the plugin are available, ensuring that everyone can avail of this service regardless of their budget. In addition, support Genix is an ideal tool for efficiently handling customer inquiries, allowing users to benefit from a comprehensive support ticket system on their WordPress sites.
Key Features
Unlimited Tickets
Unlimited Agents
Unlimited Customers
Tickets on Behalf of Users
Easy Email Handling
Elite Licenser Integration
Webhook
Pricing–
Yearly plan-
Personal for $29 (1 website)
Developer for $59 (5 websites)
Agency for $89 (100 websites)
Lifetime Plan-
Personal for $59 (1 website)
Developer for $99 (5 websites)
Agency for $149 (100 websites)
HubSpot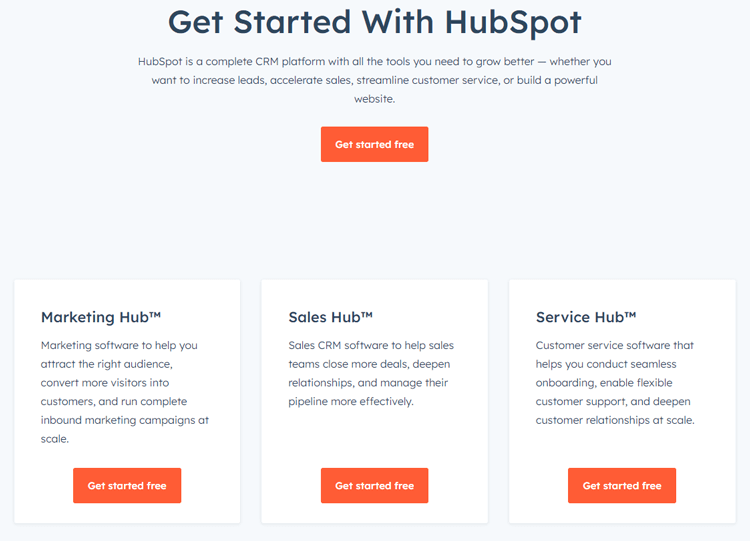 Building a relationship with your audience is essential for growing your business, and HubSpot makes it easier than ever with its all-in-one WordPress plugin. This plugin provides access to many helpful features such as an integrated CRM system that allows you to store and manage contacts, live chat and chatbots to engage visitors in real-time.
Additional features are advanced forms to enhance website pages, email marketing campaigns that make a lasting impression, and free help desk software so you can assist customers quickly and efficiently.
With HubSpot's Free Help Desk Software, you no longer have to switch from tool to tool to find what you're looking for. Instead, all your customer interactions and data can be stored in the same place, so all teams within your organization are up-to-date with the latest information. This tool eliminates confusion and productivity bottlenecks and allows everyone to go the extra mile for customers with ease!
Key Features
CMS Developer Sandbox
Multi-language
Content Staging
HubSpot APIs
Serverless Functions
Pricing
Free Tools: $0
Starter: $45/month
Professional: $800/month
Freshdesk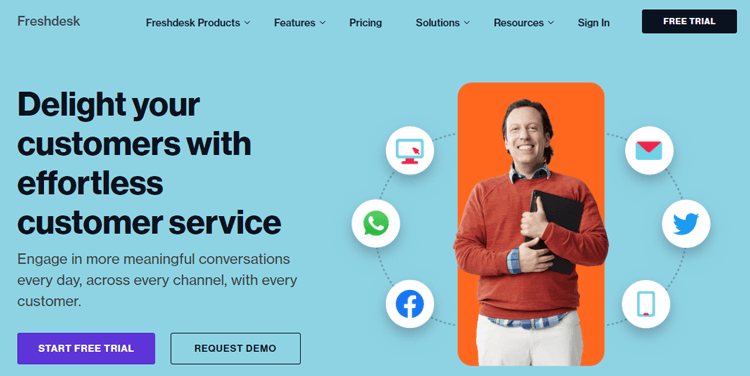 When it comes to free help desk software, FreshDesk stands out from the crowd. It boasts a shared inbox, live chat software, and a knowledge base builder – all of which come in one convenient suite. Moreover, businesses can look forward to automated AI-powered responses (only available on the highest-cost plan) that can help streamline customer support operations.
And when you need additional assistance, the FreshDesk team is available to provide another layer of support for both customers and developers alike – making sure to keep your product up-to-date and efficient.

Freshdesk's free version, known as Sprout, is perfect for small businesses in need of an efficient and easy-to-use help desk software solution. It allows you to add unlimited support agents and provides real-time ticket tracking so that your staff can accurately monitor which tickets are already closed and which ones still remain open.
Furthermore, it is cost-friendly since there is no monthly fee for the free version of Freshdesk. At the same time, you can access all its features, such as ticket automation and product tours, with no limitations on the number or type of users or inquiries.
Key Features
Agent Collision Detection
SLA Management
Custom Ticket Status
Scheduling Dashboard
Intelligent ticket assignment
Time-triggered automation
Link forum topic to ticket
Pricing- Free plan available. Paid plans begin at $15 per agent per month.
Zoho Desk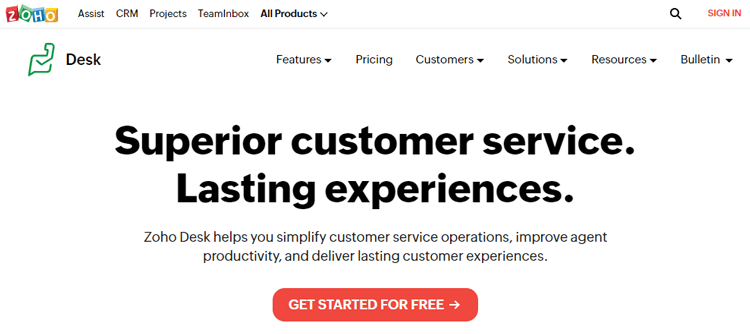 Zoho Desk is an essential part of any comprehensive software list. With Zoho's hands-on Indian development team, you can be sure that their products run efficiently and offer reliable automation solutions. Free Help Desk Software from Zoho goes above and beyond traditional solutions by providing customers with a self-service system that rival's even PayPal's community board.
Not only does this streamline the customer support process, but it also provides much-needed relief for any department experiencing an influx of tickets. As a free service desk software, using Zoho Desk allows you to create a knowledge base for customers that is intuitive and comprehensive. With the wide range of integrations available as a Zoho product, you can also set up an informative customer support community forum that encourages dialogue with customers, helping them get answers even faster. In addition, Zoho Desk offers real-time monitoring for agents so issues can be dealt with efficiently, ensuring a pleasant customer experience.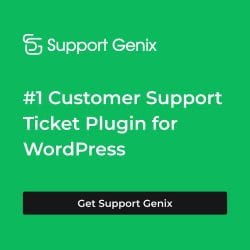 Key Features
Ticket Management
Agent Productivity
Automation
Extensibility
Security
Auto Tag Tickets
Pricing
Yearly-
Standard: $14
Professional: $23
Enterprise: $40
Monthly-
Standard: $20
Professional: $35
Enterprise: $50
Deskero

Deskero offers a powerful, reliable, and Free Help Desk Software solution that everyone can use. It is cloud-based, which means users will not have to input and store data manually into a database – they can access it from anywhere. The Free Plan is limited to one agent, but, unlike some other options, you don't have to pay extra to access the customizable branding features.
While it may not be completely free, its upgrade pricing is relatively inexpensive, particularly if you have more than one agent on your customer support team. Compared to other paid help desk programs of similar capability, Deskero comes out as the more cost-effective choice. With comprehensive features and effective support services at a great price, using Deskero to manage your customer service needs can offer a great return on investment.
Key Features
Multi-Channel support
Advance Ticketing
Public Portal
Email Import
Custom Style
Pricing
Annually
Grow: $9/per agent/month
Business: $25/per agent/ month
Premium: $90/per agent/ month
Monthly
Grow: $12/per agent/month
Business: $30/per agent/ month
Premium: $120/per agent/ month
Features to Look For in Free Help Desk Software for Small Businesses
Free Help Desk Software is an invaluable IT asset for any small business, offering effective support for customers and team members to address their IT issues easily.
When shopping for customer service software, it's crucial to ensure that it provides the features necessary to address your customer's technical needs and help your teams' IT inquiries quickly and efficiently.
Ease of use and setup
Free help desk software should be straightforward enough that the user can quickly understand the platform without having to read cumbersome tutorials or manuals. Setup should also be intuitive and require minimal effort so that the user can start using the software right away.

Free service desk software should make managing customer correspondence simpler and more efficient, allowing small businesses to focus on their customers' needs without wasting valuable resources.
Automation features
Fortunately, many Free Help Desk Software offerings today are equipped with Automation features that can help streamline processes, often resulting in improved customer service and increased efficiency in the workplace. With built-in Automation capabilities, Free Help Desk Software platforms allow businesses to automate routine tasks and collect customer feedback more effectively while decreasing time spent on mundane tasks. Making sure you have all the Automation features that fit your unique needs is an important part of selecting the Free Help Desk Software that's right for you.
Ability to customize customer service experience
When shopping around for Free Help Desk Software, an important feature is the ability to customize customer service experience with tailored options like automated messages, multiple languages, and self-service portals. It can help streamline the customer support process and enable your organization to provide a more effective and efficient level of service that meets the needs of each individual client. Free Help Desk Software can help you provide a better customer experience without breaking the bank.
Support Genix
WordPress Support Ticket Plugin
Take Your Customer Support to The Next Level and Boost Customer Satisfaction Rates
Conclusion
Free help desk software offers small businesses an efficient and cost-effective way to streamline customer service operations. It provides the needed flexibility in both staff availability and customer satisfaction without any sacrifice of quality.
Free help desk software is a win-win solution for small businesses, as it reduces costs associated with hiring additional help desk agents while also improving customer responsiveness to queries and requests. Overall, free help desk software is the perfect solution for small businesses who are looking for ways to streamline their customer service strategy in an economical way.