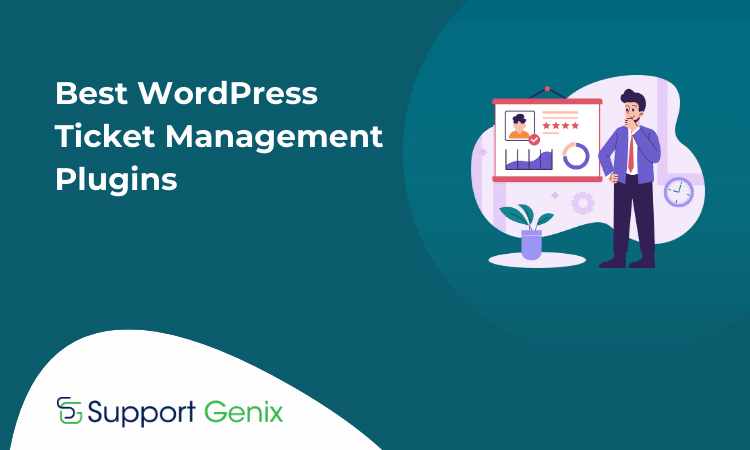 If you're running a WordPress site, then you'll want to make sure that you have a good ticket management plugin installed. This is essential for providing quality support to your customers and ensuring that all of their questions and concerns are addressed in a timely manner.
In this blog post, we will discuss 6 of the best WordPress ticket management plugins currently available. We'll also provide an overview of the features offered by each plugin. So without further ado, let's get started.
What is a WordPress ticket management plugin?
The WordPress ticket management plugins is a powerful tool that can streamline customer support on any WordPress website. It allows easy entry, tracking, and resolution of tickets, empowering businesses to serve their Well customer's needs. With the ability to turn inquiries into tickets while assigning priority levels and categorizing issues, this plugin is an essential asset for both small and large business owners who use WordPress as their platform.
It enables support staff to quickly resolve inquiries with automated canned responses, apply custom tags for better organization, and enhance ticket status updates for accurate follow-up. Ultimately, this technology provides a unified way to respond to customers in an efficient manner with valuable insights into recurring queries that can help develop better customer experiences.
Benefits of WordPress ticket management plugins
WordPress ticket management plugins can help businesses streamline their online customer service and improve the efficiency of their customer-support teams. With a plugin like this, customers will receive updated information, such as open or closed statuses for tickets, in real time.
Furthermore, these plugins make communication easier by providing interactive features that let customers communicate with support staff without leaving the website. As a result, businesses will enjoy more satisfied customers and improved customer retention rates.
Additionally, these plugins allow businesses to set up automated replies triggered by keywords and prioritize tickets according to importance. All of these features ensure faster response times and smoother customer service in general resulting in maximum profit for your business.

The 6 best WordPress ticket management plugins
Support Genix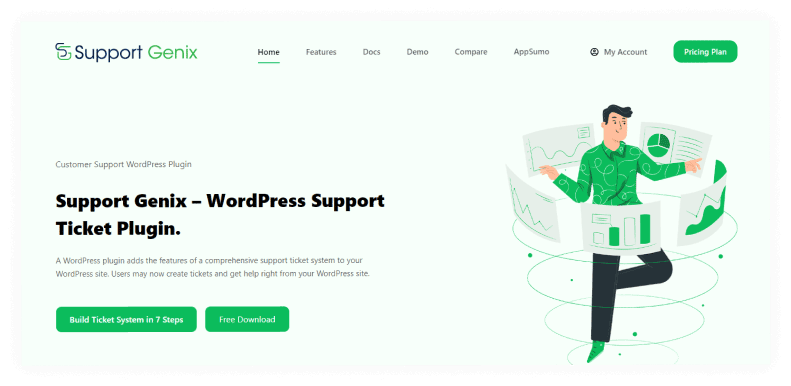 Support Genix is a must-have plugin for any WooCommerce site owner. It seamlessly integrates with your site and provides you with an easy-to-use ticket system that makes managing customer queries a breeze. The user-friendly interface enables quick and efficient solutions, allowing you to keep on top of support requests without having to invest time and energy in complicated administrative tasks.
This system offers valuable additional capabilities, like the ability to track and evaluate agent performance, receive notifications when a ticket has been resolved, and more. Support Genix provides an effective and streamlined way for companies to manage their customer service processes, and with its comprehensive features, businesses can be confident that Support Genix will help enhance their customer service experience.
Additionally, the comprehensive system provided by Support Genix ensures that all customer support requests are stored in one place, making it easy to review or follow up on inquiries. This powerful tool is sure to help any business provide its customers with the best possible service.
Key Features
Unlimited Tickets
Unlimited Agents
Unlimited Customers
Tickets on Behalf of Users
Easy Email Handling
Elite Licenser Integration
Webhook
Pricing- Support Genix offers cost-effective and simple services for small and medium enterprises.
Yearly Plan–
Personal for $59 (1 website)
Developer for $99 (5 websites)
Agency for $149 (100 websites)
Lifetime Plan-
Personal for $99 (1 website)
Developer for $199 (5 websites)
Agency for $239 (100 websites)
Support Candy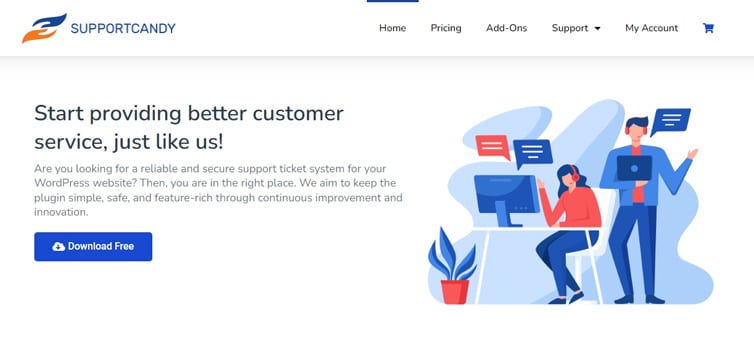 The Support Candy plugin is one of the popular WordPress ticket management plugins that is designed to help businesses optimize their resources, reduce costs associated with problem resolution, maintain better communication with customers, and deliver more timely resolutions.
This feature-rich WordPress support ticket plugin has been available for years, allowing users to make the most of intuitive ticketing systems, comprehensive knowledge bases and FAQs, live chat capabilities, and more. Furthermore, Support Candy is easy to configure and access; it also comes with detailed documentation to ensure smooth implementation.
With this WordPress Ticket Management Plugins, users receive an easy-to-use platform full of features to ensure a great customer experience. Rather than creating tickets from scratch, customers can create a ticket on their own behalf and get notified when something changes. Additionally, Support Candy offers 16+ custom field types allowing for effective segmentation and organization of data.
Furthermore, the tool is regularly updated with new features and improvements, so users have access to only the best support system. Thanks to Support Candy, WordPress site owners can easily address customer issues quickly and efficiently–keeping their website running perfectly.
Key Features
Unlimited number of tickets
Unlimited number of agents
Advanced custom filter and search functionality
Saved filters for customers and agents
Private notes for internal communication of agents
Agents can create a ticket on the customer's behalf
16+ Custom field types
Pricing
Starter Plan for $59
Econom Plan for $109
Standard Plan for $149
HelpScout
Help Scout is the ultimate customer support platform for any growing business. It's like having your own personal customer-experience team in your back pocket! Help Scout allows you to manage support requests easily, create a wealth of Knowledge Base articles, and streamline operations with automated workflows. Moreover, their world-class team of experts is always on hand to ensure you make the most out of this amazing customer service platform.
With Help Scout, creating new articles is quick and easy, and organizing and search tools enable users to search for the info they need easily. Plus, its Docs Reports feature holds many insights into which content works well and where it may have some room for improvement. All these features give companies in the customer service industry the ability to optimize their resources and offer outstanding customer experience.

Key Features
Shared Inbox
Knowledge Base
Customer Management
Live Chat
Reporting
Workflows
Pricing-
Annual Plan–
Standard Plan for $20
Plus Plan for $40
Pro Plan for $65
Monthly Plan-
Standard Plan for $25
Plus Plan for $50
Zendesk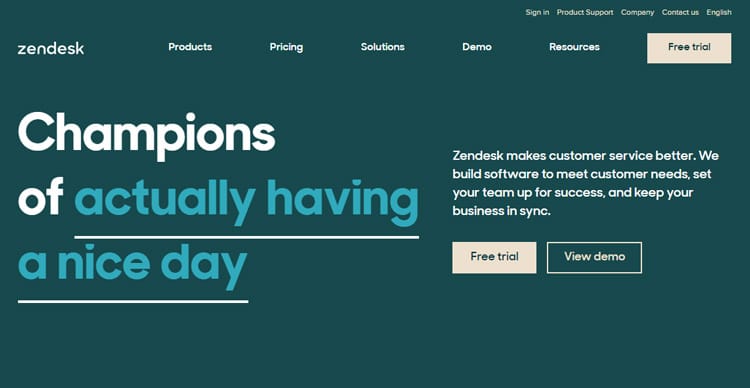 Zendesk is quickly becoming one of the most sought-after customer service platforms. With a range of different plan options that cater to varying needs, it provides an extensive suite of tools and customization options. Its intuitive interface also makes it easy to use and set up, so you can start providing high-quality customer service in no time.
With its robust set of features and functionalities, it is possible to customize this WordPress support ticket plugin experience to fit individual business requirements. By leveraging flexible pricing plans, integrated apps, and integrations designed to meet specific needs, businesses of all sizes can benefit from easy-to-use tools to help satisfy customers and build stronger brand loyalty.
Whether you're a small start-up or a multinational corporation, Zendesk has the tools necessary to support your success.
Key Features
Zendesk Support
Zendesk Support Suite
Zendesk Chat
Zendesk Explore
Zendesk Guide
Zendesk Sell
Zendesk Gather
Zendesk Sales Suite
Pricing:
Suite Team: $49 per agent/month billed annually
Suite Growth: $79 per agent/month billed annually
Suite Professional: $99 per agent/month billed annually
Awesome Support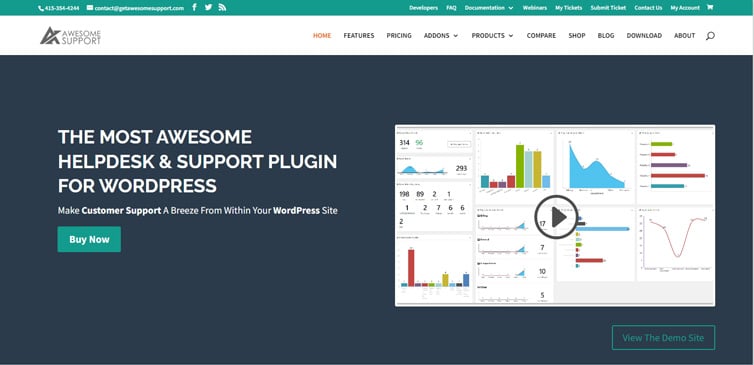 Awesome support is setting the bar for customer service platforms – there's no doubt about it. With an array of features and options, the WordPress plugin can be tailored to the needs of any business, large or small. Its user-friendly interface helps even tech-averse users make full use of its comprehensive range of tools, while powerful automation abilities place Awesome Support among top SAAS solutions like Support Genix.
This powerful plugin makes it easy to manage tickets, add chat functionality, and gather valuable customer feedback – all within a sleek, intuitive interface. Additionally, Awesome Support helps you take full control of the process and customize everything to best fit your customers' needs.
With easy front-end ticket submission and email notifications that keep customers, agents, and other relevant parties up to date on the status of their tickets, Awesome Support helps businesses take their customer relations to the next level while streamlining office practices.
The ability to access account information from within WordPress itself ensures seamless implementation into existing systems, so businesses save even more time by integrating all of their systems together. Make your customer service experience as effortless as possible with Awesome Support.
Key Features
Unlimited Tickets
Unlimited Agents
Unlimited Custom Fields
Private Tickets
Agents can create tickets on behalf of users
Agents can view only their tickets or all tickets
Agents can receive email notifications by email for ticket events such as a new ticket, reply to the ticket, etc
Pricing
Standard for $149/year
Pro for $229/year
Enterprise for $289/year
Agency for $409/year
Live Agent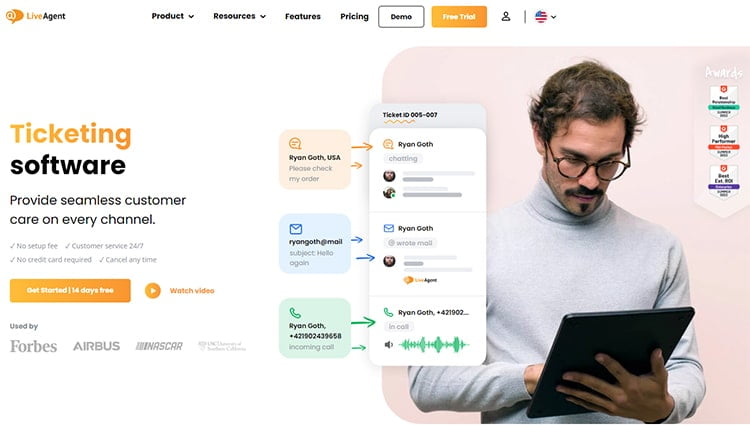 LiveAgent stands out from other ticketing software with its efficient and user-friendly interface. Its multitude of features can provide you with the flexibility needed to tackle customer service issues quickly and effectively.
It allows you to sort inquiries by department, filter conversations by status, or use business rules to automate your workflow. With LiveAgent, gaining control over all customer service inquiries is no longer a challenge.
Additionally, LiveAgent's powerful integration features are very impressive and make managing customer service easier than ever. Having the ability to connect ticketing software with CRM, accounting, live chat, and social media platforms gives businesses the ideal environment to create a seamless workflow. This is essential in order to effectively manage customer service with maximum efficiency.

In addition, utilizing LiveAgent's integrated platform significantly reduces manual steps needed for responses and decisions, allowing you to focus your efforts on engaging customers more effectively. This can be a game changer for customer satisfaction and ROI alike. So why wait? Start using LiveAgent today and start delivering superior customer service!
Key Features
Agent Collision Detection
Agent Ranking
Automated Ticket Distribution
Canned Message
Contact Form Gallery
Email Forwarding
Pricing
Ticket for $15/agent/month
Ticket+ Chat for $29/agent/month
All-inclusive for $49/agent/month
Free for $0/agent/month
Conclusion
After analyzing the 6 best WordPress ticket management plugins, we can reach a conclusion that each plugin has unique capabilities and characteristics that might be to the benefit of any user. From Project Panorama to WP Support Plus Ticket System, there is an option for everyone's particular needs.
Whether it's extra support for documentation or more detailed project management homepages, every plugin offers its own solution. All 6 plugins are known for their ease of use and installation, so no matter which one you choose, you're sure to get an intuitive WordPress experience.
Support Genix
WordPress Support Ticket Plugin
Take Your Customer Support to The Next Level and Boost Customer Satisfaction Rates