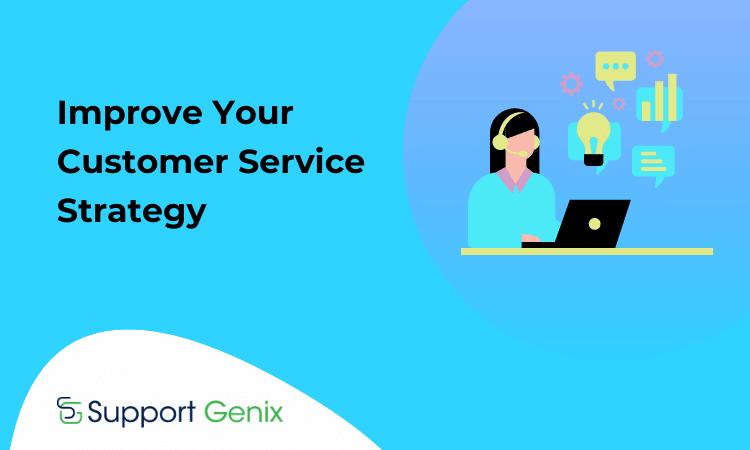 No matter how good your products or services are, you will not succeed if you do not have a great customer service strategy. Your customers are the lifeblood of your business, and it is essential to make sure they are happy and satisfied with their experience. In this blog post, we will discuss 10 ways that you can improve your customer service strategy and provide excellent service to your clients!
Definition of Customer Service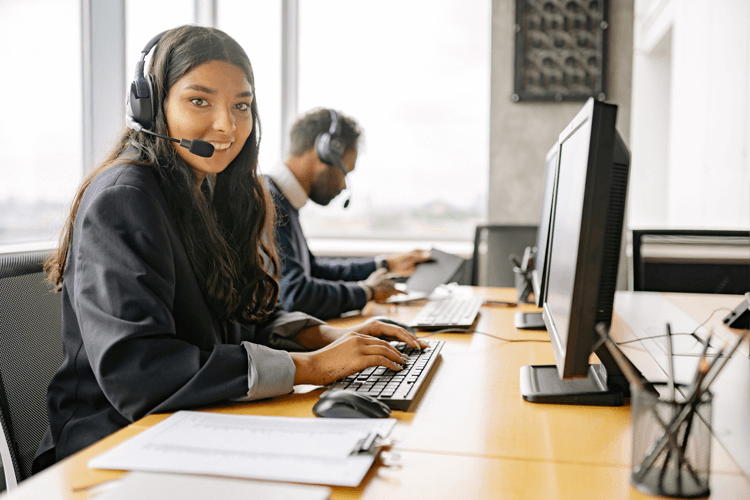 Customer Service is an integral part of any successful business. It consists of actions taken by a business to anticipate and meet customers' needs, expectations, and requirements. It involves understanding customer needs, efficiently responding to inquiries, providing a positive experience throughout the customer's journey with your business, resolving any issues quickly and effectively, and seeking feedback to improve services.
Improve Your Customer Service Strategy by using customer feedback surveys to gain insights into customer service experiences, training staff on how to handle difficult customer situations, offering excellent online support with speedy response times, creating meaningful connections with customers, ensuring consistency across your different channels of communication, and recognizing efforts of employees that go above and beyond in their effort to provide outstanding customer service.
Utilizing these strategies will help you deliver an outstanding experience for your customers that will drive loyalty and trust in your brand.
Reasons to Improve Your Customer Service Strategy
One of the best investments you can make for your organization is to improve your customer service strategy. A great customer service experience will increase satisfaction and loyalty from existing customers and potential clients. In addition, keeping customers satisfied is essential to long-term success, as repetitive customers cost less to acquire than new ones.
Increased Customer Satisfaction: Improved customer service strategies lead to happier customers, which results in increased loyalty and repeat business.
Cost Savings: Better customer service increases efficiency and reduces the cost of dealing with customer complaints, returns, and refunds.
Positive Brand Image: A well-developed customer service strategy can help you build a positive brand image that will attract new customers.
Improved Service Delivery: Establishing clear processes for handling customer interactions helps ensure consistent service delivery and improved response times for inquiries.
Accurate Insights into Customer Preferences: Accessing data on customer preferences allows businesses to make informed decisions about marketing, product development, and more.

10 Ways to Improve Your Customer Service Strategy
Invest in customer service training for your staff.
A great way to Improve Your Customer Service Strategy is to ensure that your staff has the skills necessary in order to interact successfully with customers, which means investing time, money, and effort into providing ongoing customer service training to your team.
Such training should include essential skills such as communication techniques and problem-solving strategies, as well as guidelines regarding the professional attitude required when interacting with customers. Doing so will ensure that you can provide efficient and effective customer service on a consistent basis.
Set clear expectations and communicate them to customers
Building a successful customer service needs setting clear expectations for your business and understanding how that fulfills the customer's needs. Communicating this to customers is key to any business. Professionalism in both written and spoken exchanges helps create a trusting relationship between the customer and your business.
Customers will respond much more positively if they feel respected and their expectations are managed properly. Improve your customer service strategy by taking the time to establish clear expectations upfront, continuously reevaluate them, and practice professional communication with your customers.
Listen to customer feedback and use it to improve your services
Improve your customer service strategy by listening to what your customers have to say. Gathering direct feedback from customers is one of the best ways to deliver great customer service. Customers may be the very best source of information – they are on the front line of your business and may provide great insight into how you can revise or enhance your services.
Whether through surveys, phone calls, or direct conversations with customers, continuously seek out feedback and use it to shape your service strategies. Not only will you be able to quickly respond to customer desires, but it also creates a sense of goodwill among those that partake in surveys, as they know their thoughts are truly valued and respected.
Respond quickly and efficiently when customers reach out
To take your customer service strategy to the next level, make sure to have a customer support team in place that can respond quickly and professionally to customer inquiries. This furthers customer retention as customers feel valued when their problems are solved promptly. Furthermore, providing an efficient response while having a professional tone can give customers the feeling that they are talking to an expert. Customer service is not only about reacting properly when customers reach out but also anticipating their concerns or needs proactively, so continue exploring new ways of improving your customer service strategy.
Use technology to streamline the customer experience.
Technology can be used to improve customer service strategies and streamline the customer experience hugely. Social media is a great tool to use for customer support as it allows customers to get in touch with you around the clock and get fast resolutions.
Leveraging chatbots and automated support systems improve response time and provides tailored responses that customers will appreciate. In addition, automating certain processes and having regular check-ins with customers can ensure their satisfaction and create a smoother customer experience.
Offer personalized experiences for each individual client.
Quality customer service can be the difference between customer satisfaction and customer dissatisfaction. One of the most effective strategies for improving customer support is to create personalized experiences for each individual customer. Taking into account their preferences and needs in each transaction creates loyal customers and builds customer trust in your business. Therefore, providing quality customer service through personalization is an excellent way to improve customer experience.
Utilize data analytics to understand customer needs better
Utilizing data analytics to understand customer needs better is an important step toward improving customer service strategies. Data can provide valuable information regarding customer preferences and experiences, which can allow customer service teams to create more personalized approaches when addressing customer inquiries or complaints.
Additionally, data analytics can also measure the effectiveness of customer service support, allowing customer service teams to refine their strategies in order to better attend to customer queries and achieve greater customer satisfaction.
Build relationships with customers by providing helpful advice or tips.
To upgrade customer service experiences, it's essential to build customer relationships by providing helpful advice or tips. Customers will appreciate being viewed as real people who are deserving of courtesy and sincere engagement. Companies can reach out to customers with email newsletters and other forms of communication where they provide useful information and advice that genuinely serves the customer's needs.

By making customer service a two-way street, companies tend to build customer loyalty, create positive connections and make the customer experience much more enjoyable for everyone involved. With reliable customer service that delivers an improved customer experience, companies can bring a customer service revolution to improve their existing relationships.
Take a proactive approach by anticipating problems before they arise.
It is essential to create a successful customer service strategy to take a proactive approach. This means anticipating problems that the customer may have before they even arise. Doing this allows you to address potential issues in advance and be prepared when the time comes to respond.
This allows for smooth customer service interactions and puts customers at ease, creating a positive experience with your company. Taking a proactive approach when creating a customer service strategy not only has tremendous benefits but also allows the customer to trust in your company and its ability to meet its commitments.
Show appreciation for loyal customers through rewards or discounts.
In the age of online shopping and apps, customers are no longer bound to physical stores. Improve your customer service strategy by ensuring all communications with customers are professional and timely. Showing appreciation for loyal customers is paramount to fostering a long-term relationship.
Offering rewards or discounts to repeat customers communicate appreciation through tangible outcomes and provides extra incentive for them to shop at your store again. This simple gesture can go a long way in reinforcing customer loyalty and providing an improved customer service experience.
Support Genix
WordPress Support Ticket Plugin
Take Your Customer Support to The Next Level and Boost Customer Satisfaction Rates
Conclusion
Enhancing your customer service strategy is an effective way to have any business's long-term growth and success. Improved customer service strategies help companies achieve their goals, manage changes, and provide superior service to customers. Through various techniques such as automating processes, using customer feedback, valuing employees, and promoting a positive environment, you can make tangible improvements to your organization that will benefit everyone involved. Understanding these 10 ways to Improve Your Customer Service Strategy will help you stay competitive in today's market and increase loyalty among customers.