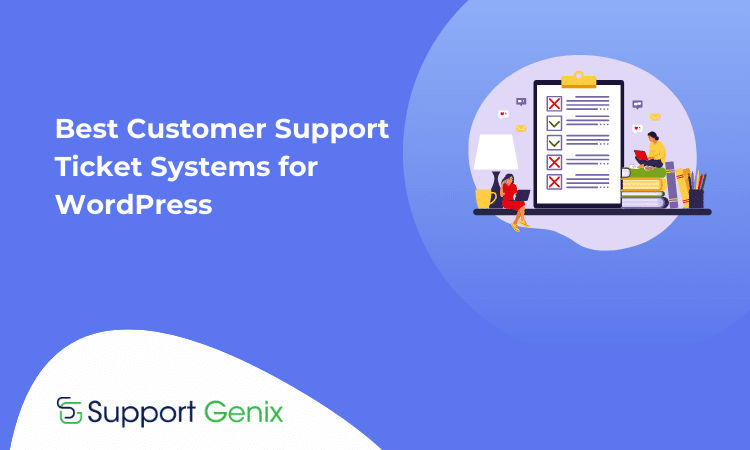 If you run a WordPress-based business, you are aware of how important customer support is.In this article, we will discuss the best customer support ticket systems for WordPress. We will also provide a list of the Best Customer Support Ticket Systems for WordPress. Having a sound customer support system in place can make all the difference in the world when it comes to keeping your customers happy.
What is a customer support ticket system?
A customer support ticket system is a tool that organizations use to manage incoming requests for assistance and other customer concerns. Many businesses use these systems to provide faster and more efficient service to their customers. A typical ticketing system involves creating a unique ticket for each request and tracking the status of that ticket as it moves through the various stages of the support workflow. This allows companies to monitor the progress of individual cases, while also providing detailed logs of all inquiries, resolutions, and follow-ups.
Why do you need best customer support ticket systems for WordPress site?
There are many reasons why you would need best customer support ticket systems for WordPress site, but the most important one is to ensure that your customers always get prompt and effective assistance when they need it. With the right support ticket system, you can easily sort and monitor incoming requests, track overall performance metrics, and create custom workflows that help to streamline your team's workflow.
Furthermore, a good ticketing system will integrate seamlessly with popular WordPress plugins such as Gravity Forms and Ninja Forms, so you'll be able to offer superior customer service without having to waste time on complicated technical issues. Whether you're just starting out or are running a large-scale enterprise site, a quality support ticketing system is an essential tool for managing your business effectively.

The best customer support ticket systems for WordPress
Support Genix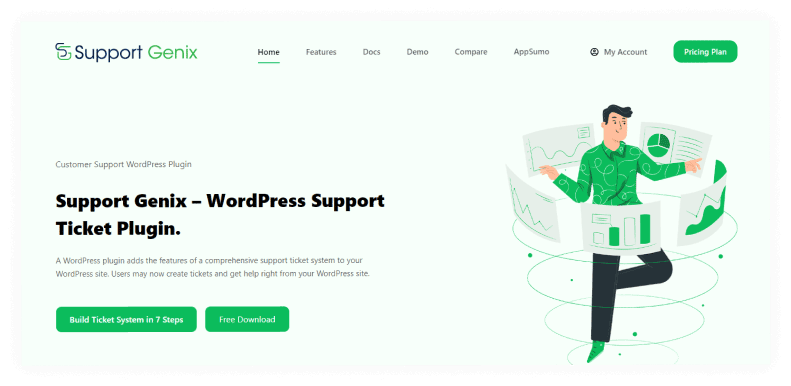 Whether you're running an online business or providing support for a digital product, providing quality customer service is essential. Support Genix is a powerful WordPress plugin that helps you to simplify the process of providing support to your customers. With this plugin, you can easily add a comprehensive ticketing system to your website. Not only does it make it easy for users to create tickets, but it also enables you to manage incoming requests and respond quickly and efficiently.
By streamlining the support process, Support Genix allows you to focus on providing the best possible service to your customers and ensuring their satisfaction with your products or services.This innovative platform automatically notifies the appropriate team member and provides all of the necessary information needed to resolve your issue. In addition, Support Genix includes a knowledge base feature that allows customers to access self-service options for resolving common problems.
Moreover, businesses can use the system to create tickets on behalf of their users, allowing for easier management of incoming requests. With its array of capabilities, this system can help companies to streamline and optimize their customer service operations, ultimately improving satisfaction levels for their customers.
Key Features
Unlimited Tickets
Unlimited Agents
Unlimited Customers
Tickets on Behalf of Users
Easy Email Handling
Elite Licenser Integration
Webhook
Pricing– Support Genix offers cost-effective and simple services for small and medium enterprises.
Yearly plan-
Personal for $59 (1 website)
Developer for $99 (5 websites)
Agency for $149 (100 websites)
Lifetime Plan-
Personal for $99 (1 website)
Developer for $199 (5 websites)
Agency for $239 (100 websites)
Zendesk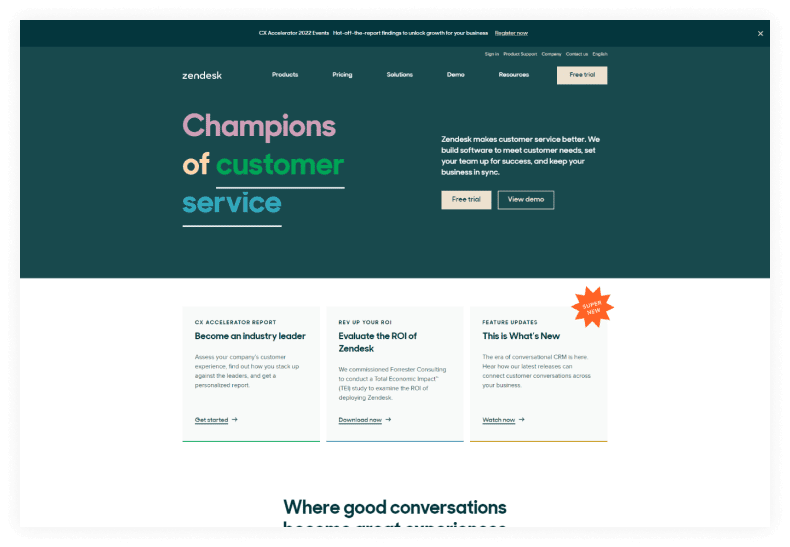 With both basic and suite plan options to suit any need, Zendesk is one of the most popular options on the market today. Whether you're looking for robust email support or a wider range of features and customization options, Zendesk has you covered. Its intuitive interface makes it easy to get up and running in no time, ensuring that your customers will receive fast and efficient service every time.
With its robust set of features and functionalities, Zendesk is the ultimate platform for businesses looking to stay on top of their customer service needs. And if you ever need to tailor your Zendesk experience to fit your specific business needs, its flexible pricing plans, integrated apps, and integrations make it easy for you to get exactly what you need.
So whether you're a small startup just getting off the ground or a multinational corporation with thousands of employees, Zendesk has the tools and solutions to help keep your customers satisfied and engaged with your brand.
Key Features
Zendesk Support
Zendesk Support Suite
Zendesk Chat
Zendesk Explore
Zendesk Guide
Zendesk Sell
Zendesk Gather
Zendesk Sales Suite
Pricing:
Suite Team: $49 per agent/month billed annually
Suite Growth: $79 per agent/month billed annually
Suite Professional: $99 per agent/month billed annually
Awesome Support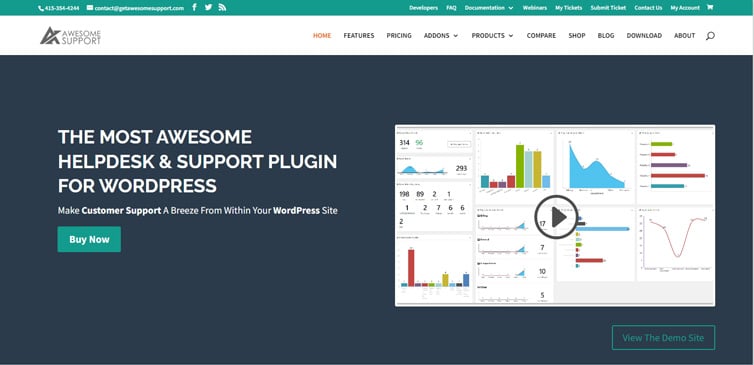 When it comes to creating a support platform that's both robust and easy to use, there's no better option than Awesome Support. This powerful WordPress plugin is the perfect choice for businesses of all sizes, offering an array of useful features that rival those offered by top SAAS solutions like Support Genix.
Whether you need help with ticket management and chat functionality or simply need to gather customer feedback, you can be sure that Awesome Support has everything you need. With superior customization options and a sleek, intuitive interface, this powerful plugin is the ideal solution for businesses looking to deliver top-notch customer support.
With this plugin, you can seamlessly submit tickets from the front end or access your account from within WordPress itself. Plus, with e-mail notifications for relevant parties that let you know every time something happens, you'll always be up to date on everything going on in your company's ticketing system. So if you're serious about taking your business to the next level and providing top-notch customer support, look no further than Awesome Support!
Key Features
Unlimited Tickets
Unlimited Agents
Unlimited Custom Fields
Private Tickets
Agents can create tickets on behalf of users
Agents can view only their tickets or all tickets
Agents can receive e-mail notifications by email for ticket events such as a new ticket, reply to the ticket, etc
Pricing
Standard for $149/year
Pro for $229/year
Enterprise for $289/year
Agency for $409/year
LiveAgent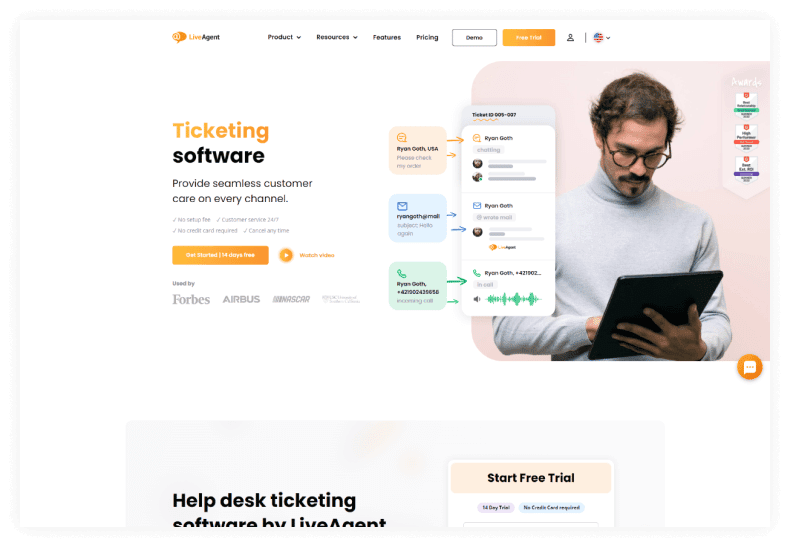 At first glance, LiveAgent might seem like just another ticketing software. But in reality, it is much more than that. With its sophisticated and intuitive interface, LiveAgent gives you complete control over all your customer service inquiries. Whether you are dealing with quick questions or complicated issues, this powerful tool makes it easy to sort and respond to everything in one convenient place.
With LiveAgent's powerful integration features, you can easily connect your ticketing software to your CRM, accounting, live chat, and social media platforms. This allows you to seamlessly streamline and optimize your customer service workflow. The user interface is easy to navigate and highly intuitive, making it simple for anyone to use.
Whether you need to quickly respond to urgent communications or manage large volumes of requests, LiveAgent has the tools you need to succeed. So why wait? Start using LiveAgent today and start delivering superior customer service!
Key Features
Agent Collision Detection
Agent Ranking
Automated Ticket Distribution
Canned Message
Contact Form Gallery
Email Forwarding
Pricing
Ticket for $15/agent/month
Ticket+ Chat for $29/agent/month
All-inclusive for $49/agent/month
Free for $0/agent/month
HelpScout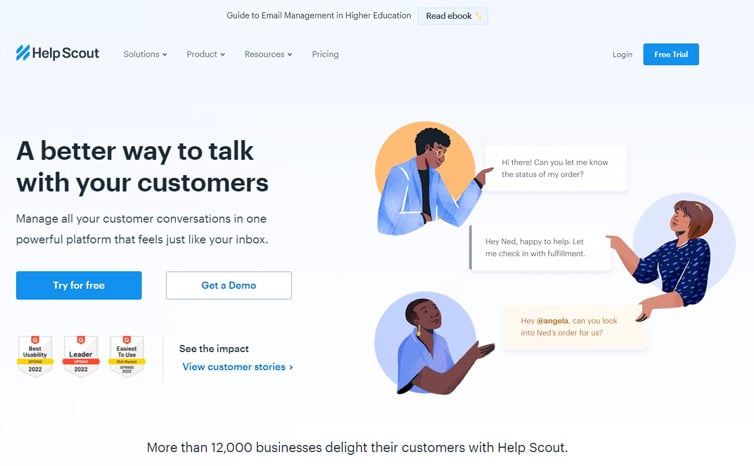 If you are looking for a powerful customer support platform that can help to streamline your team's workflow and deliver exceptional service to your customers, look no further than Help Scout. You will have everything you need to create a fantastic customer experience from beginning to end with this comprehensive array of tools.
Whether you need to manage support requests, create Knowledge Base articles for your customers, or automate workflows for increased efficiency, Help Scout has the features and capabilities you need.
HelpScout's integrated search tools allow you to navigate the site with ease. And with its customizable organizational features, you have complete control over how your content is arranged and presented to users. So if you are looking for an intuitive and streamlined way to publish online content, look no further than Help Scout.
Key Features
Shared Inbox
Knowledge Base
Customer Management
Live Chat
Reporting
Workflows
Pricing: Starting at $20/user per month.

The benefits of using a customer support ticket system for WordPress
There are a number of benefits to using best Customer Support Ticket Systems for WordPress websites. First and foremost, a dedicated software tool makes it much easier to manage issues as they arise and ensures that every client gets the attention they deserve. With a ticket system, you can efficiently track all incoming requests so that no issue falls through the cracks or goes unnoticed.
Additionally, such systems offer great flexibility, allowing users to filter and sort issues by category, urgency level, or keyword search. With reliable customer support at your fingertips, your WordPress site will always be in good hands. So if you're looking for peace of mind when it comes to your website's performance and user experience, a customer support ticket system is definitely worth considering!
Conclusion
When it comes to managing best Customer Support Ticket Systems for WordPress websites, there is simply no better solution than a dedicated ticket system. With its intuitive interface, easy-to-use search functionality, and robust reporting capabilities, this system makes it simple to keep track of incoming inquiries and respond quickly and effectively.
There is also a comprehensive knowledge base and a variety of alert settings that ensure you don't miss any important tickets or new requests. In short, with its innovative design and rich feature set, the WordPress ticketing system has become the go-to tool for businesses looking to provide outstanding customer service online. So if you're looking for an easy way to streamline your operations and take your website support game to the next level, look no further than this powerful system.
Support Genix
WordPress Support Ticket Plugin
Take Your Customer Support to The Next Level and Boost Customer Satisfaction Rates