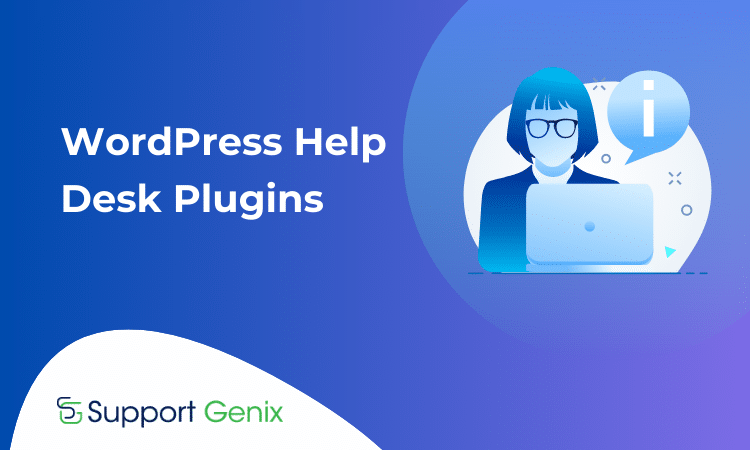 Providing top-notch customer service and support is essential for any business. With the right WordPress help desk plugin, you can easily manage incoming queries, prioritize tasks, and stay on top of resolving customer issues quickly. WordPress is home to a wide range of help desk plugins that make it easy to set up a customer service system and streamline your support process.
In this article, we'll discuss the best WordPress help desk plugins and how to choose the right one for your business.
Top 6 WordPress Help Desk Plugins
Support Genix
If you are in need of a top-tier support system for your digital enterprise, Support Genix is the ideal solution. This is one of the remarkable WordPress Help Desk plugins that allows you to take advantage of an all-encompassing ticketing system that simplifies customer support processes. With its wide array of sophisticated features, Support Genix offers a clear and comprehensive support system for all your customer needs.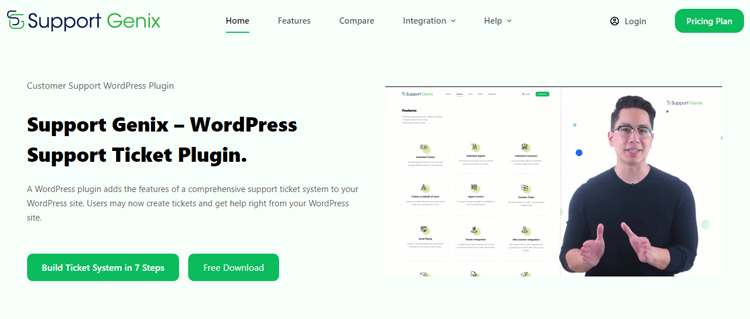 The plugin's innovative design and seamless user experience make it the go-to choice for businesses looking to elevate their customer support services. With this support ticket plugin, you can create and manage an unlimited number of tickets, making it simple to keep track of all customer inquiries and requests. But that's not all, Support Genix also offers a range of features designed to streamline your ticket management process.
You can assign tickets to specific agents, set priorities, and even add attachments. Plus, with the ability to assign different roles to different agents, you can ensure that each team member is only working on the tickets they should be, helping keep everything organized and efficient.
So if you want to make your customer support a top priority, look no further than the WordPress support ticket plugin Support Genix.
Key Features
Unlimited Tickets
Unlimited Agents
Unlimited Customers
Tickets on Behalf of Users
Easy Email Handling
Elite Licenser Integration
Webhook
Pricing– Support Genix offers cost-effective and simple services for small and medium enterprises.
Yearly plan–
Personal for $59 (1 website)
Developer for $99 (5 websites)
Agency for $89 (100 websites)
Lifetime Plan-
Personal for $99 (1 website)
Developer for $199 (5 websites)
Agency for $399 (100 websites)
Zendesk
As a company that values efficiency and quick response times, it's essential to have a reliable customer support system in place. That's where Zendesk Support for WordPress comes in. This WordPress helpdesk ticket plugin is a powerful helpdesk tool that can be easily integrated into your blog or website.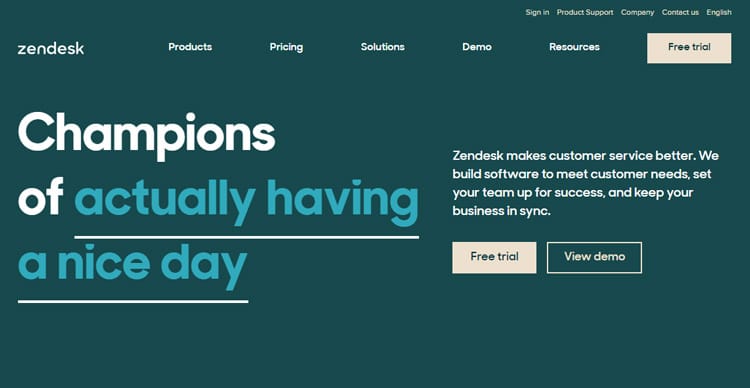 With its comprehensive features, including a robust ticketing system and self-service knowledge base, managing customer inquiries becomes much simpler and more effective. Plus, with Zendesk's Remote Authentication technology, you can seamlessly sign on to your Zendesk account from your WordPress site, turning blog comments into support tickets instantly.
In short, Zendesk Support for WordPress is a must-have for any business that values prompt, efficient customer support. And when it comes to WordPress help desk plugins, it's hard to beat Zendesk's comprehensive suite of features.
Key Features
Customizable email notification
Automatic agent assignment
Customer fields
Premium add-ons
Customer support
SMS & push bullets notification
Real-time email notification
Pricing
Plans for everyone-
Suite Team: $49/agent/month billed annually
Suite Growth: $79/agent/month billed annually
Suite Professional: $99/agent/month billed annually
Plans for enterprise-
Suite Enterprise: $150/agent/month billed annually
Additional enterprise-ready plans: $215/agent/month billed annually
👉 Check 7 Best Zendesk Alternatives You Should Consider
Awesome Support
If you're in search of WordPress help desk plugins that ticks all the boxes when it comes to functionality, usability, and customization, then look no further than Awesome Support. Whether you're managing tickets, chatting with customers, or collecting feedback, this powerful plugin has everything you need to provide top-notch customer support.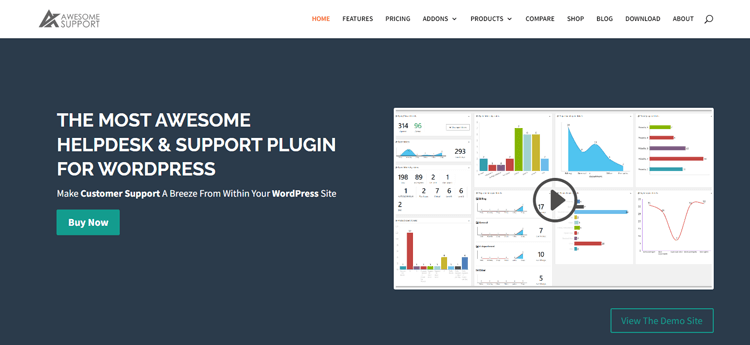 What's more, its robust feature set rivals those offered by many popular SAAS solutions, making it an unbeatable option for businesses of all sizes. Among many options available, Awesome Support stands out with its seamless submission of tickets from the front end and the ability to access your account right from within WordPress itself.
The bonus of this plugin is email notifications for all relevant parties keeps you in the loop and up to date on every aspect of your company's ticketing system. With Awesome Support, you can take customer support to the next level and elevate your business in the process.
So if you're looking for a reliable and intuitive support platform that won't break the bank, choose Awesome Support and streamline your customer service operations today.
Key Features
Unlimited Tickets
Unlimited Custom Fields
Unlimited Agents
Agents can view only their tickets or all tickets
Agents can create tickets on behalf of users
Private Tickets
Agents can receive email notifications by email for ticket events such as new ticket, reply ticket, etc
Pricing
Standard for $149/year
Pro for $229/year
Enterprise for $289/year
Agency for $409/year
👉Read Role of AI in Customer Support: The Future of Customer Service
Help Scout
When it comes to finding the top customer support platform, Help Scout is a top contender for businesses looking to streamline their workflow and provide exceptional service to their customers. However, for those who operate on WordPress, it's important to consider the integration of a Help Desk plugin.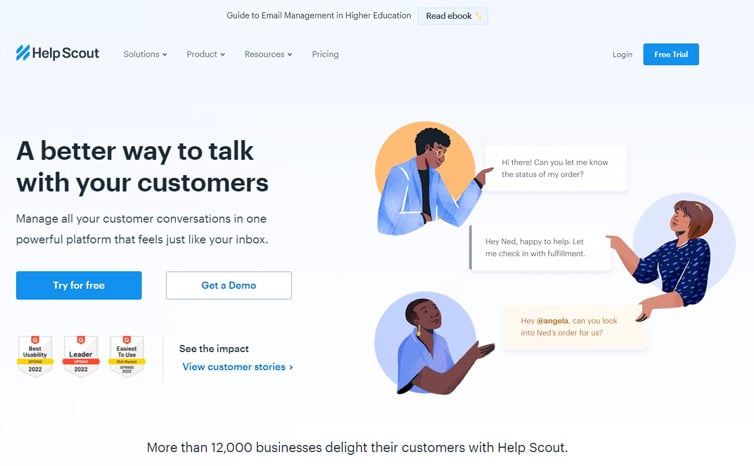 Fortunately, there are a plethora of quality WordPress Help Desk Plugins available that seamlessly integrates with Help Scout, such as HappyFox and WP Ticket. By combining the power of these two platforms, businesses can ensure they have everything they need to create a fantastic customer experience from the beginning to end.
With these tools at your disposal, managing support requests, creating Knowledge Base articles, and automating workflows for increased efficiency has never been easier.
Key Features
Shared Inbox
Knowledge Base
Customer Management
Live Chat
Reporting
Workflows
Pricing
Annual Plan
Standard for $20/month
Plus for $40/month
Pro for $65/month
Monthly Plan
Standard for $25/month
Plus for $50/month

Live Agent
If you're looking for an all-in-one support desk solution for your WordPress site, consider LiveAgent. This platform offers much more than just ticketing software, with a range of advanced tools to help you manage all aspects of your customer service inquiries. From social media interactions to chat conversations and email queries, LiveAgent enables you to handle it all within an intuitive, user-friendly interface.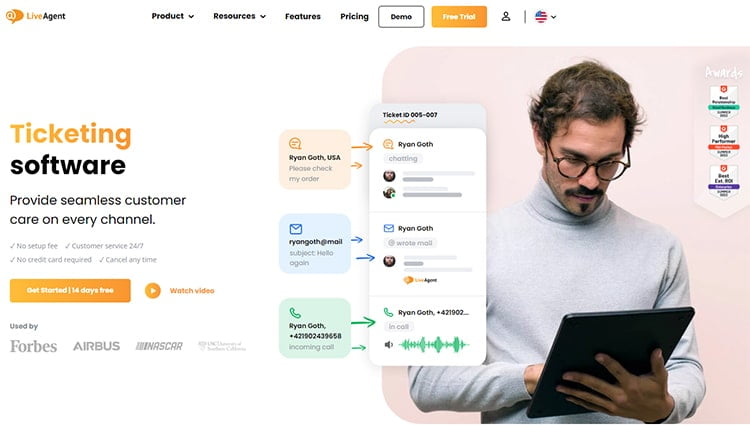 With the option to integrate this impressive software into WordPress Help Desk Plugins, you can confidently provide top-tier customer support, all within a single platform. Not to mention, the user-friendly and intuitive interface makes it easy for anyone to navigate and utilize the software effectively. The possibilities are endless when it comes to LiveAgent and the opportunity for your business to succeed is limitless.
What's more, this WordPress support plugin also allows you to customize your service channel to meet the specific needs of your business. So if you're looking to enhance your customer support capabilities, LiveAgent is a highly reliable option to explore, particularly in conjunction with WordPress Help Desk Plugins.
Key Features
Agent Collision Detection
Agent Ranking
Automated Ticket Distribution
Canned Message
Contact Form Gallery
Email Forwarding
Pricing
Business
Small: $9/agent
Medium: $29/agent
Large: $49/agent
Free: $0/agent
Enterprise
👉 Learn What is Email Piping and How to Get it Running on SupportGenix
WPHelpDesk
WPHelpDesk is a notably powerful and user-friendly customer support plugin for WordPress Help Desk Plugins. This plugin allows you to easily organize and track customer support requests, making it hassle-free for you to provide exceptional customer service. With WPHelpDesk, you'll be able to categorize incoming support requests so that you can address them in an orderly manner, ensuring that no request falls through the cracks.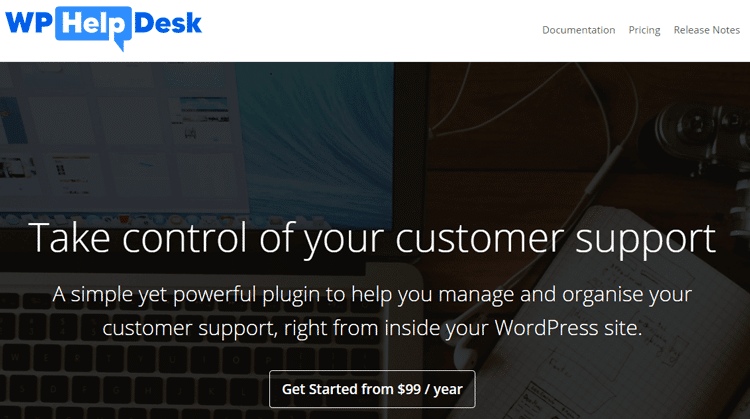 You can also respond to queries directly from your WordPress site, speeding up the customer feedback process even more. Furthermore, the easy searching and filtering features make it simple for you to locate and query any support ticket.
Perhaps best of all, WPHelpDesk provides direct links to customer support tickets that display a full history of previous requests, empowering you with all the information you need to ensure your customers receive the best possible service.
Key Features
Suitable for teams of any size
Easy setup
Unlimited agents
Email notifications
Ticketing system
File, and media uploads
Pricing:
Standard: $99/year
Professional: $199/year
Concierge: $999/year
Support Genix
WordPress Support Ticket Plugin
Take Your Customer Support to The Next Level and Boost Customer Satisfaction Rates
Things to Consider When Choosing a WordPress Help Desk Plugin
When it comes to selecting a WordPress help desk plugin, it is essential to consider a few key things that can influence your website's success.
Features
Look for a plugin that offers necessary features such as ticket management, automation, reporting, and communication channels (e.g. email, live chat, social media).
Integration
Ensure that the plugin integrates with your existing tools and software, such as CRM, email marketing, and eCommerce platforms.
User interface
Consider the ease of use and customization options for both agents and customers.
Support
Look for a plugin that provides reliable customer support and resources to assist with setup and troubleshooting.
Security
Ensure that the plugin is secure and complies with data protection regulations to protect sensitive customer information.
Pricing
Consider the affordability and value of the plugin in relation to its features and benefits.
Reviews and ratings
Look for reviews and ratings from other users to gauge the effectiveness and reliability of the plugin.
Scalability
Consider the scalability of the plugin to ensure that it can accommodate your growing business needs.
Multilingual support
If you have customers who speak multiple languages, look for a plugin that supports multilingual communication.
Customization
Look for a plugin that allows you to customize the appearance and branding of your help desk to match your website or brand identity.
Frequently Asked Questions
Can I integrate a WordPress help desk plugin with other tools and software?
Yes, most WordPress help desk plugins offer integration with other tools and software such as CRM, email marketing, eCommerce platforms, and social media.
Do I need coding or technical skills to use a WordPress help desk plugin?
No, most WordPress help desk plugins have user-friendly interfaces that require little to no coding or technical skills. However, some plugins may offer advanced customization options that require some technical knowledge.
Are WordPress help desk plugins secure?
Yes, most WordPress help desk plugins prioritize security and offer measures such as data encryption and compliance with data protection regulations.
Conclusion
Investing in the right WordPress Help Desk Plugins can drastically improve your customer support process. As your business grows, managing customer requests and concerns can become a daunting task, leading to missed inquiries and unhappy customers. With the right tools, however, you can streamline your support process and ensure timely and effective communication with your clients.
Whether you're looking to integrate ticket creation and management or facilitate live chat conversations, these top 6 WordPress Help Desk Plugins possess the necessary features to improve the overall efficiency of your customer support team. By leveraging the right Help Desk Plugins for your business needs, you can optimize customer interactions and ultimately drive customer satisfaction and loyalty.