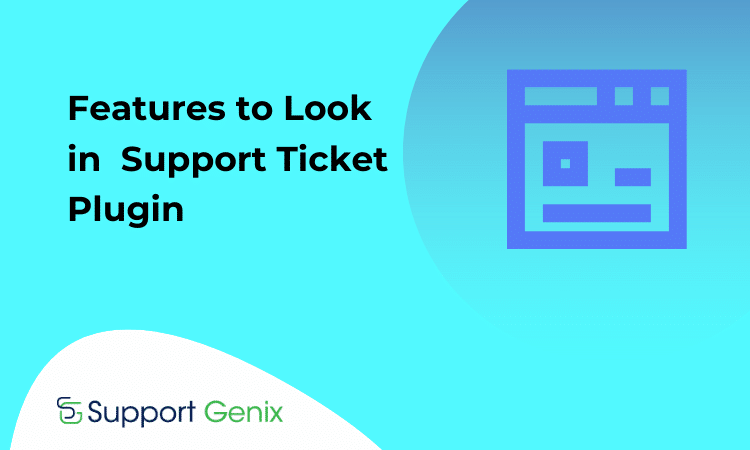 If you are running a WordPress website and provide customer support from your website, then you know that at some point, you will need to find a good customer support ticket plugin. Many plugins offer different features, so deciding which one is the best for your needs can be challenging.
This blog post will discuss the top features to look in WordPress support ticket plugins. We will also recommend our favorite plugin and tell you why we think it is the best option.
Benefits of Using a Support Ticket Plugin
A support ticket plugin helps elevate customer support and increase user engagement. Agents can easily keep track of inquiries, problems, and comments from blog readers in one convenient place. Thanks to the interactive dialogue feature, they can respond quickly while maintaining a friendly and helpful attitude.
All this occurs within the WordPress dashboard, eliminating the need for additional tools and resources.
Top Features to Look in WordPress Support Ticket Plugin
When searching for the perfect WordPress support ticket plugin, there are many features to consider. From its responsiveness to how user-friendly it is, there's a lot to think about with such an important tool. Here are the top features to look in WordPress support ticket plugins —
User-friendly Interface
When it comes to a WordPress Support Ticket Plugin, the most important feature undoubtedly has a user-friendly interface. The plugin should be easy to navigate and intuitive enough even for those with a minimal technical knowledge base.
Such a plugin should also be able to quickly and easily handle any questions or inquiries without users having to jump through hoops to submit their requests. With the right interface, any WordPress support process can be made more efficient and convenient.
Automated Notifications and Alerts
Finding the perfect WordPress customer support ticket plugin to address customer inquiries quickly and efficiently can be a difficult task. Fortunately, there are some standard features that all good support plugins will have to offer. One of the top features is automated notifications and alerts.
This feature allows users to stay on top of every support request they get in real-time, ensuring that customers don't get left waiting around indefinitely. It's a great way to show customers that you value their input and feedback, keeping them coming back for more business.
Agent Control
When selecting a WordPress support plugin, you should look for one that gives you full control over agents. This will allow you to manage your team more effectively and assign roles and responsibilities within the system. Through this feature, you can also limit access to certain tickets based on agent roles.
Additionally, it can help your agents track customer relationships better by allowing them to reference customer data when responding to requests or answering customer inquiries.
Transfer Ticket
If you're looking for a WordPress customer support ticket plugin to help manage customer inquiries, look for one that includes transfer ticket functionality. This functionality allows you to easily transfer a ticket from one agent or department to another if required. Doing so allows different agents or departments with specific skill sets and knowledge base to tackle the problem quickly and efficiently, saving time and effort in the long run.
Email Piping
Email piping is a great feature that allows you to have emails sent to a specific email address automatically imported into your support ticket system so your team can seamlessly stay abreast of customer inquiries and troubleshooting requests.
The lack of this feature in a support plugin can challenge larger teams needing quick and comprehensive communication with clients and customers. Incorporating email piping into your customer support ticket plugin will drastically improve the speed and process of problem identification and resolution.
Email Notification
Email Notification allows you to be notified when tickets are created, responded to, or closed so that you never miss a beat and can stay on top of customer inquiries. A great support plugin should let you customize notifications according to your preferences, with options like disabling certain notifications or being able to choose whether they come as emails or messages within the dashboard.
An effective ticket system keeps customers satisfied and ensures everyone stays in the loop about inquiries, making email notifications an essential part of a quality WordPress support ticket plugin.
Webhook
The webhook feature will enable you to quickly and easily create a ticket with any webhook-supported form by integrating the incoming webhook with the form service of your choice. This creates seamless ticket management for website owners in all stages of their business, whether just starting out or managing multiple websites daily.
With other great options, such as search filters and notifications, an incoming webhook can provide valuable insights and make your WordPress website run more efficiently.
Our Recommended WordPress Support Ticket Plugins
These are a few WordPress Support Ticket Plugins recommended for you —
Support Genix
Support Genix is the perfect WordPress helpdesk ticket plugin for a WordPress site that needs a ticketing and helpdesk system. This plugin enables customers to schedule, manage, and track support requests quickly and efficiently. Thanks to its user-friendly interface, setting up a support center is easy. With the premium version, users can access advanced features such as unlimited tickets, categories, and quick filters.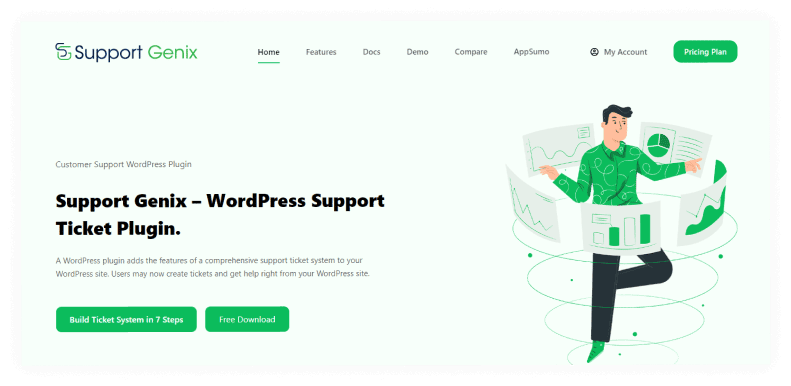 This takes your customer support to the next level. Support Genix provides you with cost-effective, convenient, and powerful ways to manage customer queries in one place. It's no surprise why Support Genix is so popular with businesses looking for comprehensive yet flexible ticketing solutions for their websites.
Highlighted Features:
Unlimited Tickets
Unlimited Agents
Ticket Categories
Agent roles
Email notifications
Pricing:
There are 2 different pricing plans for Support Genix:
Yearly Plan
Persona Plan: $59/ Year
Developer Plan: $99/ Year
Agency Plan: $149/ Year
Lifetime Plan
Persona Plan: $99/ Lifetime
Developer Plan: $199/ Lifetime
Agency Plan: $399/ Lifetime
WP Support Ticket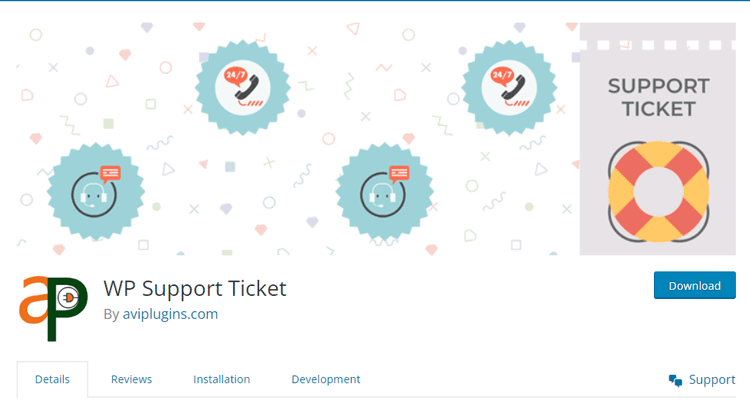 This plugin is also another considerable option to stay in contact with your customers and ensure they receive the help and support they need. Customers can generate a ticket whenever they have a query, and you are satisfied knowing each one will be received. Best of all, customers receive an email notification every time you post a reply message – so there's no worry about forgotten tickets or unanswered questions.
The ticket creation feature is easy for customers to use and includes the ability for file attachments (most formats are supported). You also control open, closed, and resolved tickets through your admin panel. Start making customer service easier today by using this ingenious plugin
Highlighted Features:
Advanced ticket search
Custom fields
Support Ticket List
Email notifications
Pricing:
Free Version
Pro Version for $2
Awesome Support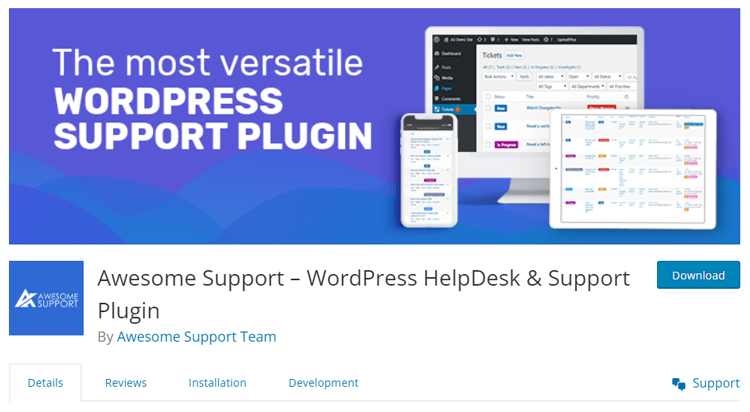 Awesome Support is an excellent WordPress helpdesk ticket plugin for businesses looking to provide excellent customer service. Whether you are a one-person team or need larger support, this plugin has something for everyone. Installation is fast and easy – just answer a few questions in the startup wizard, and you are ready to go in no time!
Awesome support's comprehensive feature set provides customers with a great experience, such as complete ticket history, adding custom fields, customizable email notifications, and automatic agent assignment. With Awesome Support, you can quickly and easily create an effective helpdesk & support ticketing system that will make your customers smile.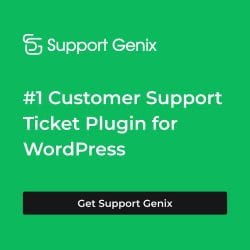 Highlighted Features:
Ticketing
Restricted access
Custom fields
Agent Collaboration
Email notifications
Pricing:
Standard Plan: $149/ Year
Pro Plan: $229/ Year
Enterprise Plan: $289/ Year
Agency Plan: $409/ Year
WP Ticket – Customer Service Software & Support Ticket System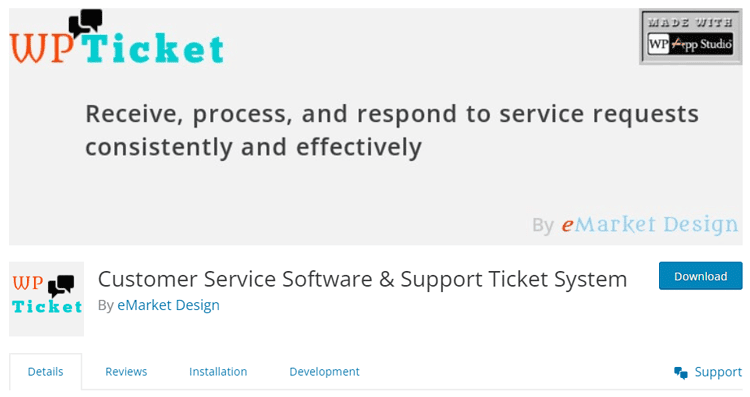 Using WP Ticket's customer service software and support ticket system allows businesses to run customer relations while providing the ultimate customer experience efficiently. Easy to navigate, this software gives customers access to a knowledge base center, issue manager, live chat, employee spotlight, and contact management to find answers quickly or staff members quickly. Moreover, businesses can attract and retain customers effectively by converting visitors into customers through the timely support that WP Ticket offers.
Highlighted Features:
Knowledge Center Starter
Employee Spotlight
Request a quote
Customizable form
Pricing: Free Version
Final Thoughts on Choosing the Right Plugin for Your Needs
Choosing the right customer service plugin for your needs is difficult. Plugins provide different features and levels of service, so it's essential to do your homework and decide what best fits your business model. Take into account the number of people in need of assistance, your budget, and how easily and quickly you can receive support from the vendor and then determine the features to look in WordPress Support Ticket Plugin.
Every website has unique needs, so take the time to evaluate all available options to ensure that you make the best possible decision for your customers and team. Ultimately, consider having the top features to look at in WordPress support ticket plugins for customer satisfaction and loyalty.
Support Genix
WordPress Support Ticket Plugin
Take Your Customer Support to The Next Level and Boost Customer Satisfaction Rates