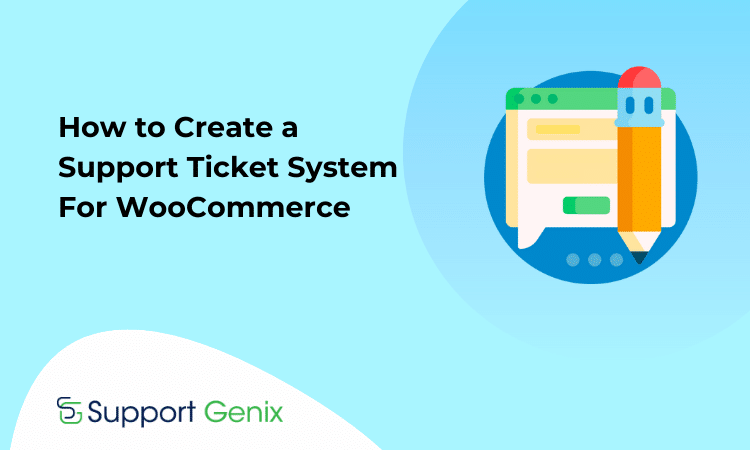 If you use WooCommerce to run your online store, you know How to Create a Support Ticket System for WooCommerce. The best method to accomplish this is by establishing a support ticket system. This blog post will demonstrate how to Create a support ticket system in WooCommerce using the unique WordPress plugin Support Genix. We'll also go through some advantages of implementing a support ticket system for your company. Let's get going!
What is a Support Ticket System
A support ticket system is a customer service tool that enables businesses to track and resolve customer inquiries. By centralizing all customer communication in one place, businesses can more effectively manage customer requests and ensure that each inquiry is resolved promptly.
In addition, a support ticket system can help businesses to identify patterns in customer requests, which can be used to improve the overall customer experience. While a support ticket system requires an initial investment of time and resources, it can pay off in increased customer satisfaction and loyalty.
Benefits of Using a Support Ticket System for WooCommerce
A support ticket system is a great way to keep track of customer service requests and ensure they are addressed promptly. A well-known eCommerce platform, WooCommerce allows companies to sell goods and services online. However, managing customer service inquiries can be challenging, especially for small businesses. A support ticket system can help to streamline the process by keeping all of the information in one place.
This can make it easier to respond to customers and resolve issues. In addition, a support ticket system can help to create a history of customer service interactions, which can help troubleshoot future issues. As a result, a support ticket system can be a valuable tool for businesses that use WooCommerce.

How to Create a Support Ticket System in WooCommerce using Support Genix
WooCommerce is a popular eCommerce platform that allows businesses to sell their products online. To provide the best possible customer support, it is essential to have a system in place for managing customer queries and complaints. A tool that can be used for this is Support Genix. The best approach to keep track of customer inquiries and issues is through a support ticket system. It might also be a valuable tool for resolving problems with your WooCommerce store.
The Support Genix WooCommerce Integration is one of the simplest ways to set up a support ticket system out of all the options available. Thanks to this feature, you can easily and quickly create tickets using your WooCommerce orders.
To get started, go to the Support Genix WooCommerce Integration page and enable the feature.
Then, go to your WooCommerce store and create an API key.
Once you have done this, you will need to copy the API keys from the WooCommerce Settings page and paste them into the appropriate fields on the Support Genix page.
Finally, configure the settings to your liking and create tickets using the order ID. This method lets you quickly find the order details on the ticket page.
With Support Genix, setting up a support ticket system in WooCommerce is quick and easy.
Tips for Providing Excellent Customer Support
Providing excellent customer support is essential for any business. Here are a few tips to help you deliver excellent service:
1. Be responsive. Customers should never have to wait long for a response. If you can't get back to them immediately, let them know when they can expect to hear from you.
2. Be courteous. Always use a professional and polite tone when communicating with customers.
3. Be helpful. Don't just provide the bare minimum of information – try to help your customers solve their problems.
4. Be patient. Dealing with demanding customers can be challenging, but staying calm and patient throughout the interaction is essential.
5. Follow up. After resolving a customer issue, follow up to ensure they're satisfied with the outcome.
These pointers can help you guarantee that your clients will constantly get the first-rate assistance they deserve.
Support Genix
WordPress Support Ticket Plugin
Take Your Customer Support to The Next Level and Boost Customer Satisfaction Rates
Final Thoughts
You should have a solid understanding of how to create a support ticket system for WooCommerce by the time you've finished reading this article. Additionally, you need to be aware of such a system's advantages. Consider your demands and goals if you're still unsure whether a ticket system is the best option for your company.