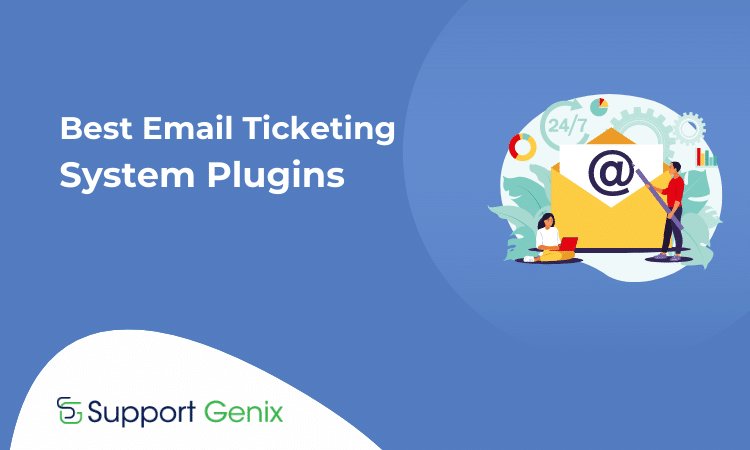 If you're running a WordPress website, then you know how important it is to have a good support system in place. A plugin that can help with this is an email ticketing system. In this article, we will discuss 5 best email ticketing system plugins for WordPress. These plugins will help you manage customer support requests more efficiently and provide a better experience for your customers.
What is an Email Ticketing System Plugin for WordPress
An email ticketing system plugin is a tool that enables website owners to manage customer support requests effortlessly via email. This handy plugin has a number of powerful features, including auto-generated subject lines and predefined response templates. It also comes with the ability to create custom fields, which can capture additional customer information about their requests.
Additionally, an email ticketing system plugins can be easily integrated with many popular WordPress plugins for enhanced functionality, making it a powerful and user-friendly tool for streamlining customer support efforts.

Why are Email Ticketing System Plugins important
Email ticketing plugins are essential tools for businesses that need to streamline their customer support processes. From interacting with customers and responding to their queries in a timely manner to tracking and resolving issues, these plugins provide a range of benefits that enable businesses to provide outstanding service levels.
One of the key advantages of email ticketing systems is that they simplify communication between customers and support staff. It could be done through automated responses and an easy-to-use interface that consumers can work with directly. Additionally, these systems save time by removing the need to manually transfer emails into different platforms or systems, allowing support staff to focus on more pressing tasks.
Furthermore, email ticketing system plugins allow businesses to measure their performance using built-in analytics capabilities. These metrics can be used in real-time to address common customer concerns or stay on top of support trends, but they can also help businesses evaluate their progress over time and identify areas for improvement or expansion. With such insights at their disposal, businesses can ensure that they always deliver excellent support services, earning them valuable customer loyalty for years to come.
The 5 Best Email Ticketing System plugins for WordPress
Support Genix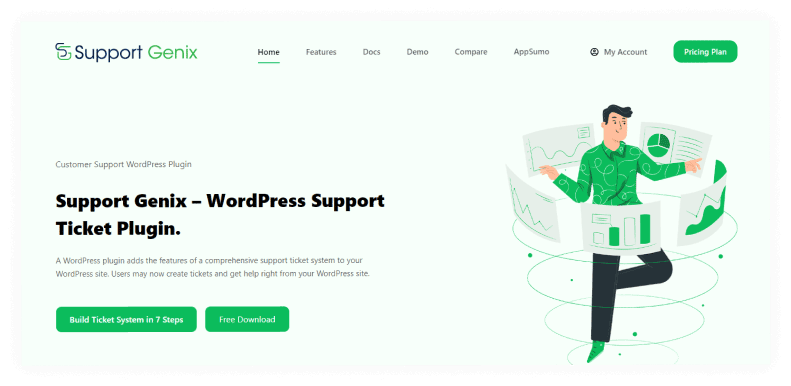 When you need help with your WordPress site, SupportGenix is the plugin you can count on. With its powerful ticket system and host of other convenient features, this plugin offers the ultimate support solution right within your WordPress dashboard.
Whether you have a question about your site settings or need guidance when customizing a new theme, SupportGenix makes it easy to get the expert advice you need at any time. And by keeping track of your ticket status and receiving real-time email notifications, you can stay fully up-to-date on the progress of every support request.
With its comprehensive list of features, SupportGenix is head and shoulders above the competition. So you'll find it in this powerful platform if you're looking for ticket management, live chat, knowledge base functionality, workflow tracking, or something else entirely. Plus, with its free trial offer, you can test out all these features before subscribing to get a firsthand look at how they work. So if you're serious about providing superior customer service, look no further than SupportGenix!
Key Features
Unlimited Tickets
Unlimited Agents
Unlimited Customers
Tickets on Behalf of Users
Easy Email Handling
Elite Licenser Integration
Pricing- Support Genix offers cost-effective and simple services for small and medium enterprises.
Yearly plan-
Personal for $29 (1 website)
Developer for $59 (5 websites)
Agency for $89 (100 websites)
Lifetime Plan-
Personal for $59 (1 website)
Developer for $99 (5 websites)
Agency for $149 (100 websites)
Zendesk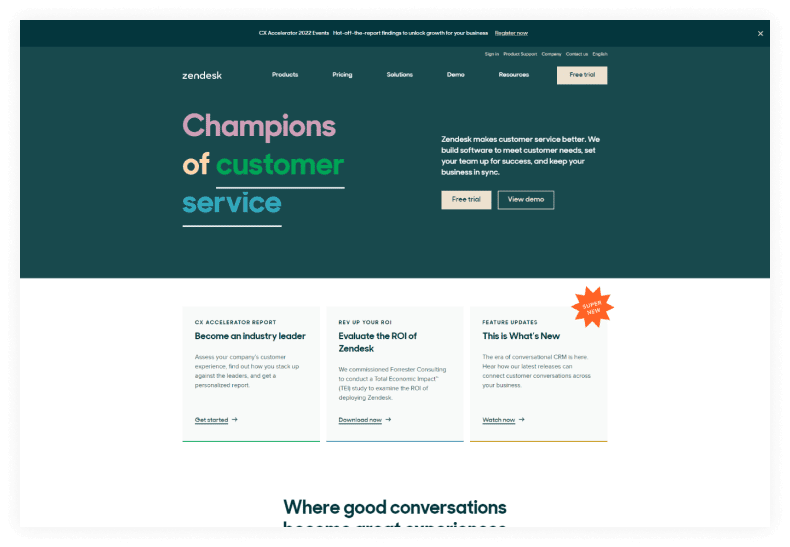 Zendesk is one of the most popular help desk software programs available today. What makes this program so appealing is its versatility and robust feature set. Whether you need basic email support or an advanced suite of tools for an omnichannel approach, Zendesk has the features you need to power your customer support efforts.
The fundamental plans are great if you're looking for affordability and a more streamlined setup. Despite their lower price tag, these plans still come packed with a wide range of essential features, including a shared inbox, live chat, knowledge base builder, reporting tools, and productivity features like automatic workflows and integrations with other programs that you might use as part of your support efforts.
And with the Zendesk Apps and Integrations available, you can customize the experience to meet all of your unique requirements. Whether you need extra support for complex order management systems or deep insights into customer trends and behavior, Zendesk has everything you need to ensure that your operations run smoothly. So if you're looking for an all-in-one solution that provides maximum flexibility and optimal results, look no further than Zendesk!
Key Features
Zendesk Support
Zendesk Support Suite
Zendesk Chat
Zendesk Explore
Zendesk Guide
Zendesk Sell
Zendesk Gather
Zendesk Sales Suite
Pricing: Starting at $19/agent per month.
Live Agent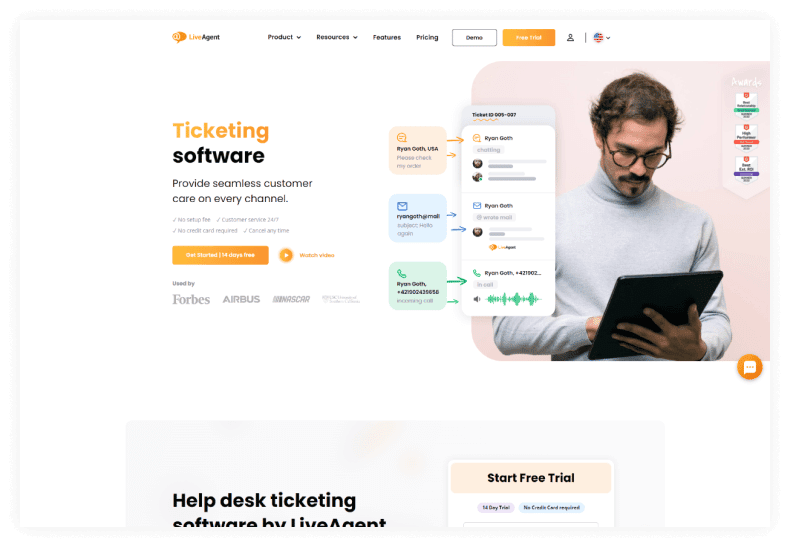 If you're looking for the most versatile, comprehensive ticketing software on the market, look no further than LiveAgent. With its many advanced features, LiveAgent provides everything you need to easily handle all of your customer support inquiries in one convenient interface. Whether you need to quickly and efficiently manage multiple customer requests or improve customer service response times through automation, LiveAgent has you covered.
With its powerful and extensive integrations, you can easily connect your ticketing software to all of your other platforms, like your CRM, accounting system, chat platform, and social media accounts. This streamlined workflow ensures that you always have access to the information you need in order to deliver the best possible service to your customers. Plus, with its user-friendly interface and intuitive design, LiveAgent makes managing tickets a breeze.
And not only does it provide all of the essential functionality needed to manage customer support effectively, but it also integrates seamlessly with major CRMs, making it a truly versatile and intuitive tool. So, if you're looking for a solution that can help your business currently and in the future, LiveAgent is the way to go!
Key Features
Agent Collision Detection
Agent Ranking
Automated Ticket Distribution
Canned Message
Contact Form Gallery
Email Forwarding
Pricing
Ticket for $15/agent/month
Ticket+ Chat for $29/agent/month
All-inclusive for $49/agent/month
Free for $0/agent/month
Awesome Support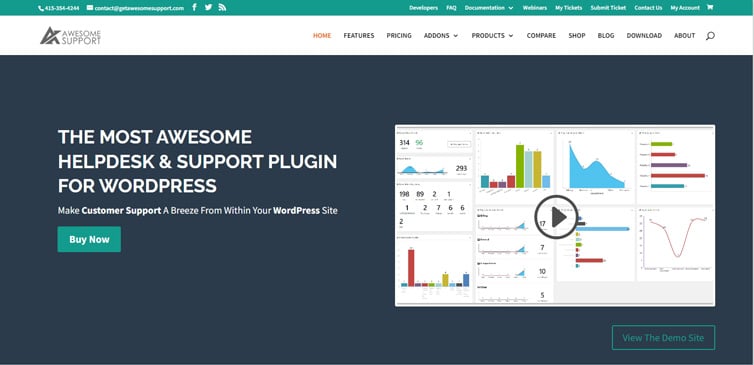 When creating a support platform that's adaptable and easy to use, there's no better option than Awesome Support. This powerful WordPress plugin packs a ton of features into a sleek and intuitive interface, making it the perfect choice for businesses of all sizes. Plus, with features that can compete with the likes of SAAS solutions like Zendesk or Support Genix, you know that your customers are in good hands.
This powerful plugin offers a wide range of features that cater to the needs of both users and agents, making it an essential tool for any company looking to improve its operations. So whether you're looking to submit tickets from the front end or want to access your account from the WordPress backend, Awesome Support has you covered. And with email notifications for relevant parties every time something happens, you'll always be on top of all customer interactions. So if you're serious about taking your customer support system to the next level, look no further than Awesome Support!
Key Features
Unlimited Tickets
Unlimited Agents
Unlimited Custom Fields
Private Tickets
Agents can create tickets on behalf of users
Agents can view only their tickets or all tickets
Agents can receive email notifications by email for ticket events such as a new ticket, reply to the ticket, etc
Pricing
Standard for $149/year
Pro for $229/year
Enterprise for $289/year
Agency for $409/year
WordPress Advanced Ticket System
Regarding providing superior customer care, there is no better ticketing solution than WordPress Advanced Ticket System (WATS). Designed by accomplished WordPress professionals, WATS offers all of the critical features businesses need to do their job well, from basic ticket management and user tracking to sophisticated analytics and database functionality.
With this powerful software, businesses can easily handle and respond to customer questions, track and resolve issues quickly, and measure their performance over time. What's more, with its advanced reporting features and customizable interface, users can rest assured that this system will fully adapt to their needs, no matter how unique or complex it may be.
Its ability to submit tickets through the admin interface and guest user feature makes it easy for users of all skill levels to reach out for help. And if you need to update tickets on behalf of users or quickly set priority, status, type, and product values based on preset options, then this plugin has covered you.
Whether you're a newbie webmaster or a seasoned pro, WordPress Advanced Ticket System is a must-have tool for anyone who wants to streamline their support process. So why wait? Get started today!
Key Features
Ticket submission through the admin for registered users
Ticket submission through the admin for unregistered users via the shared guest user feature
Ticket submission and update on behalf of users, useful for call center
The admin presets priority, status, type, and product values
Priority, status, type, and product are keys definition and update for each ticket
How to choose the right Email Ticketing System plugin for your website
There are many different Email Ticketing System plugins available these days, each of its own set of features and benefits. Choosing the right one can be tricky, but there are a few key questions you can ask yourself to make the decision easier.
First, what are your website's overall purpose and function? Different Email Ticketing System plugins are designed for different needs, so it's important to assess your website's role in your overall business or organization.
Another factor to consider is your budget – this will help you narrow down the options that fit within your price range. Finally, take into account how easy it is to learn and use each plugin – this will make a big difference in how smoothly your email ticketing system operates over time. With these factors in mind, you can find the best Email Ticketing System plugins for your website will be a breeze.
Support Genix
WordPress Support Ticket Plugin
Take Your Customer Support to The Next Level and Boost Customer Satisfaction Rates
Final Words
When it comes to managing your online business, Email Ticketing Systems are an essential tool. They allow you to easily respond to customer inquiries and organize past issues into a central system. But with so many Email Ticketing Systems available on the market today, how do you know which plugin is right for your business needs?
After looking at dozens of options, we have compiled a list of WordPress's top 5 best Email Ticketing System plugins. These plugins offer a wide range of features, from streamlined interface design to customizable templates and more. So whether you are looking for a simple program that allows your customers easy access to support or an advanced solution with detailed analytics and reporting capabilities, one of these plugins is sure to meet your needs. So check them out and start improving your customer service today.