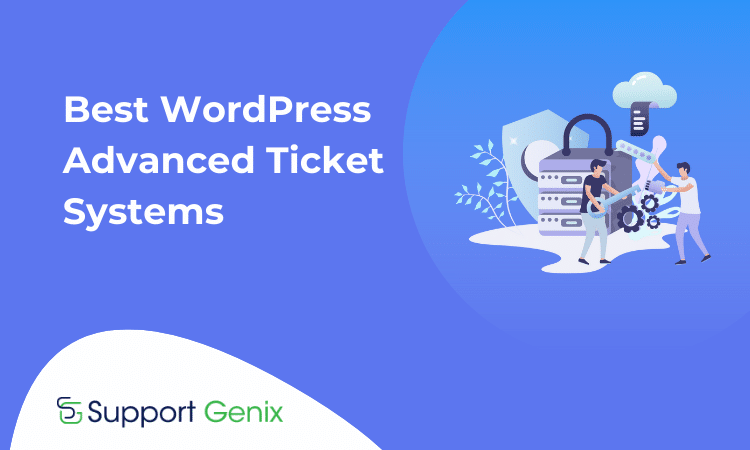 Increasing customer satisfaction is a top priority for businesses today. WordPress advanced ticket systems provide an effective way to supercharge customer service efforts. Additionally, these sophisticated ticketing systems allow for multiple teams to collaborate on support cases by sharing comments and information within the system.
By incorporating an advanced ticket system into a WordPress website, businesses are able to take the time-consuming tasks of client management off their plate and focus more attention on their customer's needs.
Benefits of Using an Advanced Ticket System
An advanced ticket system has a multitude of benefits for businesses and customers alike. For customers, convenience is key; with this system, they are able to access a wide range of information quickly and easily, including ticket sales, seating arrangements, event schedules, and more. Businesses also highly value advanced ticketing systems due to the streamlined experience they provide.
These systems allow data to be stored in one central location, making information easier to access while providing them with real-time analytics that help gain insights into customer behavior.
Moreover, ticket transactions can now be completed securely within a matter of minutes from any device connected to the internet. As a result, they are allowing organizations to save time and money in the process. Ultimately an advanced ticketing system provides greater convenience and efficiency for both customers and businesses.
Features to Look For in a Great Ticket System
When searching for a great ticket system, there are several features that should be taken into consideration. First, look for one that has automation features to help reduce manual effort in responding to tickets and tracking progress. Additionally, seek out solutions with multi-channel communication options so customers can contact your helpdesk in the way that works best for them.
As people grow increasingly dependent on technology, it is also important to look for a system that allows you to prioritize tickets created from your website or mobile app versus those from other channels. Furthermore, investigate if any custom reporting or analytics will be available to monitor ticketing performance and make data-driven decisions that improve customer satisfaction levels.
Finally, make sure your ticketing solution integrates with other applications used in managing customers too. All these features create an excellent ticket system that stands out in today's marketplace.

Best WordPress Advanced Ticket Systems
Support Genix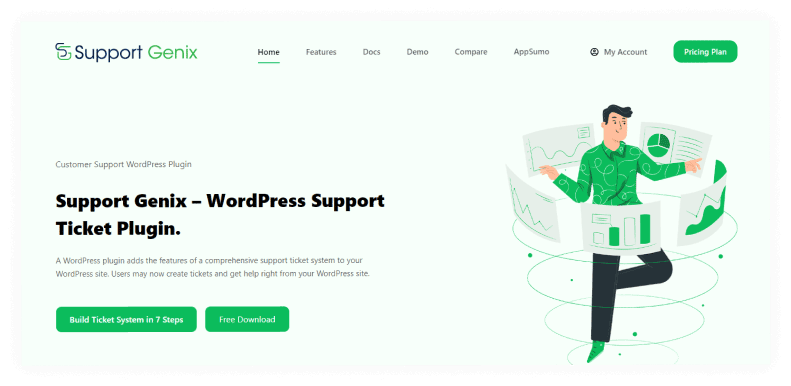 Support Genix is the perfect plugin for any WooCommerce site owner looking to keep their support process running smoothly. Not only does it offer an easy-to-use ticket system, but its user-friendly interface makes solving customer queries simple and straightforward. This way, you're able to provide superior customer service without having to spend copious amounts of time and energy focusing on bureaucratic tasks.
This system offers a complete suite of features to empower businesses with the tools necessary for superior customer service. Companies can track and evaluate agent performance, receive notifications when a ticket has been resolved, and be confident that these capabilities will help to support customer satisfaction.
In addition, it provides companies with a powerful platform to streamline request processes and make sure all personnel has the information necessary to resolve customers' inquiries in an efficient manner. Support Genix has also revolutionized customer support with its comprehensive system.
All customer support requests are stored in one place, allowing businesses to quickly and easily review or follow up on inquiries. This powerful tool streamlines the process of providing top-notch service, thus helping businesses provide customers with the best possible service. With Support Genix, businesses can be assured of the highest quality customer satisfaction.
Key Features
Unlimited Tickets
Unlimited Agents
Unlimited Customers
Tickets on Behalf of Users
Easy Email Handling
Elite Licenser Integration
Webhook
Pricing- Support Genix offers cost-effective and simple services for small and medium enterprises.
Yearly Plan–
Personal Plan for $59 (1 website)
Developer Plan for $99 (5 websites)
Agency Plan for $149 (100 websites)
Lifetime Plan-
Personal Plan for $99 (1 website)
Developer Plan for $199 (5 websites)
Agency Plan for $239 (100 websites)
Zendesk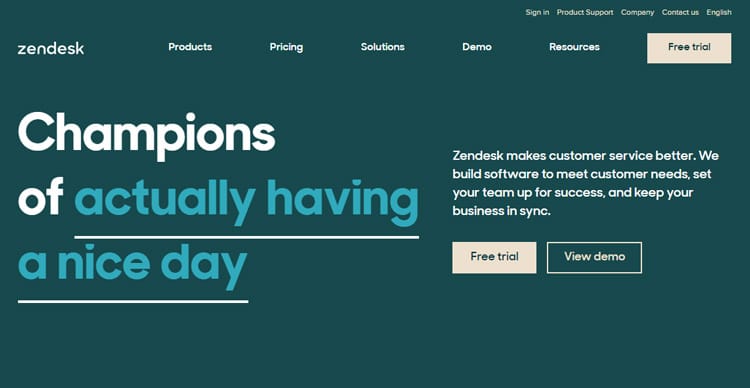 Zendesk is revolutionizing the customer service experience. With its wide selection of plans, an extensive suite of tools and customization options, and an intuitive interface, it's quickly becoming one of the top choices for businesses looking for quality customer service solutions. Best of all, thanks to the ease of setup provided by Zendesk, getting your team up and running with their own customized platform takes just a few steps – so you can start delighting customers right away.
Zendesk offers remarkable versatility in its WordPress support ticket plugin, making it a perfect tool for businesses of any size. In addition, it provides robust features and functionalities, allowing users to customize the experience according to their individual business requirements.
The flexible pricing plans make it easy for businesses to make the most out of the plugin, while integrated apps and integrations ensure that customers get top-notch service along with an unforgettable experience that will keep them coming back. Zendesk has everything you need to help your business succeed, no matter whether you are a small start-up or a multinational enterprise.
Key Features
Zendesk Support
Zendesk Support Suite
Zendesk Chat
Zendesk Explore
Zendesk Guide
Zendesk Sell
Zendesk Gather
Zendesk Sales Suite
Pricing:
Suite Team Plan: $49 per agent/month billed annually
Suite Growth Plan: $79 per agent/month billed annually
Suite Professional Plan: $99 per agent/month billed annually
Awesome Support
Awesome Support is revolutionizing customer service platforms, setting the bar for what an effective service solution should look like. With a wealth of features and options, it's ideal for businesses of all sizes. The easily navigable user interface allows everyone, even those without technical knowledge, to take advantage of its powerful capabilities. In addition, automation functions enable Awesome Support to go head-to-head with top SAAS offerings like Support Genix in quality and efficiency.
This powerful plugin provides flexibility in configuring the process to best-fit customers' needs and offers convenient front-end ticket submission. Keeping customers, agents, and other relevant individuals informed of ticket status is achieved with automated email notifications. The user-friendly design of this plugin makes it easy to tailor the system to individual company requirements while helping improve customer relations and streamline office practices.

Having the ability to access account information from within WordPress itself, it eliminates the trouble of needing to switch applications and accounts constantly. This ensures seamless implementation into any existing systems businesses have already put in place, saving time and money with the bonus of integrating all their systems together.
Overall, Awesome Support provides an effortless experience and is highly recommended for all businesses that want a smoother operation.
Key Features
Unlimited Tickets
Unlimited Agents
Unlimited Custom Fields
Private Tickets
Agents can create tickets on behalf of users
Agents can view only their tickets or all tickets
Agents can receive email notifications by email for ticket events such as a new ticket, reply to the ticket, etc
Pricing
The standard for $149/year
Pro for $229/year
Enterprise for $289/year
Agency for $409/year
Support Candy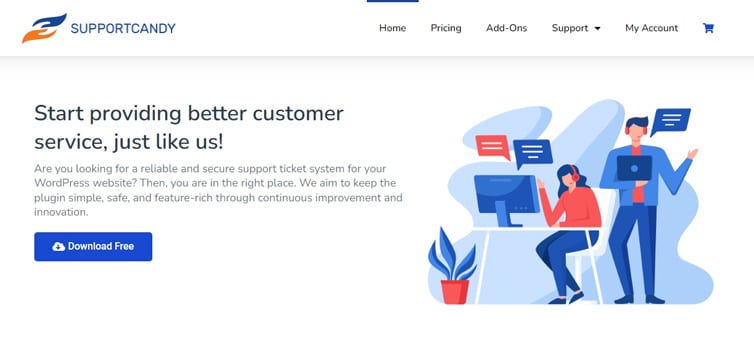 Support Candy is a powerful tool that reigns among the top ticketing software available to WordPress users. From its intuitive ticketing systems and comprehensive FAQs to live chat capabilities, this feature-rich plugin has been empowering customers for years. Setting up and making the most of Support Candy is effortless; not only does it allow users to manage their experience with ease, but it also comes with detailed documentation readily available to ensure smooth implementation.
For businesses seeking to improve the customer support experience, Support Candy's ticket plugin offers an easy-to-use platform full of features designed with user satisfaction in mind. Clients are able to create their own tickets and be notified in real-time whenever any critical changes occur. The plugin is further enhanced by over 16+ custom field types to provide customers with a greater degree of control when segmenting and organizing data. This ensures a more efficient and effective support process overall.
The team behind Support Candy is constantly releasing new updates, ensuring users have access to cutting-edge support tools so they can easily manage their customer service operations. By streamlining the website experience through Support Candy, WordPress site owners can be sure that their customers will stay satisfied–and that their websites remain running all the while smoothly.
Key Features
Unlimited number of tickets
Unlimited number of agents
Advanced custom filter and search functionality
Saved filters for customers and agents
Private notes for internal communication of agents
Agents can create a ticket on the customer's behalf
16+ Custom field types
Pricing
Starter Plan for $59
Econom Plan for $109
Standard Plan for $149
Help Scout
Help Scout is the go-to customer support platform for any business looking to thrive. Its comprehensive suite of features allows businesses to manage requests, create informative Knowledge Base articles, and automate processes with ease – vital tools for any company aiming to boost its customer experience.
Seeing this big picture and more, Help Scout provides unparalleled Support in the form of a world-class team of experts focused on each individual customer's needs. Utilizing this platform can truly be a game-changer for growing businesses.

With exceptional organizing and search tools, Help Scout's users can access the information they require without delay. Furthermore, its Docs Reports feature provides insight into which material functions optimally and where improvements could be made.
This cutting-edge approach enables customers to enjoy top-class service while minimizing resource usage at the same time. For companies in the customer service realm, Help Scout offers a groundbreaking way of providing a quality customer experience.
Key Features
Shared Inbox
Knowledge Base
Customer Management
Live Chat
Reporting
Workflows
Pricing-
Annual Plan–
Standard Plan for $20
Plus plan for $40
Pro plan for $65
Monthly Plan-
Standard Plan for $25
Plus plan for $50
Conclusion
The best WordPress advanced ticket systems offer powerful yet straightforward customer service. With the ability to provide efficient and effective response times, tracking capabilities, automated customer-facing problem resolution, and user-friendly reporting dashboards, these solutions can greatly improve your customer experience. It allows for faster problem resolution and is an invaluable asset for businesses for its flexible scalability depending on the size and demands of their customers' service needs. Taking advantage of all that a top-tier WP ticket system has to offer could be just what your business needs to deliver outstanding customer service.
Support Genix
WordPress Support Ticket Plugin
Take Your Customer Support to The Next Level and Boost Customer Satisfaction Rates