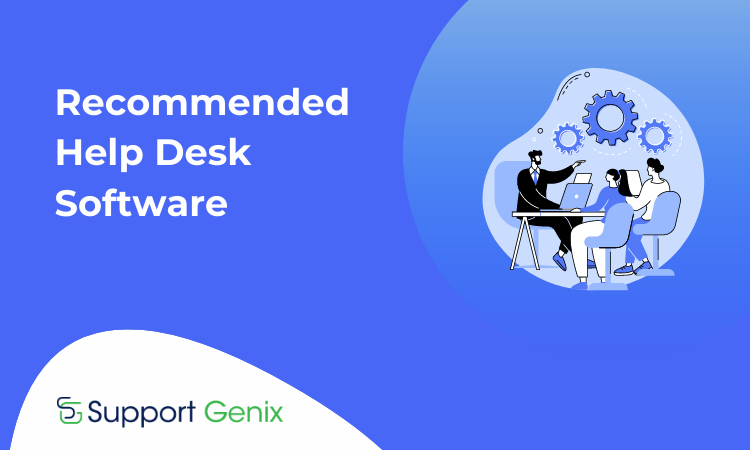 Help desk software is an essential tool for businesses that want to provide efficient customer service. It allows companies to manage customer requests, process inquiries, and handle complaints all in one place.
With the right help desk software, businesses can streamline their customer service processes and reduce response times, leading to happier customers and higher satisfaction rates.
In this article, we will explore the top-recommended help desk software so you can make an informed decision when it comes to choosing the best solution for your business needs.
Overview of the importance of help desk software
Help desk software provides a much-needed layer of support for small to large businesses, allowing customers to submit and track their tickets efficiently. These customer service solutions greatly improve customer satisfaction by quickly addressing any issues they may have, as well as providing an unbiased medium for feedback collection.
For businesses, help desk software creates a single source of truth, allowing employees from all departments to collaborate on solving customer issues from one place.
Additionally, the data collected can be used to better analyze customer service trends and workflows, giving organizations insight for optimization and improvement. Without help desk software, the process of managing customer requests would take much longer and be less efficient overall.

Benefits of using help desk software
Help desk software is an invaluable tool for businesses of any size, providing solutions to assist customers and enhance customer service. The following are some benefits of using help desk software-
Improved customer satisfaction: Help desk software allows customers to get their questions answered quickly and efficiently, which improves overall customer service and satisfaction.
Cost savings: This tool automates many customer service tasks, allowing your team to focus on more pressing matters while also reducing costs associated with manual processes.
Increased productivity: It helps streamline customer service operations by providing easy access to ticketing systems, automated responses, and other tools that help improve efficiency and reduce response times.
Better collaboration: Help desk software is designed to facilitate better collaboration between customer service agents and other departments within the organization, enabling teams to work together more effectively in resolving customer issues quickly and efficiently.
Top Recommended Help Desk Software
Supportgenix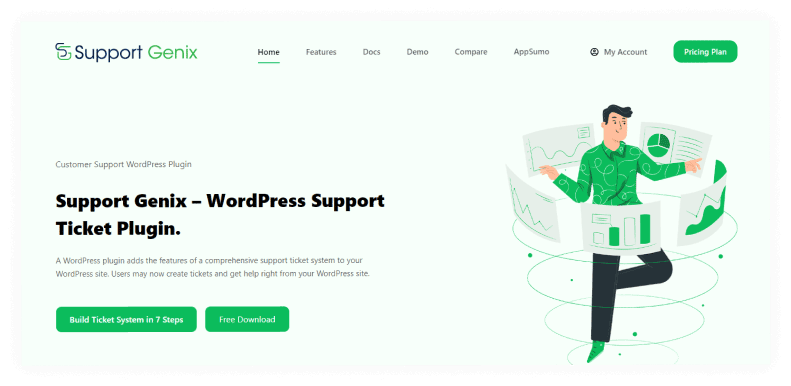 Offering quality customer service is vital for businesses providing digital products as well as online business operations. Help desk software like Support Genix makes giving support to your customers easier and more streamlined.
What sets this WordPress plugin apart is its ability to help you incorporate a ticketing system into your website quickly and with minimal effort. Not only does it make it easy for users to create tickets, but also enables you the business owner to manage incoming requests in an organized way through WordPress so that you can respond faster and more effectively.
Not only does it provide an efficient way of managing incoming requests, but it also offers the ability for businesses to create tickets on their customer's behalf. This allows companies to streamline their processes and ensure that customers receive prompt and satisfactory responses to their queries.
With its suite of features, As a help desk software, Support Genix is an ideal solution for improving customer service satisfaction levels and meeting customer needs.
Key Features
Unlimited Tickets
Unlimited Agents
Unlimited Customers
Tickets on Behalf of Users
Easy Email Handling
Elite Licenser Integration
Webhook
Pricing– For small and medium-sized businesses, Support Genix provides affordable and easy services.
Yearly plan-
Personal for $29 (1 website)
Developer for $59 (5 websites)
Agency for $89 (100 websites)
Lifetime Plan-
Personal for $59 (1 website)
Developer for $99 (5 websites)
Agency for $149 (100 websites)
Help Scout
Help Scout is another perfect help desk software to make sure that customer conversations remain organized and effective. This customer service solution provides a single source for managing all of your customer conversations.
This makes it easier to keep track of messages and provide timely responses. Help Scout also provides a user-friendly platform that is designed to make it feel like sending emails, making the process much more comfortable for both parties.
This is an amazing help desk software for teams who need a simple and efficient way to manage customer relationships.
Help Scout not only makes collaboration easier and simpler, but it also lets you organize your inbox and automate tasks in order to allow your team to handle more customers.
Key Features
Shared Inbox
Knowledge Base
Customer Management
Live Chat
Reporting
Workflows
Pricing Plan:
Annual-
Standard: $20
Plus: $40
Pro: $65
Monthly-
Standard: $25
Plus: $50
Pro: Annual only
ZenDesk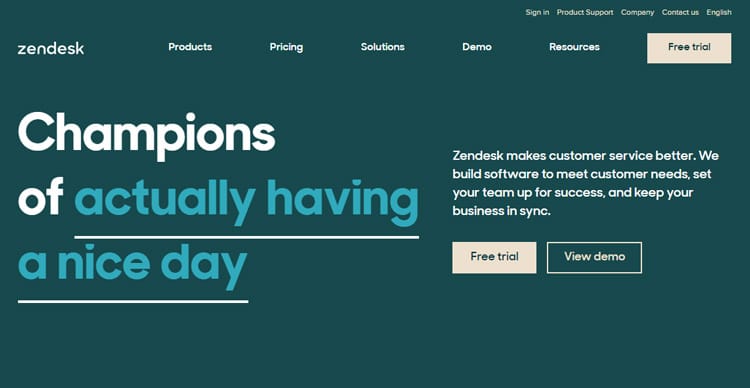 Zendesk is a powerful and comprehensive help desk software platform offering businesses the ability to manage customer service operations efficiently. Its features and tools provide helpful resources to front-line staff working to resolve customer inquiries, ensuring a faster and better response time with improved efficiency. The intuitive user interface makes it easier for teams to access the information they need when customers reach out.
It also includes automation capabilities that are proven to streamline workflow processes, allowing your team more time to focus on customer needs. Its various analytic reports make it easy for business owners or managers to understand performance trends over time and make calculated decisions for customer service improvement initiatives.
With Zendesk, you can ensure your teams are well-equipped and prepared to handle different types of customer requests in an efficient manner. From ticketing systems to built-in analytics and integration with popular CRM systems, it has the features to make customer service management easier and more efficient. Give your customers an unbeatable support experience – get started with Zendesk today!
Key Features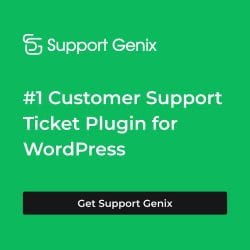 Zendesk Support
Zendesk Support Suite
Zendesk Chat
Zendesk Explore
Zendesk Guide
Zendesk Sell
Zendesk Gather
Zendesk Sales Suite
Pricing Plan:
Suite Team: $49 per agent/month billed annually
Suite Growth: $79 per agent/month billed annually
Suite Professional: $99 per agent/month billed annually
Fresh Desk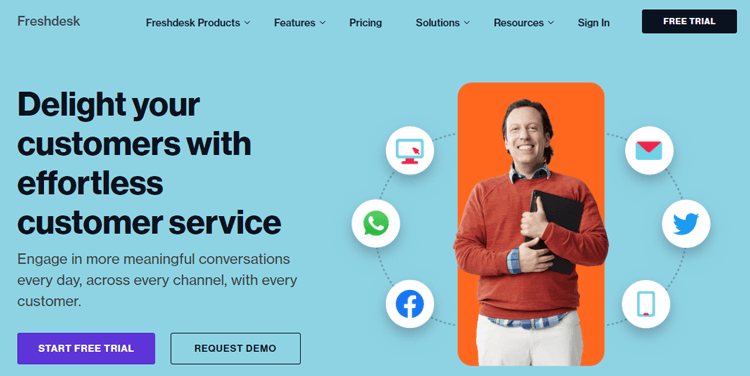 Help desk software can be essential for many businesses, and FreshDesk offers just what you need. It provides a shared inbox, live chat software, a knowledge base builder, and powerful automated AI-powered responses (though this feature is only available in the highest-cost plan).
The FreshDesk team can help resolve customer complaints and even enhance the product itself. All of this is delivered with simplicity – every feature is packed into one handy suite for your convenience.
With its powerful Omnichannel Suite, you can engage with your consumers more effectively and allow customer service representatives to become brand ambassadors. Moreover, it's incredibly easy to set up and you'll only need three months before you'll be able to launch initiatives that encourage customer and employee satisfaction.
With FreshDesk as a helping hand, companies are able to revolutionize their customer support operations and take them to the next level.
Key Features
Agent Collision Detection
SLA Management
Custom Ticket Status
Scheduling Dashboard
Intelligent ticket assignment
Time-triggered automation
Link forum topic to ticket
Pricing Plan: –
Free plan available. Paid plans begin at $15 per agent per month.
Zoho Desk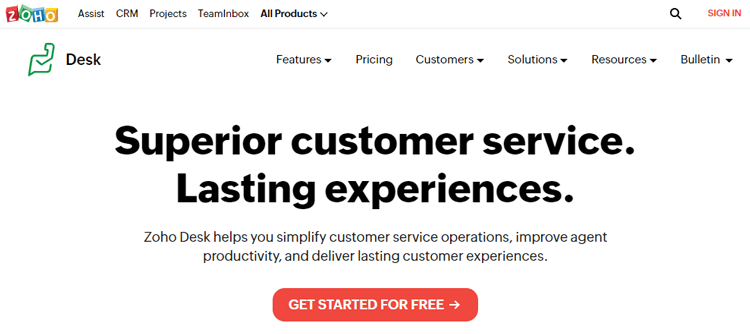 Zoho Desk is a dedicated customer service help desk software that can streamline all of your customer service operations. It not only improves customer satisfaction and boosts productivity, but also helps businesses deliver long-lasting customer experiences.
Thanks to Zoho Desk's built-in intelligence and automation capabilities, agents receive more accurate information and proactive recommendations so they can respond faster and more effectively.
Incredibly easy to set up and use, it integrates seamlessly with all the major CRM systems. What's more, every feature you need to foster strong customer relationships and build loyalty is included in this powerful customer service package.
From streamlining requests and increasing operational efficiency to elevating customer satisfaction and delighting customers, Zoho Desk covers all your company's Help Desk needs–ensuring an attractive return on your investment in no time.
Key Features
Agent Productivity
Automation
Extensibility
Security
Auto Tag Tickets
Pricing Plan:
Yearly-
Standard: $14
Professional: $23
Enterprise: $40
Monthly-
Standard: $20
Professional: $35
Enterprise: $50
Conclusion
Help desk software is a great resource for any team looking to make their customer service practices more efficient. Of the many options available, this roundup of the top help desk software solutions has been determined to be the most user-friendly and cost-effective, making them suitable for a wide range of businesses.
Furthermore, each solution offers powerful tools for customer support teams that are easy to use and quickly integrated, enabling teams to create positive outcomes for customers faster than ever before.
Ultimately, making the switch from manual processes to automated help desk software has revolutionized the way businesses interact with their customers throughout every stage of their relationship.
Support Genix
WordPress Support Ticket Plugin
Take Your Customer Support to The Next Level and Boost Customer Satisfaction Rates