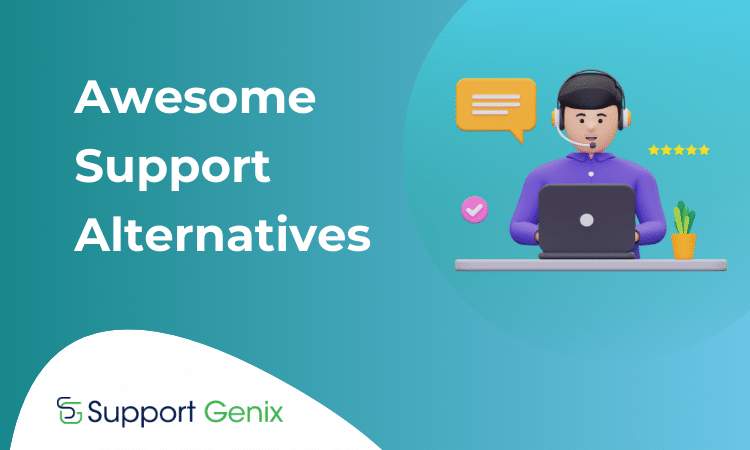 Are you looking for an alternative to the Awesome Support Plugin for WordPress? If so, you're in luck! We've put together a comprehensive list of 6 tried and tested solutions that offer awesome support alternatives. Keep reading to find out which plugin is right for your needs so you can get the support you need quickly and easily!
Overview of Awesome Support and its Features
Before we dive into the Awesome Support alternatives, let's quickly recap what Awesome Support can offer. For businesses and organizations that seek reliable and efficient customer support, Awesome Support is a top-tier platform that makes it easy to provide outstanding service. This comprehensive support system WordPress plugin offers a variety of features designed to help streamline communication between organizations and their customers.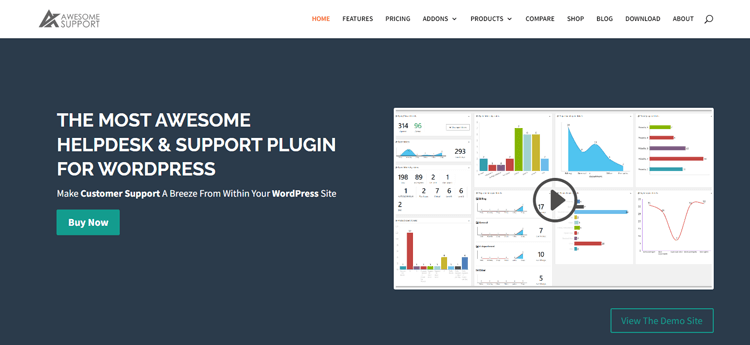 From customizable templates and automated responses to in-depth reports and user tracking, Awesome Support is an all-in-one solution that can help businesses excel in customer support. With its easy-to-use interface and powerful features, Awesome Support provides a hassle-free customer support experience that is unparalleled in today's digital landscape.
Comparison of 6 different Awesome Support alternatives
Support Genix
If you're searching for a top-of-the-line support system for your online business or digital product, Support Genix is the perfect solution. This unrivaled WordPress plugin offers an all-inclusive ticketing system that streamlines the support process for your customers. Support Genix is the go to alternative to other popular plugins like Awesome Support.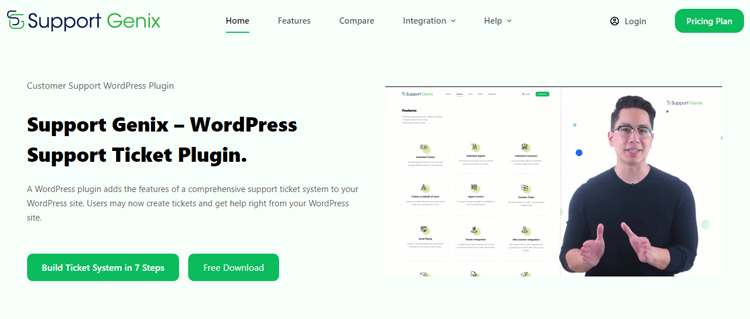 With its powerful features, Support Genix is able to provide you with a comprehensive support system, all in one place. It offers powerful features that enable you to easily manage incoming ticket requests and respond quickly and efficiently. You can offer exceptional customer service and provide your users with a seamless experience.
Support Genix has a streamlined support process and automatic notification system, which allows you to focus on resolving customer issues efficiently and effectively. Additionally, it offers a robust set of customization options, so you can tailor the platform to meet your unique needs. Overall, Support Genix is a professional-grade solution that can help take your customer support to the next level.
Key Features
Unlimited Tickets
Unlimited Agents
Unlimited Customers
Tickets on Behalf of Users
Easy Email Handling
Elite Licenser Integration
Webhook
Pricing– Support Genix offers cost-effective and simple services for small and medium enterprises.
Yearly plan–
Personal for $59 (1 website)
Developer for $99 (5 websites)
Agency for $89 (100 websites)
Lifetime Plan-
Personal for $99 (1 website)
Developer for $199 (5 websites)
Agency for $399 (100 websites)
Zendesk
When it comes to managing a helpdesk, having customizable tools is a must. Zendesk, a cloud-based helpdesk management solution, offers just that and more. Its features include building a customer service portal, knowledge base, and online communities that can easily be tailored to meet the unique needs of your business.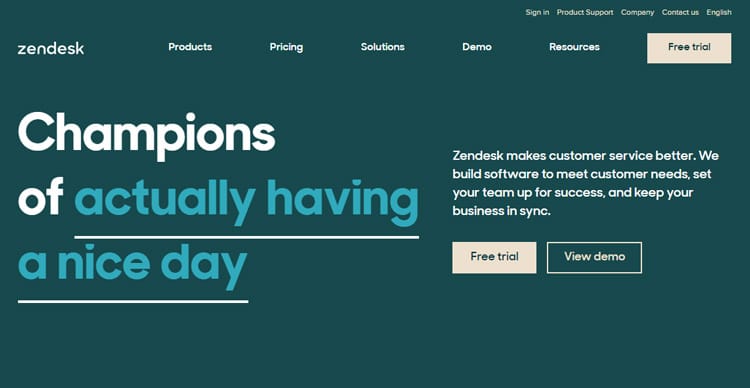 While Awesome Support is a popular WordPress plugin for managing customer support, the Zendesk Suite offers a multitude of features that make it an attractive option. With a customizable front-end portal, live chat, and integration with popular applications, businesses can easily brand their support pages and offer a seamless customer experience. Additionally, the Suite includes various products like ticketing systems, a help center, and messaging tools, giving businesses the flexibility to choose the features that best suit their needs.
For those using WordPress, the Zendesk WordPress integration allows you to seamlessly integrate your helpdesk, ensuring your customers have easy access to the support they need. Whether you're searching for alternatives to Awesome Support Plugin or simply looking to streamline your customer support process, Zendesk has got you covered.
Key Features
Customizable email notification
Automatic agent assignment
Customer fields
Premium add-ons
Customer support
SMS & push bullets notification
Real-time email notification
Pricing
Plans for everyone-
Suite Team: $49/agent/month billed annually
Suite Growth: $79/agent/month billed annually
Suite Professional: $99/agent/month billed annually
Plans for enterprise-
Suite Enterprise: $150/agent/month billed annually
Additional enterprise-ready plans: $215/agent/month billed annually
👉 Learn How a Good Customer Support Impacts Your Business
Help Scout
As the market becomes saturated with various options, finding an efficient customer support platform can be a daunting task. Thankfully, Help Scout's presence simplifies the otherwise complicated process. While it offers a robust platform for managing customer inquiries, it's also an exceptional alternative to the well-regarded Awesome Support plugin.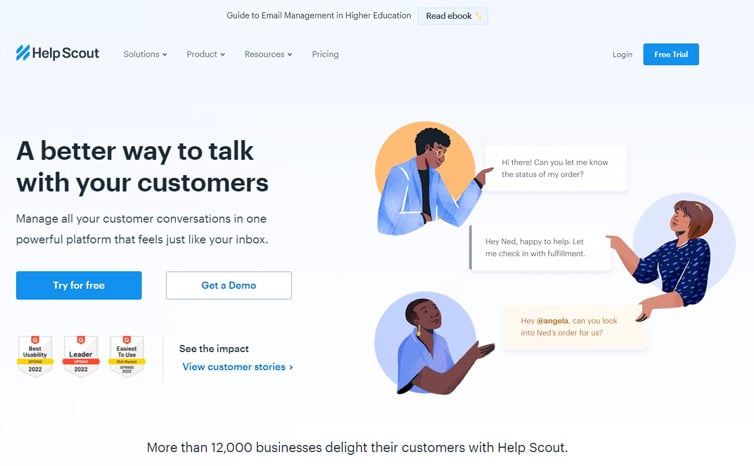 Help Scout's shared inboxes and automated workflows provide ample room for collaboration and make it easier to prioritize urgent issues. Its streamlined approach to customer support ensures that businesses can manage inquiries efficiently while maintaining the highest level of professionalism.
This customer service platform enables teams to optimize their workflows, resulting in exceptional service that leaves customers feeling satisfied and empowered. One of the standout features of Help Scout is its intuitive search tools, making it effortless to navigate the site and locate the necessary information to assist customers effectively.
Additionally, Help Scout offers customizable organizational features that allow businesses to present their content in a way that suits them best.
Key Features
Shared Inbox
Knowledge Base
Customer Management
Live Chat
Reporting
Workflows
Pricing
Annual Plan
Standard for $20/month
Plus for $40/month
Pro for $65/month
Monthly Plan
Standard for $25/month
Plus for $50/month
Support Genix
WordPress Support Ticket Plugin
Take Your Customer Support to The Next Level and Boost Customer Satisfaction Rates
Freshdesk
With so many Awesome Support alternatives available in the market, selecting the right fit can be daunting. If you are searching for a solution that not only streamlines your communication with customers but also helps boost your team's productivity, FreshDesk is worth considering. Compared to the Awesome Support Plugin, FreshDesk offers more comprehensive features for customization, automation, and integration.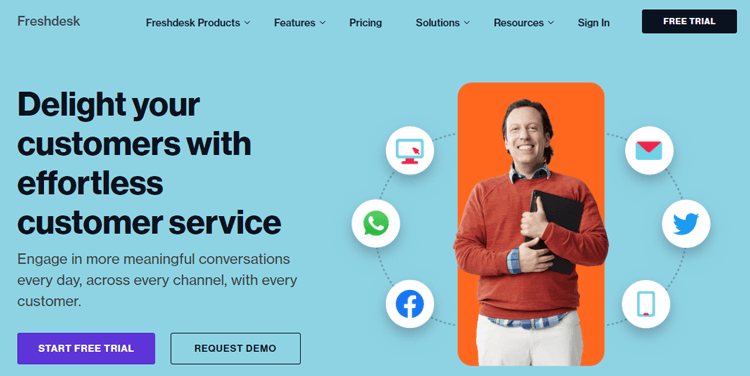 This user-friendly platform enables representatives to become valuable brand ambassadors, promoting customer and employee satisfaction through engaging initiatives. What's more, FreshDesk's three-month implementation time makes it incredibly simple to set up, meaning that organizations can quickly reap the benefits of this Zendesk alternative. With its proven track record, businesses can trust in FreshDesk's ability to make customer service a breeze.
Plus, FreshDesk provides 24/7 support, which assures you of quick response times in case of any technical issues. All these factors make FreshDesk a leading customer service software solution for businesses of all sizes who prioritize customer satisfaction and efficiency.
Key Features
Agent Collision Detection
SLA Management
Custom Ticket Status
Scheduling Dashboard
Intelligent ticket assignment
Time-triggered automation
Link forum topic to ticket
Pricing-
Growth: $15/agent/month/billed annually
Pro: $49/agent/month/billed annually
Enterprise: $79/agent/month/billed annually
Free plan available
👉 Learn How to Fix Bad Customer Service: Tips and Tricks
Live Agent
When it comes to finding the best alternative to the Awesome Support plugin, LiveAgent can be a top consideration of your list. While its name may suggest that it's merely a ticketing software, this innovative platform provides much more than that. Its advanced and intuitive user interface makes it easy to handle all aspects of your customer service inquiries.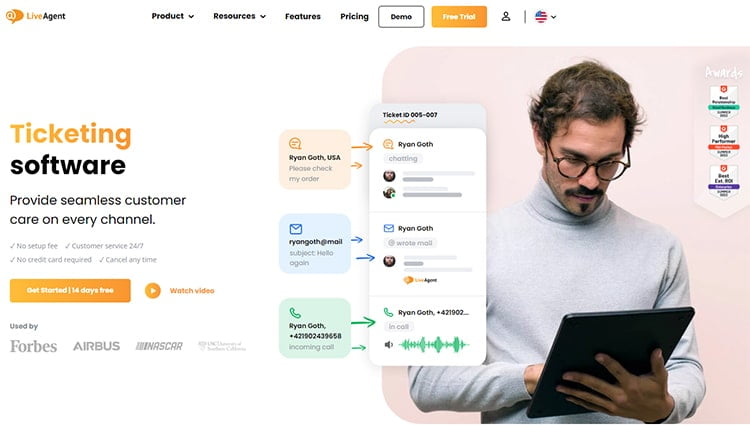 With LiveAgent, you'll be able to manage everything from social media customer interactions to chat conversations and email queries in one place. Plus, its extensive features allow you to customize your service channel to meet the unique needs of your business. With its exceptional functionality and user-friendliness, LiveAgent is a reliable option for boosting your customer support capabilities.
The software allows for seamless integration with a variety of other platforms, including CRM, accounting, live chat, and social media, eliminating the need for multiple systems and streamlining your workflow.
Additionally, the user-friendly and intuitive interface makes it easy for anyone to navigate and utilize the software effectively. The possibilities are endless when it comes to LiveAgent, providing a great alternative to the Awesome Support plugin.
Key Features
Agent Collision Detection
Agent Ranking
Automated Ticket Distribution
Canned Message
Contact Form Gallery
Email Forwarding
Pricing
Business
Small: $9/agent
Medium: $29/agent
Large: $49/agent
Free: $0/agent
Enterprise
👉 Do you know What are the Common Mistakes in Customer Service?
KB Support
For anyone seeking a top-tier WordPress support and help desk plugin, KB Support is a powerful option that is sure to meet your needs. This plugin boasts a range of useful features that enable you to provide your customers with outstanding service. Its ticketing and Knowledge Base capabilities are expertly designed to help streamline support and ensure that issues are resolved quickly and efficiently.

Moreover, KB Support's sophisticated reporting and analytics tools offer valuable insights that can inform your support strategy and drive continuous improvements. Finally, with a robust permissions system, you can be completely confident that your clients' data is secure and accessible only to authorized personnel.
For those searching for alternatives to Awesome Support Plugin, KB Support offers a truly compelling solution that is definitely worth exploring.
Key Features
Submission Forms
Guest Ticket
Knowledge Base
Restricted Articles
Auto Assign Ticket
Pricing
Starter for small business- $74
Professional for eCommerce stores- $102
Enterprise lifetime license option- $150
Support Genix
WordPress Support Ticket Plugin
Take Your Customer Support to The Next Level and Boost Customer Satisfaction Rates
Tips for Choosing the Right Option for Your Needs
As someone on the hunt for the perfect solution, it can be overwhelming to sift through all of the options out there. While Awesome Support may seem like a great choice at first glance, it's important to explore the alternatives to ensure you make the best decision for your specific needs. When considering different options, take the time to assess your pain points and see if each alternative addresses them effectively.
Determine your specific needs and requirements:
Before choosing an alternative to "Awesome Support Plugin," it is essential to determine your specific needs and requirements for a customer support plugin. For instance, if you need a plugin that offers a mobile app, phone support, or chat functionality, you should look for options that have those features.
Research available options:
Once you have identified your requirements, carry out research to seek the available options. Compare and contrast the features, pricing, and reviews of each plugin to assess the options that match your specific requirements.
Evaluate the total cost:
While cost shouldn't be the only factor to consider, it is essential to evaluate the total cost of the plugin, including any additional fees that may apply. Some plugins have hidden fees such as transaction charges, and plugin upgrades that are not immediately obvious.
Consider the integration:
When choosing an alternative option to "Awesome Support Plugin," consider the plugin's ability to integrate with your current WordPress plugins and themes. Ensure that the new plugin will not negatively impact any other installed plugin.
Check for available support:
Before choosing an alternative option to "Awesome Support Plugin," review the support channels provided by each plugin provider. Additionally, check the plugin's documentation and online forums to see if the plugin provider offers reliable customer support.
Most Recommended Blog for you
👉 7 Best Zendesk Alternatives You Should Consider: Find the Best Help Desk Solution
👉 The Importance of Implementing a WordPress Support Ticket System for Your Website
👉 How to Customize Your WordPress Support Ticket Plugin to Match Your Brand
👉 The Top Features to Look in WordPress Support Ticket Plugin
Frequently Asked Questions
Why should I consider an alternative to Awesome Support Plugin?
There are several reasons why anyone may consider an alternative to Awesome Support Plugin. For example, Awesome Support may be too costly or may not have the specific support features that a business needs. Additionally, a business may want to explore some additional options that offer greater customization, seamless integration, and scalability.
How much do these Awesome Support alternatives costs?
The cost of the alternatives to Awesome Support Plugin varies depending on the provider and specific features offered. Some plugins are free, while others can cost hundreds of dollars per month per user.
Do these alternative support plugins offer customer support?
Yes, most of these Awesome Support alternatives offer customer support through live chat, email, phone, and forums. Some plugins provide 24/7 support with dedicated agents to guide their users through any queries they may encounter.
Final Thoughts on Finding a Suitable Alternative to Awesome Support
After conducting a thorough search and evaluation of various Awesome Support alternatives to Awesome Support plugin, it is evident that there are several reliable options available for businesses seeking customer support solutions.
In selecting a suitable alternative, it is important to consider factors such as pricing, scalability, customization, and integration capabilities. While Awesome Support is undoubtedly a popular choice, it is not the only option, and businesses can benefit greatly by exploring other alternatives that offer similar features and benefits.
Ultimately, the decision of which alternative to choose will depend on the unique needs and goals of each business. By conducting proper research and considering all available options, businesses can find a suitable alternative to Awesome Support that meets their specific requirements and helps them to deliver exceptional customer service.