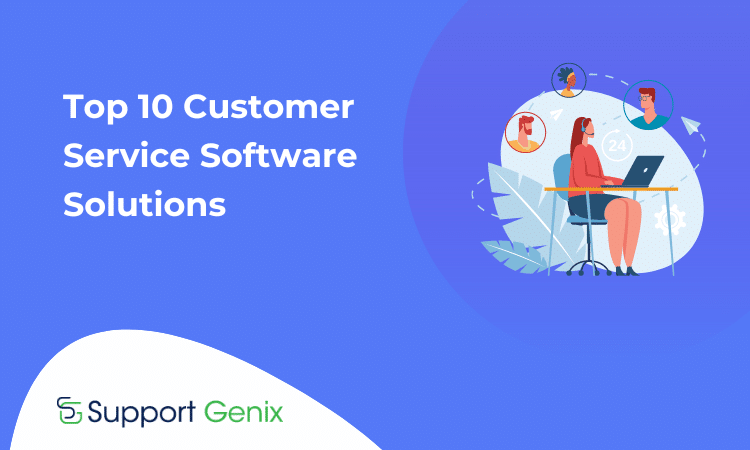 In today's digital age, providing excellent customer service is more important than ever. As a business owner, you know that happy customers are more likely to become repeat customers. That's why it is essential to have the best customer service software in place. In this blog post, we will discuss the top 10 customer service software solutions in 2023. You can deliver outstanding customer service and retain your clients by using these options.
Importance of customer service in the digital age
In today's world of constantly evolving technology, customer service has become even more important than ever before. With a plethora of options available to consumers, businesses need to differentiate themselves by providing exceptional customer service. This is where customer support software solutions have become essential tools for companies of all sizes.
These customer service software solutions provide comprehensive functionality to help businesses manage customer interactions across multiple channels, including email, phone, social media, and chat.
With the right system in place, businesses can now track customer interactions, analyze data, and respond quickly to customer inquiries or complaints. Investing in customer service software solutions not only helps to enhance the overall customer experience but also enables businesses to improve their operations and boost their bottom line.
Need for the best customer service software
Increased efficiency in customer support, as customer service software, allows you to automate many of the mundane and repetitive tasks associated with providing customer service.
Improved customer experience, as customers can get answers to their queries quickly, and can easily contact the right person with issues or complaints before they become problematic.
Tailored customer interactions, as customer service software, allows businesses to customize conversations based on individual customers' needs.
A better understanding of your customers, as customer service management, provides insights into how customers interact with your business, so you can better understand their habits and preferences.
The ability to stay organized and up to date with customer inquiries, allowing you to respond promptly and effectively.

Top 10 Customer Service Software Solutions in 2023
Support Genix
When it comes to running an online business or providing support for a digital product, customer service is key. That's where Support Genix comes in. This powerful WordPress plugin simplifies the process of providing support to your customers.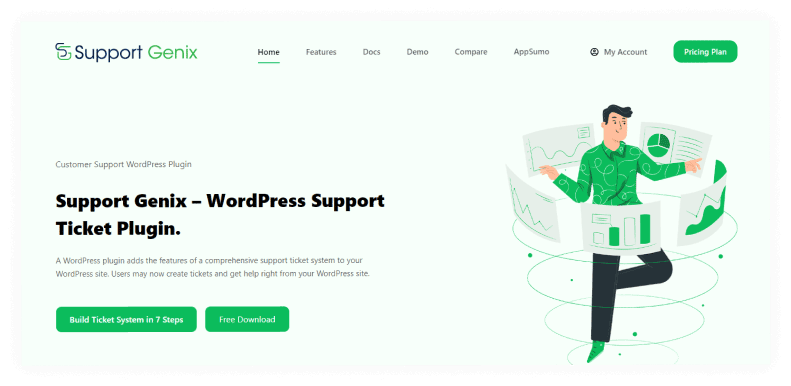 With a comprehensive ticketing system added to your website, users can create tickets with ease. What's more, you can manage incoming requests and respond quickly and efficiently, providing top-notch customer service. With Support Genix, you can streamline your support system and allow your team to focus on what truly matters, providing exceptional service to your customers.
This useful WordPress support ticket plugin takes care of the heavy lifting, notifying the appropriate team member and providing all necessary information to efficiently resolve customer issues. The knowledge base feature is an added bonus, empowering customers to seek self-service options for common problems. By implementing Support Genix, your business can prioritize customer satisfaction and improve overall support efficiency.
Key Features
Unlimited Tickets
Unlimited Agents
Unlimited Customers
Tickets on Behalf of Users
Easy Email Handling
Elite Licenser Integration
Webhook
Pricing– Support Genix offers cost-effective and simple services for small and medium enterprises.
Yearly plan-
Personal for $29 (1 website)
Developer for $59 (5 websites)
Agency for $89 (100 websites)
Lifetime Plan-
Personal for $59 (1 website)
Developer for $99 (5 websites)
Agency for $149 (100 websites)
Help Scout
Finding the right customer service software solutions can be daunting, but with Help Scout, the search is over. This powerful customer support software is designed to help streamline your team's workflow and deliver exceptional service to every customer that reaches out to your business. With intuitive features like shared inboxes, collaboration tools, and automated workflows, Help Scout customer service tools make it easy to manage and prioritize customer inquiries.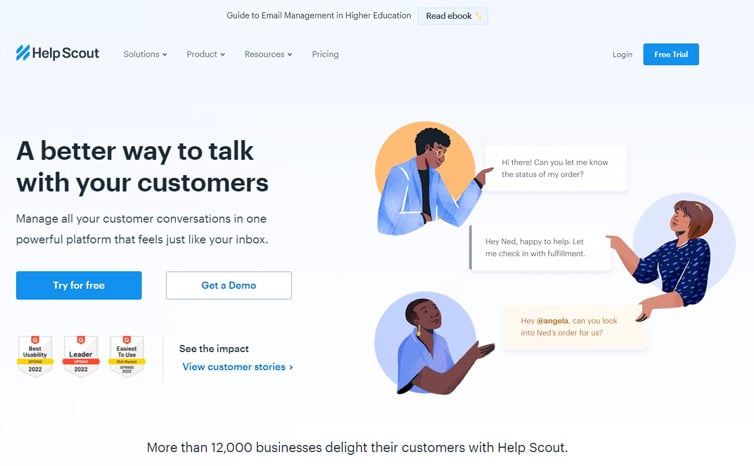 Help Scout's customer service software solutions, delivering excellent customer support, has never been simpler. With its integrated search tools, navigating the site is a breeze – allowing you to quickly find the information you need to assist your customers.
And, to ensure your content is presented just how you want it, Help Scout provides customizable organizational features. So whether you're a small start-up or a larger corporation, Help Scout offers an intuitive and streamlined way to publish online content that's sure to impress your customers.
Key Features
Shared Inbox
Knowledge Base
Customer Management
Live Chat
Reporting
Workflows
Pricing
Annual Plan
Standard for $20/month
Plus for $40/month
Pro for $65/month
Monthly Plan
Standard for $25/month
Plus for $50/month
👉 Learn Importance of Customer Service in Business: Why Customer Service is the Key to Business Success
HelpDocs
HelpDocs is one of the versatile and reliable customer service software solutions for those who want to invest in stand-alone knowledge base software. This customer service management software platform boasts a user-friendly interface, which makes it effortless to set up your first knowledge base without any setbacks. Plus, their pricing model is transparent, so you won't have to worry about any hidden fees.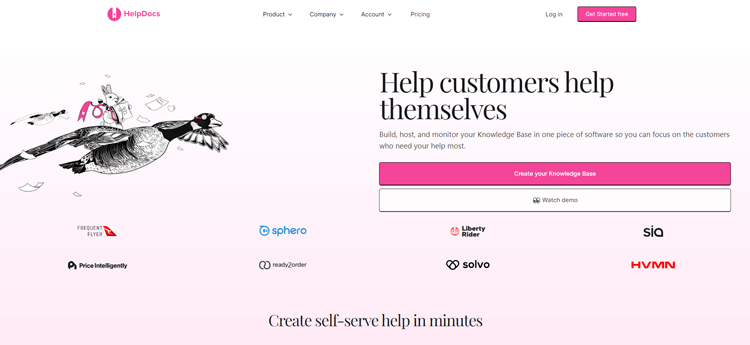 However, it's only effective if your customers can easily find what they need. That's where HelpDocs comes in. With their intelligent search functionality, finding the information customers need has never been easier. Their algorithm is finely tuned to be typo-tolerant and lightning-fast, delivering highly accurate search results in mere moments.
What's more, HelpDocs allows you to leverage its robust set of features, ranging from customizable themes to article analytics, to streamline the creation and management of your knowledge base. All in all, this software is a valuable asset for any business looking to improve its customer service and support.
Key Features
API Support
Custom Domain Troubleshooting
Permissioning
Multilingual/Machine Translations
Single Sign On (SSO)
Pricing
Monthly Plans
Start: $69/month
Build: $139/month
Grow: $279/month
Annual Plans
Start: $55/month
Build: $109/month
Grow: $219/month
👉Do you know What is Customer Care and Customer service?
Zendesk
When it comes to customer service software solutions, Zendesk stands out as one of the most popular options on the market today. With both basic and suite plan options available, businesses of any size and need can benefit from the platform's versatile options. From robust email support to extensive customization features, Zendesk has everything you need to streamline your customer service operations.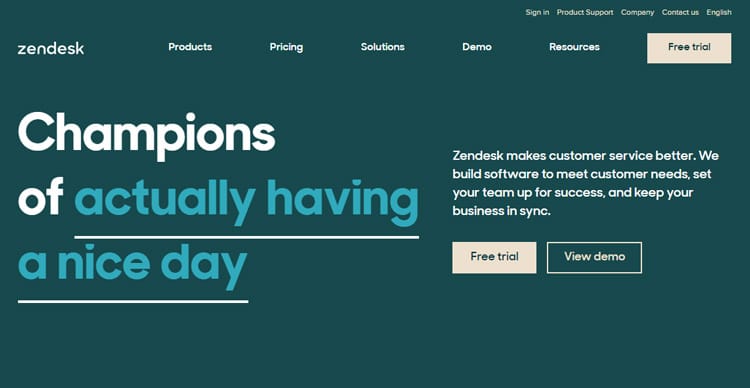 Plus, its intuitive interface ensures that getting set up and running is a breeze, giving your team the tools they need to provide fast and efficient service. With Zendesk, you can focus on what really matters – delivering exceptional customer experiences.
Additionally, with flexible pricing plans and integrated apps, you can customize your Zendesk experience to fit your unique business needs. You have all the tools you need with Zendesk to provide top-notch customer service and maintain satisfied clients.
Whether you need to manage customer inquiries, track service requests, or monitor customer satisfaction ratings, Zendesk provides a comprehensive suite of customer service software solutions to address your needs.
Key Features
Zendesk Support
Zendesk Support Suite
Zendesk Chat
Zendesk Explore
Zendesk Guide
Zendesk Sell
Zendesk Gather
Zendesk Sales Suite
Pricing
Plan for Service
Suite Team: $49 per agent/month
Suite Growth: $79 per agent/month
Suite Professional: $99 per agent/month
Suite Enterprise: $150 per agent/month
👉Check Conquer Common Customer Service Challenges With These Proven Solutions
LiveAgent
In the world of customer service, having the right software solutions can make all the difference. That's where LiveAgent comes in. While it may appear to be just another ticketing software at first glance, it truly offers much more.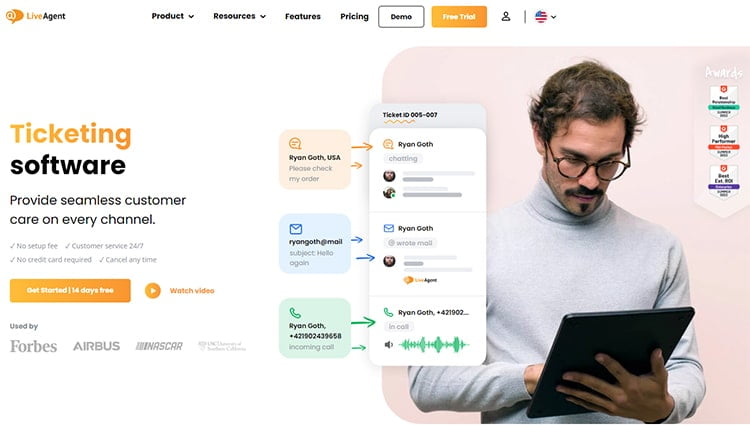 With its sophisticated and intuitive interface, LiveAgent gives you complete control over all your customer service inquiries. From quick questions to complex issues, this powerful tool allows you to sort and respond to everything in one convenient place. In addition, with its powerful integration features, you can easily connect all of your customer service software solutions together into one cohesive workflow.
The user interface is top-notch, with an intuitive design that makes it a breeze to use for anyone on your team. With LiveAgent, you'll be providing top-tier customer service in no time. So, Whether it's your ticketing software, CRM, accounting, live chat, or social media platforms, LiveAgent has you covered.
Key Features
Agent Collision Detection
Agent Ranking
Automated Ticket Distribution
Canned Message
Contact Form Gallery
Email Forwarding
Pricing
Free business: $0/agent/month
Small business: $9/agent/month
Medium business: $29/agent/month
Large business: $49/agent/month
👉Learn How Support Teams Impact Revenue: Harness the Power of Support
ServiceNow
ServiceNow is a top-notch service ticket management platform that streamlines your workflow and enhances your productivity. With its advanced features and tools, you can seamlessly manage your internal requests and track their progress.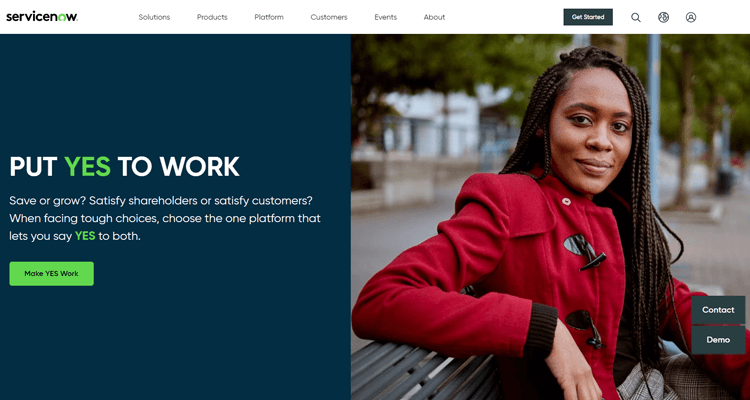 With advanced features like AI-assisted ticket routing, employees are assigned to the right person, cutting down on time lost to miscommunication. The self-service options and virtual assistants make getting answers quick and easy, meaning employees can focus on their work, rather than getting stuck in a queue. Reports help you track performance, identify areas of improvement, and make data-driven decisions.
ServiceNow's advanced features make it a powerful tool in helping businesses stay effective, efficient, and on top of their game. Whether you're dealing with IT service management, human resources, or customer service, ServiceNow empowers you to handle all your requests in one unified system.
Key Features
Analytical reporting
Field service
Management of IT service
AI-assisted ticket routing
Pricing
Contact for pricing
👉Read The Power of Good Customer Support for Customer Retention: Keep Customers Coming Back
LiveChat
LiveChat is an essential customer service software that is designed not only for your customers but also for your sales team. With its user-friendly interface, managing several communication channels, such as SMS, chat, and email, is made easy from just one dashboard. Another excellent feature is the ability to share important messages and announcements within the LiveChat dashboard.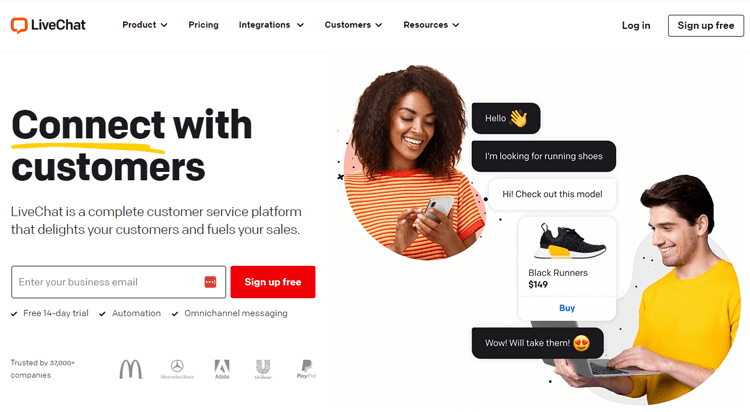 With LiveChat's message sneak-peek feature, you can take it a step further by not only seeing what your customers are typing before they hit "send," but also interacting with them based on their profile and behavior. As a result, sending personalized messages with relevant information can enhance the customer experience and increase the likelihood of repeat business. Additionally, the ability to quickly save responses to common questions is a game-changer in streamlining conversations and increasing efficiency.
Plus, LiveChat enables you to invite website visitors to chat, which is a powerful feature that helps convert prospects into customers. With LiveChat, you can streamline your communication process and provide an outstanding customer experience.
Key Features
Message Sneak-peak
Canned Responses
Targeted Messages
File Sharing
Routing Rules
Pricing
Starter: $20/month
Team: $41/month
Business: $59/month
Enterprise: Request a call
👉Learn How to Customize Your WordPress Support Ticket Plugin to Match Your Brand: A Comprehensive Guide
Deskero
Deskero is a great option for anyone looking for customer service software solutions. The system is not only reliable, but it is also completely free to use. With its cloud-based functionality, users can easily access data from anywhere, without the need to manually store and input data into a database.

Deskero stands out among its competitors, offering a cost-effective option for businesses of all sizes. While it may not be completely free, Deskero's upgrade pricing is just a fraction of the cost compared to other help desk programs with similar capabilities. For businesses with more than one agent on their customer support team, the savings can really add up.
With its comprehensive features and effective support services at an affordable price, Deskero is a smart investment that can truly enhance your customer service efforts and deliver a great return on investment.
Key Features
Multi-Channel support
Advance Ticketing
Public Portal
Email Import
Custom Style
Pricing
Monthly
Grow: $12/per agent/month
Business: $30/per agent/ month
Premium: $120/per agent/ month
Annually
Grow: $9/per agent/month
Business: $25/per agent/ month
Premium: $90/per agent/ month
👉Learn How to Choose the Best WordPress Support Ticket Plugin for Your Business
Zoho Desk
When it comes to enhancing customer service, Zoho Desk stands out as a must-have software. Its comprehensive tools enable businesses to organize support tickets, streamline customer communication, and automate repetitive tasks. With its intuitive knowledge base, Zoho Desk allows you to create information resources for customers that can help answer their questions and alleviate any confusion.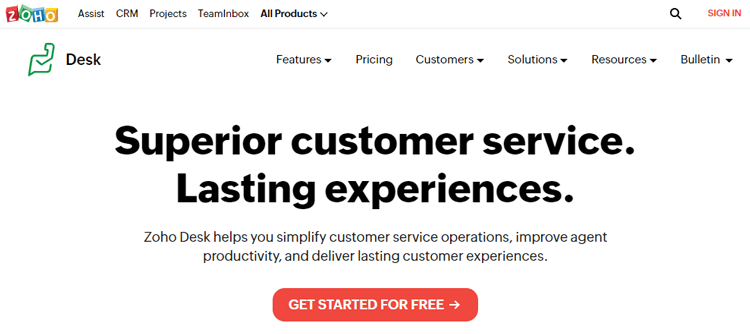 In addition, Zoho Desk's integration capabilities enable you to set up a customer support community forum, where customers can communicate with one another and find solutions to common problems. The platform's real-time monitoring capabilities also ensure that issues are dealt with efficiently, which leads to a seamless customer experience.
By using Zoho Desk, businesses can provide easily accessible, top-notch customer support while also reducing the burden of ticket influx on various departments.
Key Features
Ticket Management
Agent Productivity
Automation
Extensibility
Security
Auto Tag Tickets
Pricing
Yearly-
Standard: $14/user/month billed annually
Professional: $23/user/month billed annually
Enterprise: $40/user/month billed annually
Monthly-
Standard: $20/user/month billed monthly
Professional: $35/user/month billed monthly
Enterprise: $50/user/month billed monthly
👉Check 9 Dos and Don'ts of Effective Customer Support
Freshdesk
As the demands of modern business continue to grow, a reliable customer service software solution is becoming more and more essential. FreshDesk offers just that, providing businesses with everything they need to keep their customers happy and their teams productive. From a shared inbox to live chat software and a knowledge base builder, FreshDesk has it all.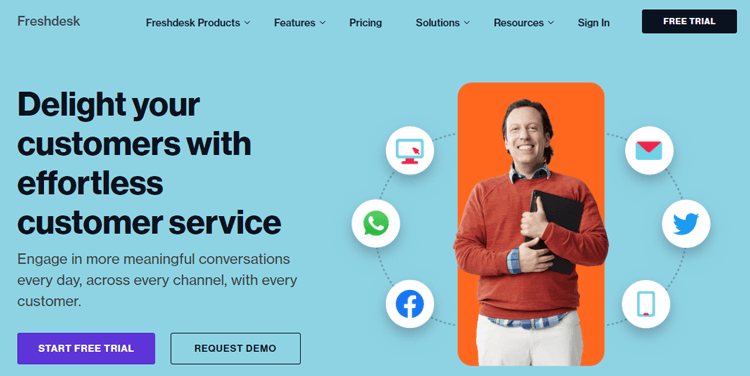 Even more impressive is the powerful automated AI-powered responses that can resolve customer complaints quickly and efficiently. While this feature is only available in their highest-cost plan, it's worth the investment for any business looking to enhance its product and streamline its customer support.
Best of all, FreshDesk delivers all its features with unbeatable simplicity, providing businesses with a comprehensive suite that's easy to use and just what they need to take their customer service to the next level.
With its optimized Omnichannel Suite, businesses can connect with their customers more efficiently and enable their representatives to become valuable brand ambassadors. FreshDesk makes it incredibly simple to set up with a three-month implementation time, and organizations can launch engaging initiatives that enhance customer and employee satisfaction without the hassle.
Key Features
Agent Collision Detection
SLA Management
Custom Ticket Status
Scheduling Dashboard
Intelligent ticket assignment
Time-triggered automation
Link forum topic to ticket
Pricing
Free plan available. Paid plans begin at $15 per agent per month.
Support Genix
WordPress Support Ticket Plugin
Take Your Customer Support to The Next Level and Boost Customer Satisfaction Rates
Customer Service Software Trends in 2023
As technology has continued to advance, so has the demand for unmatched customer service. With the rapidly changing customer service landscape, it is important to stay informed on the latest trends in customer service software. Some of the crucial trends in customer service software are discussed below:
Importance of personalization
As technology progresses, companies will have to adapt and incorporate new trends to enhance their customer service experience. One of the top trends to look out for in 2023 is the importance of personalization in the customer service software.
Customers are seeking personalized experiences more than ever before, and it's crucial for companies to provide just that. Personalization can be achieved through chatbots, customized responses, and even personalized product recommendations. By doing so, companies can enhance customer loyalty and satisfaction, ultimately leading to increased revenue.
Emphasis on proactive engagement
As we look ahead to the year 2023, one trend that is poised to dominate the customer service software landscape is proactive engagement. With the increasing importance of customer experience in driving business success, companies are seeking ways to anticipate and address customer needs before they even arise.
Proactive engagement allows businesses to leverage sophisticated analytics tools to identify patterns and anticipate customer issues. By taking a more proactive approach to customer service, businesses can enhance their customer's overall experience and improve their bottom line through increased loyalty and repeat business.
Integration with other business tools
Another biggest trend that are expected to emerge is the integration of customer service software with other business tools. This will ensure that businesses can streamline their communication channels, reduce response times, and ultimately improve their customer service experience.
Companies will be able to integrate their customer service software with other applications like CRM, chatbots, and social media platforms. This means that businesses will be better equipped to meet their customers where they are on their preferred channels. With such integration, customers will have a seamless experience, and businesses will be able to drive more revenue in the long run.
Continual growth and improvement
The trend towards continual growth and improvement has never been more evident, as companies seek to invest in tools that provide cutting-edge features such as automation and machine learning algorithms.
In the years to come, customer service software will become an integral part of every successful business, and those who refuse to adapt risk falling behind the curve. Stay ahead of the game by embracing the latest trends in customer service software, or risk losing out to those who do.
Conclusion
The customer service landscape continues to evolve rapidly, and it has become increasingly important for businesses to prioritize exceptional customer support. This is where customer service software solutions come in. These cutting-edge tools help businesses provide top-notch customer service by streamlining their support process and enhancing customer engagement.
As we look ahead to 2023, it is worth taking a moment to reflect on the top 10 customer service software solutions that are changing the industry. From AI-powered chatbots to omnichannel support platforms, these tools are transforming the way businesses interact with their customers. Regardless of your company's size or industry, investing in these solutions is a proven way to increase customer satisfaction and retention.