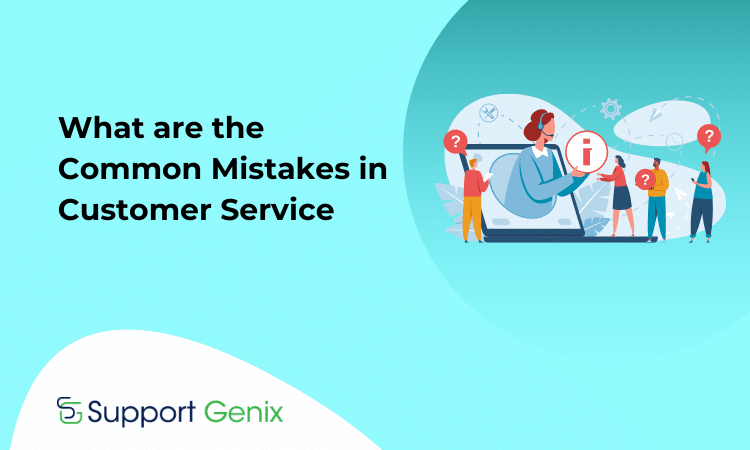 When you think of customer service, you might picture friendly people helping customers with queries while they wait to be served. However, this isn't the case in many businesses. Nowadays, customers are more likely to experience bad customer service and encounter rude or ignorant staff.
Research has shown that around 84% of consumers expect excellent service when shopping. However, only 66% of businesses meet those expectations. According to a study by Statista, there is a decline in the quality of customer service across every industry. This is why it's essential to understand the common mistakes in customer service so that you can avoid them yourself and ensure customer satisfaction.
The Common Mistakes in Customer Support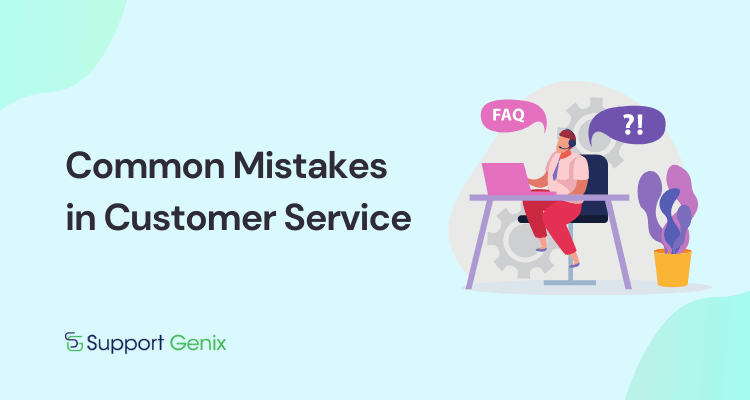 Hiring the wrong people for your organization
If you're in charge of hiring customer support representatives, you know that it's hard to find the right person for the job. The wrong person in your service team can make your customers unhappy and leave a bad impression on your company.
But it's not just about finding someone who is nice or has good customer service skills. You need someone who can handle the workload and stress and who can think quickly on their feet. The Customer Service Mistakes in Customer Support is a guide that can help you make the right decision when hiring a new customer support representative. This manual will equip you with the information your customer service team needs to guarantee that your business provides the best customer service possible.

Offering terrible customer service
One of the most crucial facets of any organization is customer care. It is the frontline that connects your company with your customers and helps them to have a positive experience with your brand.
Unfortunately, many companies fail to provide a good customer support experience. By making some common mistakes, they alienate their customers and hurt their business.
Offering subpar customer service is one of the biggest errors businesses make. This can be due to a number of reasons, but the end result is the same – customers are dissatisfied and don't want to do business with your company again.
A common customer service issue that companies make is not using active listening skills. When a customer has a problem or complaint, they want to feel that the customer service team is listening to them and taking their concerns seriously. If a company fails in providing customer satisfaction, the customer will likely become frustrated and look for another company to do business with.
Another common mistake that service teams make is guessing at an answer. Customers don't want to feel like they are being given a runaround or being handed off from one person to another. They want to feel like they are being given a direct answer to their problem and that customer service agents are taking responsibility for it.
Failing to solve a customer's problem
One of the biggest errors you can make in customer care is not solving the client's issue. Instead of taking the time to listen to their problem and offer them the support they require, whether it's a product inquiry or a service complaint.
If you are looking for a solution to improve your customer service, try customer service mistakes tips. This manual is packed with practical advice and techniques that will make it easier and faster for you to solve client problems. Additionally, it's a fantastic method to keep your clients satisfied and coming back for more. So stop waiting and start equipping yourself with the Common Mistakes in Customer Support right away!
Not responding to feedback and reviews
A lot of businesses commit a few typical errors when it comes to customer care. Responding to comments and reviews that customers post on websites like Facebook and Yelp is one of the most crucial things that customer service staff can do. The customer support staff can learn a lot from these reviews about the caliber of the services they are offering. The experience that customers have with your business can be greatly enhanced by acting quickly to address problems that surveys bring to light.
Support Genix
WordPress Support Ticket Plugin
Take Your Customer Support to The Next Level and Boost Customer Satisfaction Rates
How to Avoid the Common Mistakes in Customer Service
Customer support agents are often the first point of contact for a customer who has a problem with a product or service. It is important that they are able to solve the customer's problem quickly and effectively so that they keep the interaction satisfied. The most frequent errors made by customer service representatives are listed here, along with tips on how to avoid them.
Tip 1: Don't move clients around too much. Finding the right person to assist the customer as quickly as possible is crucial. Although customer service representatives cannot always solve customer problems, customer service agents should be familiar with the proper workflow so that they can immediately direct customers to the appropriate person who can assist them.
Tip 2: Not using the appropriate channels of communication. Today's customers prefer to use chat, email, messaging and self-service options in addition to the phone. Knowledgeable customer service representatives discover the best communication methods for the situation.
Tip 3: Not reviewing the call history when a customer calls back. Customer support agents should always review the call history when a customer calls back to make sure they are providing the best customer experience.

Final Thoughts
In this guide, we'll go over some of the most customer service issues that customer support teams make, and how you can avoid them. By following these tips, you'll be well on your way to providing the best customer experience possible.