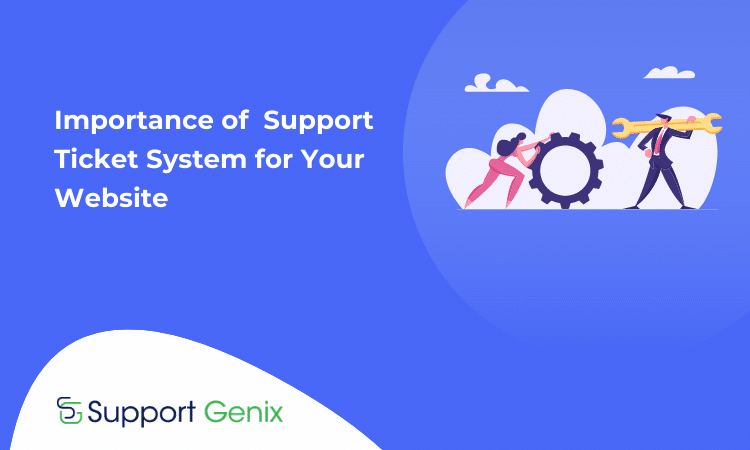 Having a website is an essential part of any business, but it can also be a source of headaches. From dealing with technical issues to ensuring the site stays up-to-date, managing your website can be time-consuming and frustrating. That's why having a WordPress support ticket system in place is so important for a WordPress powered website.
A good ticketing system will help you keep track of all incoming requests for assistance and ensure that each issue gets resolved quickly and efficiently. In this article, we'll discuss why implementing a WordPress support ticket system is important for your website and how it can help streamline your customer service process.
Benefits of Implementing a WordPress Support Ticket System For Your Website
The importance of implementing a WordPress Support Ticket System for your website cannot be overstated. It is an efficient way to organize and address customer inquiries and technical issues related to the website.
Increased Efficiency: A WordPress support ticket system can help streamline operations and make it easier to manage customer inquiries.
Improved User Experience: Easily track requests and provide customers with timely responses, improving overall user experience.
Reduced Costs: Having all customer queries in one place makes it easier to respond quickly, reducing the cost of customer service staff.
Automated System: Set up automated systems that can handle basic inquiries without the need for manual intervention or response times.
Integration with Other Systems: Many WordPress support ticket systems come with integrations that allow them to integrate seamlessly with other online systems, such as email marketing software or CRM tools.

Advantages of Utilizing a WordPress Support Ticket System
A) Better Organization to Manage Customer Service Requests
Implementing a WordPress Support Ticket System for your website can be extremely beneficial in order to stay organized and manage customer service requests. It is essential not to let important communications become lost within the overwhelming amount of emails you may receive regarding your website. A quality ticket system allows you to stay in control by offering numerous features, such as categorizing contact requests, attaching relevant information and documents, and prioritizing support requests.
Additionally, utilizing a ticket system keeps conversations with customers centralized so they can easily follow the updates or status changes that have been made. Therefore, implementing a WordPress Support Ticket System can keep your customer service efforts professional and organized.
B) Improved Efficiency in Resolving Issues
This support method allows users to submit requests and prioritize the most pressing issues first. In addition, the ticket system organizes the requests which help team members deal with them methodically and expeditiously, saving valuable time that instead could be spent working on other matters for your website. Overall, investing in a professional WordPress Support Ticket System is an important investment that will improve response times and customer satisfaction.
C) Easier Monitoring of Progress and Resolution Status
Implementing a WordPress Support Ticket System for your website is an extremely beneficial process. This system allows users to access helpful information quickly and work together with technicians, who are in charge of responding to customer concerns in a timely manner. In addition, keeping track of progress and resolution status is more easily monitored and maintained thanks to the use of this system.
It offers a great range of benefits, such as enhanced customer service, improved organization and accuracy with customer requests, and increased efficiency when addressing customer issues. Utilizing this type of support ticket system makes improving your website users' overall experience easier.
Top WordPress Support Ticket System Plugins
SupportGenix
Providing customer support is essential for any online business or digital product. Fortunately, Support Genix makes the process simpler with its powerful WordPress plugin. This fantastic tool allows you to quickly and easily add a ticketing system to your website, allowing customers to create tickets effortlessly and giving you control over customer requests. Furthermore, it helps you respond quickly, providing customer service that is both efficient and effective.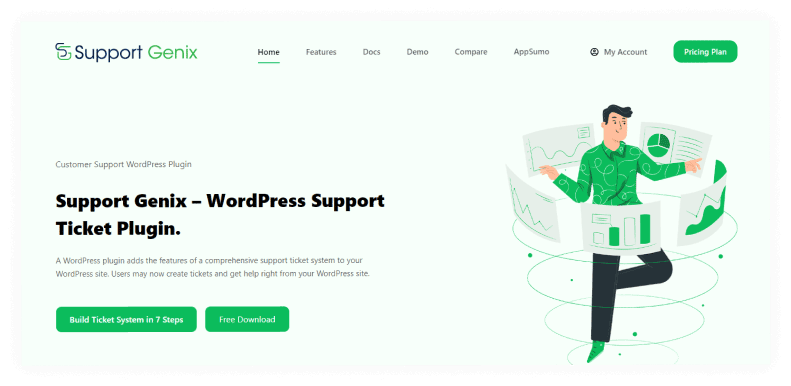 It provides ease of use and simplifies customer support tasks by automatically notifying the appropriate team member and providing relevant data. This allows customer service representatives to quickly and effectively resolve customer issues, ensuring customer satisfaction with products or services.
In addition, customers can access a wealth of resources through Support Genix's self-service knowledge base, allowing them to quickly solve common problems without requiring assistance from customer service.
This customer support system is a flexible tool for businesses, with features that make it easy to customize the tickets generated. For example, through custom fields, businesses can collect additional customer information to easily capture the details needed to resolve their problems quickly and effectively.
With this feature, companies are able to reduce the time it takes to manage customer service requests and lower backlogs. Customers will have a streamlined experience and better satisfaction levels as a result.
Key Features
Unlimited Tickets
Unlimited Agents
Unlimited Customers
Tickets on Behalf of Users
Easy Email Handling
Elite Licenser Integration
Webhook
Pricing– Support Genix offers cost-effective services for small and medium enterprises.
Yearly plan-
Personal for $29 (1 website)
Developer for $59 (5 websites)
Agency for $89 (100 websites)
Lifetime Plan-
Personal for $59 (1 website)
Developer for $99 (5 websites)
Agency for $149 (100 websites)
Awesome Support
For businesses searching for a dynamic Support Ticket WordPress plugin, Awesome Support is another ideal choice. It offers an impressive selection of features that are widely praised for their user-friendliness, giving businesses access to the same functionality usually only afforded by top-tier SAAS solutions like Support Genix. What's more, its robust user interface ensures it can be personalized and tailored to suit almost any purpose or environmental setting, from global organizations to small start-up companies.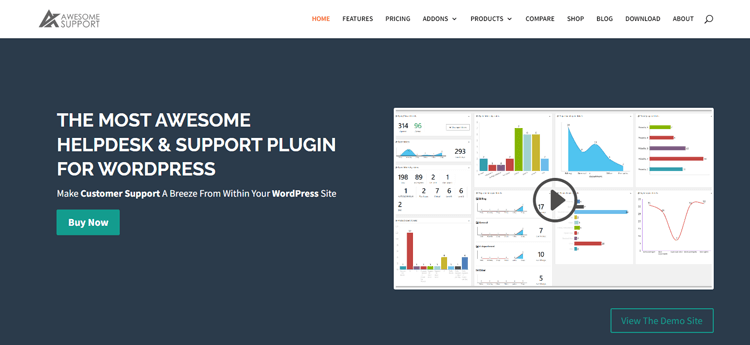 Awesome support has a wide range of features at your disposal, from chat functionality to customer feedback information gathering, making sure you have all the necessary tools available to address the inquiries of even the most demanding customers. Awesome support is the perfect alternative for businesses wishing to offer top-notch customer assistance because of its greater customization options and slick, user-friendly layout.
This intuitive plugin allows you to easily submit tickets from the front end and access your account right within WordPress. Plus, with automated email notifications keeping everyone in the loop every time something happens, you can rest assured that serious customer satisfaction is at the top of your priority list. So, get ahead of the game and streamline your support process today with Support Ticket WordPress.
Key Features
Unlimited Tickets
Unlimited Agents
Unlimited Custom Fields
Private Tickets
Agents can receive email notifications by email for ticket events such as a new ticket, reply to the ticket, etc
Pricing
Standard for $149/year
Pro for $229/year
Enterprise for $289/year
Agency for $409/year
👉 Check 9 Dos and Don'ts of Effective Customer Support
Live Agent
Customer satisfaction is a top priority for businesses, and LiveAgent delivers in this respect. It enables businesses to manage customer service requests with an intuitive and sophisticated interface, giving them full control and organization over their inquiries.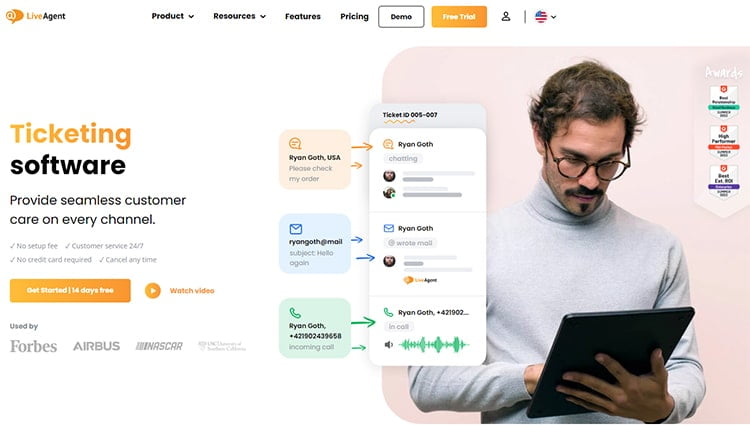 From quick questions to complicated issues, LiveAgent simplifies the process of sorting, responding, and resolving issues efficiently in one place. It is easy to use and ensures that your customers get the support they need when they need it most.
LiveAgent's powerful integration features make it easy to connect all the facets of your customer service workflow. With this integration, you can link your ticketing software with CRM, accounting tools, live chat, and social media platforms, so you have one unified platform where you can obtain an overview of all aspects of customer satisfaction.
This integration allows you to streamline and optimize your entire process while providing fast response times and reliable service. By connecting each component to one platform, companies are able to better serve their customers at a higher level with greater efficiency.
Key Features
Agent Collision Detection
Agent Ranking
Automated Ticket Distribution
Canned Message
Contact Form Gallery
Email Forwarding
Pricing
Ticket for $15/agent/month
Ticket+ Chat for $29/agent/month
All-inclusive for $49/agent/month
Free for $0/agent/month
👉 Learn 10 Ways to Improve Your Customer Service Strategy
Help Scout
Help Scout is a leading customer support platform that gives teams everything they need to create an outstanding customer experience. This powerful software offers many features, such as Support Ticket Forms, a Knowledge Base to quickly answer customer inquiries, and workflows to automate routine tasks and increase efficiency. With all the tools you need in one place, Help Scout makes it easy for teams to streamline their workflows while providing exceptional service to customers.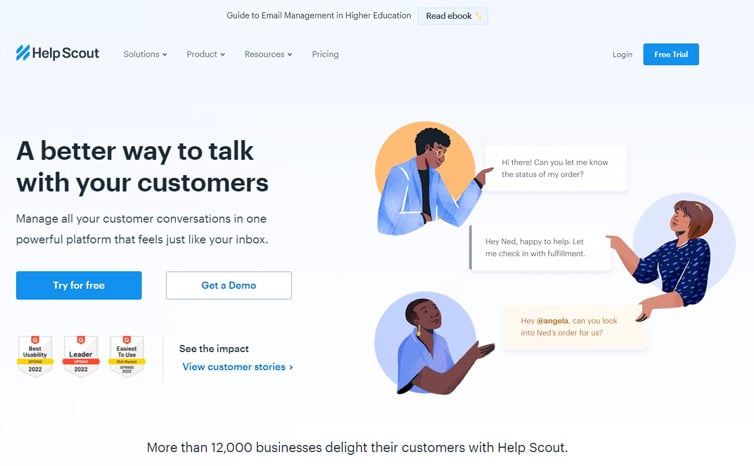 With Help Scout, you are getting the best of both worlds: easy-to-use search tools embedded throughout the site for hassle-free navigation combined with customizable organizational features that let you have control over how your content is structured.
Support Ticket Form is a great example of this; it organizes and centralizes all of your customer queries, allowing you to respond effectively in no time. Help Scout offers a comprehensive solution for anyone looking for an intuitive and streamlined experience when publishing content online.
Key Features
Shared Inbox
Knowledge Base
Live Chat
Reporting
Workflows
Pricing: Starting at $20/user per month.
👉 Learn How to Hire a Customer Support Representative
Conclusion
Implementing a WordPress Support Ticket System is an important part of running a successful website. It allows for quick and efficient resolution of customer queries, keeps communication organized and centralized, and offers opportunities for improved customer retention. The end result is higher customer satisfaction ratings, fewer missed issues and streamlined support operations.
With these benefits in mind, it's easy to see why the importance of WordPress Support Ticket Systems cannot be overstated. A well-utilized system can have a huge impact on your business growth, making it a wise choice for any business looking to achieve success.
Support Genix
WordPress Support Ticket Plugin
Take Your Customer Support to The Next Level and Boost Customer Satisfaction Rates