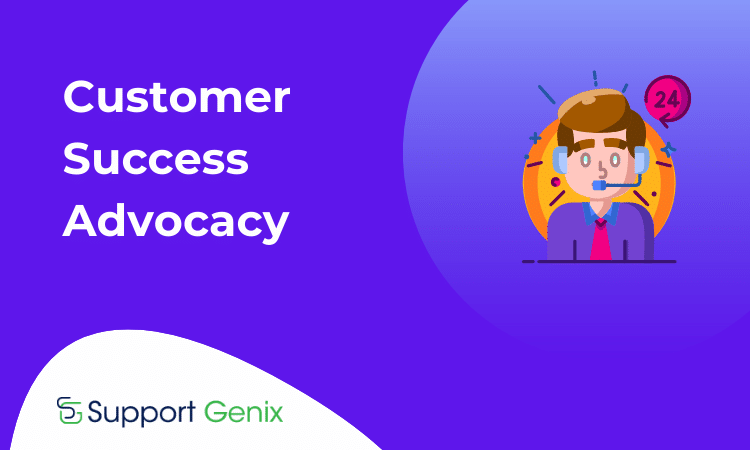 Customer success is a term that has been gaining popularity in recent years. But what does it actually mean? And more importantly, how can you use it in your business? In this blog post, we will discuss customer success advocacy and how you can implement it in your own company. Advocacy is all about creating customer loyalty and helping customers achieve their goals. It can be a powerful tool for businesses of all sizes.
What is customer success advocacy?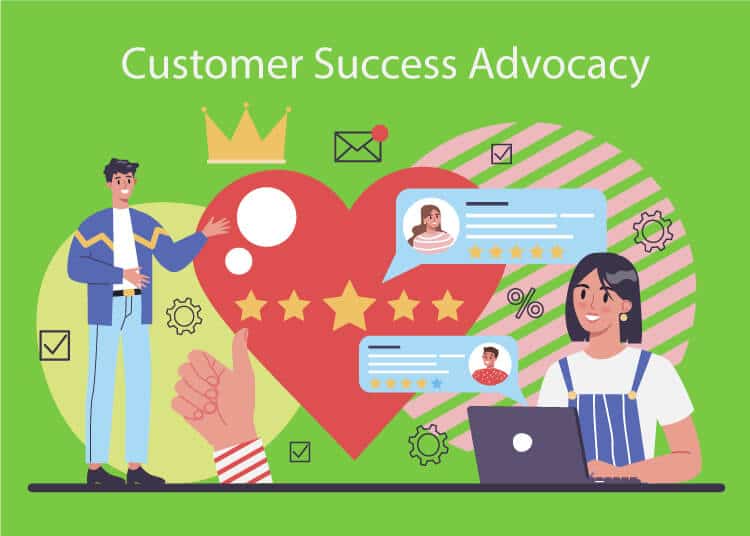 Customer Success Advocacy is a business approach that puts the customer's experience at the heart of everything a company does. Customer Advocates seek to create lasting, beneficial relationships between businesses and their customers through proactive strategies designed to improve customer satisfaction and trust.
The goal of this Advocacy Program is to engage with customers in short and long-term initiatives, helping them become accustomed to new products or services, ensuring they get optimal value out of the brand's offering, and resolving any issues quickly and effectively.
Customer Success Advocacy focuses on educating customers in areas such as onboarding, usage optimization, best practices, problem-solving, and Customer Experience as a whole. Ultimately, it empowers businesses to strengthen relationships with current customers while attracting more potential customers.
Why should businesses use it?
Customer Success Advocacy is a highly effective approach for any business to boost customer satisfaction and loyalty. Customer success teams are responsible not only for the onboarding of customers but also for helping them successfully use the product or service to achieve the desired outcome.
By proactively helping customers meet their goals while using the product or service, businesses can build relationships that go beyond transaction-focused transactions, encouraging long-term loyalty and advocacy among their customer base. Customer advocates serve as outreach channels that make sure customers understand how to use a product or service and are getting the most value out of it, making customer marketing invaluable investments for businesses of all sizes.

What are the Benefits of Customer Success Advocacy?
Customer Success Advocacy is a unique and valuable practice that can vastly improve customer experience. This type of advocacy program offers customers assistance throughout the entire Customer Success journey, allowing them to resolve issues quickly and efficiently with trained experts.
a. Improving customer loyalty and retention
Customer Success Advocacy helps improve customer loyalty and retention by providing personalized advice, answering questions quickly, anticipating potential issues, and finding new solutions as soon as possible when problems arise. The customer Advocacy team utilizes a proactive approach to ensure customer satisfaction every step of the way and provides invaluable feedback in order for businesses to continually innovate and improve the product or services offered.
This initiative not only drives revenue growth but also strengthens customer relationships and builds trust over time.
b. Developing a better understanding of customer needs and goals
Customer Success Advocacy is an invaluable tool for any organization, as it results in a better understanding of what customers need and expect from the business. It's also an excellent way to identify customer goals and come up with solutions that will help them achieve their desired outcomes. Customer success advocates are responsible for maintaining relationships with existing customers, analyzing their experiences and feedback, and developing the best possible strategies to ensure successful interactions.
c. Enhancing customer relationships
Customer success advocacy helps build relationships between the company and its customers by enabling the teams to become integrated into the product planning and development processes, helping to add customer insight throughout the customer journey.
Customer Advocates also create avenues for a deeper understanding of customer needs and perspectives, which can result in more effective communication between the company and its customers, as well as providing enhanced opportunities for customer feedback which can be used to refine or improve existing products or services.
How to Implement Customer Success Advocacy into Your Business
Customer Success Advocacy (CSA) is an invaluable tool for businesses of all sizes. When utilized correctly, CSA can increase customer retention by providing customers with personalized resources and support from knowledgeable Customer Success managers.
a. Identify customer needs and goals
The key to successful Customer Success Advocacy is to identify customer needs and goals and develop an effective strategy to meet them. By understanding the customer's objectives, a company can ensure its campaign is effectively structured and that it has access to valuable services or experiences to provide customers with value. Once the desired outcomes are identified, the company should create tailored content, initiatives, and procedures that support Customer advocacy marketing.
b. Develop an action plan for achieving those goals
To best implement Customer Success Advocacy into your organization, it is important to create an action plan with short-term attainable goals. This may include acquiring customer feedback, discovering ways to innovate services provided, and establishing efficient communication processes. Additionally, aligning the Customer Advocacy program within the company culture should be a top priority so everyone's results are in alignment with desired outcomes. Focusing time and resources on mapping out Customer Success will ensure the overall success of your organization.

c. Train customer success staff on the new strategies and tactics
To successfully implement Customer Success Advocacy into your business, it's essential that your customer success staff are properly trained on its strategies and tactics. These teams need comprehensive training so they can make sure to fully grasp the processes needed to ensure customers have the best experience possible. With Customer Success Advocacy, customer success staff can engage in conversations with clients, ask better questions, diagnose problems sooner, and respond more quickly – ultimately providing customers with great service!
d. Measure progress throughout the process
To ensure success, it is important for businesses to closely monitor their progress as they implement Customer Success Advocacy into their business plans. Measuring the success of this advocacy initiatives should include metrics such as customer engagement, customer satisfaction, and return on investment. Additionally, be sure to analyze internal changes necessary to serve the Customer Success goals of your business as well as changes needed in any processes or resources dedicated to Customer Success tracking and support.
e. Maintain customer loyalty and engagement
To actively engage with customers, reach out to them when they comment or ask questions about your product and make sure that you are thanking and responding to their feedback. Don't force the conversation—instead, take note of customer preferences and behaviors when it comes to communication style, tone, or language in order to ensure a positive experience for everyone. Customer success advocacy lays the foundation for lasting relationships that keep customers coming back again and again.
Support Genix
WordPress Support Ticket Plugin
Take Your Customer Support to The Next Level and Boost Customer Satisfaction Rates
Conclusion
Customer Success Advocacy is a powerful yet often undervalued term for helping businesses to better serve their customers and foster strong customer loyalty. As customer expectations and the competitive landscape continue to evolve, this program helps companies anticipate, address, and prioritize the needs of their customers through effective communication, marketing, and customer service initiatives.
Customer Success Advocacy allows businesses to build relationships with customers that last—relationships that often result in long-term success for the business. Customer-centric businesses that invest in this program are well-positioned for a sustainable and profitable future.