Are you looking for the perfect way, "How to Scale Customer Support?" If so, then you've come to the right place! In this blog post, we will discuss 10 super effective ways to help your business achieve success regarding how to Scale Customer Support.
From leveraging automation tools to finding knowledgeable employees, we will cover all the necessary tips for scaling customer service. So, let's dive in and explore what strategies are needed for scaling customer support!
The importance of customer support for business success
Here are some reasons why customer support is important for business success:
Improved customer experience – offering efficient and reliable customer service can result in increased customer satisfaction, which can positively affect sales or revenue generation.
Increased loyalty – providing quality customer service can lead to stronger customer relationships and encourage them to return for future purchases.
Cost reduction – using support systems reduces manual labor costs, allowing resources to be better used elsewhere in the company.
Better data collection – collecting data from customer interactions enables businesses to make more informed decisions that improve their product or services.
The challenge of scaling customer support
Here are some of the challenges of how to scale customer support:
Keeping up with customer demand – as customer numbers increase, there may not be enough resources to provide an adequate level of service.
Consistent response times – maintaining a high quality of service and short response times can be difficult as demand grows.
Quality control – it can be hard for businesses to check that the same standards are being met across different support channels when dealing with a large volume of customers.
Cross-team collaboration – organizations need to ensure that all teams involved in providing customer support (marketing, sales, etc.) are working together efficiently to deliver excellent service.
Support Genix
WordPress Support Ticket Plugin
Take Your Customer Support to The Next Level and Boost Customer Satisfaction Rates
How to scale customer support: The Effective Ways to Scale Customer Support
Leverage Automation Tools
As businesses grow, so does the need for effective customer support. But how can you scale your customer support without sacrificing quality? One solution is to leverage automation tools.
By automating routine tasks, such as answering FAQs or scheduling appointments, you can free up your support staff to focus on more complex issues. Additionally, automation can help you respond faster to customers, improving their satisfaction and reducing wait times. But automation alone isn't enough.
To truly scale your customer support, you'll need to combine automation with a human touch. The key is to identify which areas of customer support can be automated without sacrificing the human touch that customers appreciate. By striking the right balance between automation and personalization, businesses can scale their customer support and stay ahead of the competition.
Focus on Self-Service
When scaling customer support, companies need to start focusing on self-service. This approach not only saves time and resources for the support team but also empowers customers to find solutions on their own. In addition, by creating a robust and user-friendly knowledge base that is easily accessible, customers can quickly find answers to common questions and resolve issues without needing to contact support.
Implementing chatbots and automated response systems also provide excellent opportunities to scale support with a more effective allocation of resources. By allowing customers to self-serve and access the information they need, companies can significantly improve their customer experience, strengthen customer loyalty, and reduce churn.
Adopt a Multichannel Approach
Customers have come to expect a seamless support experience, regardless of whatever medium they use to communicate through. That's why adopting a multichannel approach to customer support is critical. By utilizing various channels, such as phone, email, social media, chatbots, and self-service portals, businesses can efficiently manage their customer interactions and increase customer satisfaction.
A multichannel approach allows you to meet customers where they are rather than expecting them to come to you. This approach also ensures that you are providing consistent support across all channels, which is crucial for building customers trust and loyalty.
Hire Knowledgeable Employees
One of the most effective ways to scale customer support is by hiring knowledgeable employees. Having employees who are well-versed in the product or service that the company offers can greatly enhance the level of customer support provided. These employees can quickly identify and troubleshoot issues, provide expert advice, and offer personalized solutions to customers.
With their knowledge, they can also assist in creating helpful resources for both customers and fellow team members. Adequate training and ongoing support can further enhance the effectiveness of these knowledgeable employees, ensuring that the team can continue to provide high-quality support as the company grows.
Create Customer-Centric Processes
When it comes to scaling customer support, customer-centric processes should be at the forefront of any business owner's mind. By creating processes with a customer-first mentality, you are able to better meet the needs and expectations of your clients. This involves making sure your communication is clear, timely, and personalized.
It also means providing your customer support team with training and resources they need to be able to effectively handle any issues or concerns that may arise. Finally, when you prioritize the customer, you can build a loyal following that will not only continue to support your business but also recommend it to others. So, whether you are just starting out or looking to grow your existing business, keep customer-centric processes at the heart of your scaling strategy.
Encourage Customer Feedback
There are effective ways to scale customer support, and one of them is by encouraging customer feedback. Feedback helps you identify areas that need improvement and keeps your customers engaged. Provide various ways for customers to give feedback, such as through social media, email, or a feedback form on your website.
Respond to all feedback to show customers that you value their opinion. Analyze feedback to identify patterns, including common complaints or concerns, and adjust your support strategy accordingly. Encouraging feedback builds a relationship with your customers and helps you improve your support services.
Find scalable efficiencies
Finding scalable efficiencies is one effective way that businesses can streamline their customer support departments. This involves identifying areas that can benefit from automation or technology solutions, such as chatbots, automated email responses, or self-service knowledge bases. These solutions allow businesses to handle a higher volume of inquiries without sacrificing quality or personalized attention.
As a result, customer support representatives can focus on more complex issues and provide a better overall experience for customers. Utilizing scalable efficiencies not only saves time and resources but also improves customer satisfaction and strengthens the relationship between businesses and their customers.
Prioritize and focus on customers who bring high value
Another effective way to scale your customer support is to prioritize and focus on customers who bring high value. These are the customers who have the potential to become loyal, long-term customers and who can provide valuable feedback on your products or services.
By focusing on these high-value customers, you can improve their experience and build stronger relationships with them, which will ultimately lead to increased revenue and growth for your business.
Whether it's by providing personalized support, offering exclusive perks, or simply taking the time to listen, investing in these valuable customers is a win-win strategy for scaling your customer support.
Bonus: Recommended Customer Support Tools Online
Support Genix
If your business relies on providing customer support, then Support Genix is the WordPress plugin you need. This powerful tool simplifies the process of managing incoming requests and responding to them quickly and efficiently, helping you best serve your customers.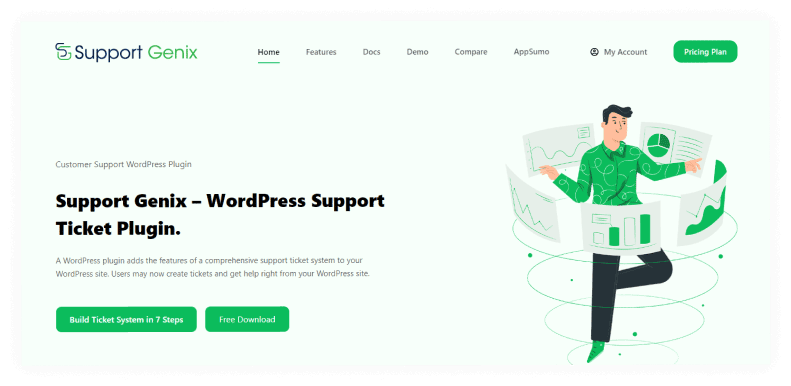 By including a comprehensive ticketing system on your website, users can easily create tickets, and you can manage them all in one place. In addition, with SupportGenix, businesses can keep track of customer inquiries and ensure that all requests are addressed promptly and effectively. It streamlines your support system and allows your team to focus on what matters most delivering exceptional service.
Help Scout
Looking for the perfect customer service software solution can be a daunting task. Luckily, Help Scout is here to streamline the process and deliver exceptional service to every customer who reaches out to your business. This powerful software is designed with intuitive features that make managing and prioritizing customer inquiries a breeze.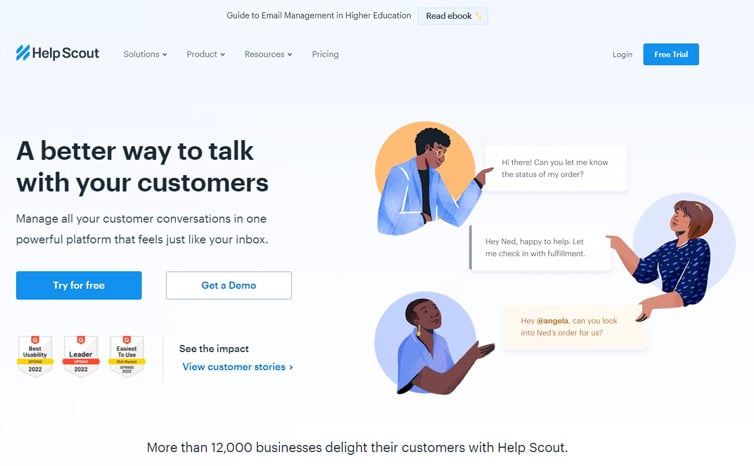 With shared inboxes, collaboration tools, and automated workflows, your team can work seamlessly to provide top-notch service. And with integrated search tools, navigating the site has never been simpler.
LiveAgent
LiveAgent is the solution you need to take control of your customer service operations. This powerful tool offers an intuitive interface that simplifies the process of managing all your inquiries from a single platform. From simple questions to complex issues, you can easily sort, filter, and respond to everything, all in one convenient place.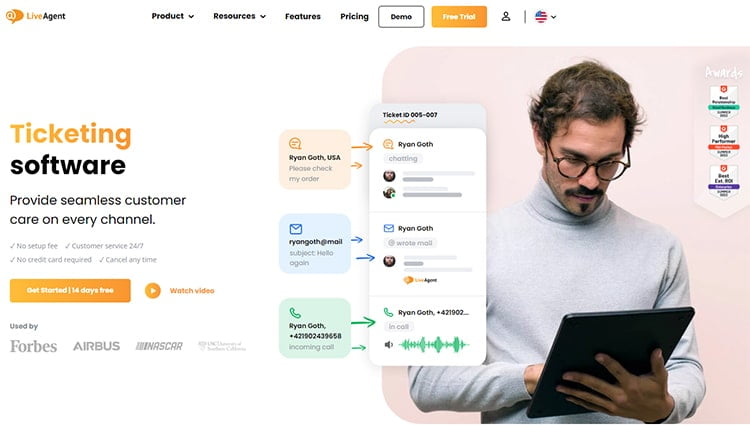 Plus, with its integration features, LiveAgent easily connects with all your essential customer service software systems, including your ticketing software, CRM, accounting, live chat, and social media platforms. The ease of use and functionality of the user interface ensures that it is easy for everyone on your team to use, making it easier to provide top-tier customer service.
HubSpot Service Hub
HubSpot has successfully established itself as a leader in marketing and sales software, and now they're aiming to do the same in the customer service department with its offering called Service Hub. This platform includes several useful features that are essential for delivering great customer service, such as a shared inbox and a knowledge base builder.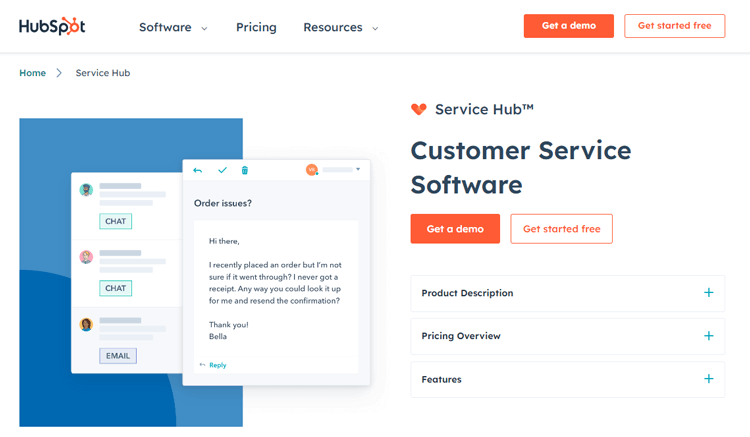 With these tools, businesses can ensure that their customers receive prompt and accurate responses to their inquiries. In addition, HubSpot Service Hub offers collaboration tools like internal notes and basic automation capabilities, allowing customer service teams to work efficiently and effectively.
Zendesk
When it comes to improving customer service operations, Zendesk is another standout choice among software solutions. This platform offers both basic and suite plans to cater to businesses of any size and need.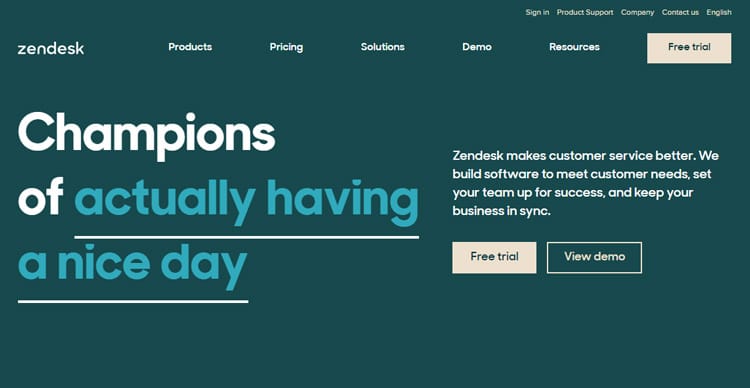 Setting up your account is a breeze with its intuitive interface, providing your team with the tools they need to deliver fast and efficient service. With Zendesk, you can free up time and resources to focus on what matters most, providing exceptional customer experiences.
Zendesk has everything you need to streamline your customer service operations, whether you need comprehensive email support or broad customization tools.

Frequently Asked Questions
What are chatbots, and how can they help scale customer support?
Chatbots are AI-powered softwate that can interact with customers in a conversational way. By using chatbots, you can automate some of the more routine customer service tasks, such as answering basic questions or providing information on order status.
Is hiring more support agents the best way to scale customer support?
Hiring more support agents can certainly help with scaling, but it's not always the most effective or efficient solution. Before hiring more agents, consider whether self-service options or automation could help reduce the workload.
Is outsourcing customer support a good option for scaling?
Outsourcing customer support can be a good option for scaling if done correctly. It allows you to access additional resources and expertise without having to hire and train additional in-house staff.
However, it's important to thoroughly vet potential providers to ensure they align with your business values and provide quality support. Additionally, proper communication and integration with your internal team are crucial for outsourcing to be effective.
Conclusion
Scaling customer support is crucial for any business that aims to grow and succeed. As companies expand their operations and attract more customers, they must prepare infrastructures that can accommodate surges in support inquiries. Fortunately, there are extremely effective ways how to scale customer support without sacrificing service quality.
From automating mundane tasks to optimizing your support channels and leveraging customer feedback, these strategies will save you time and money and enable you to provide stellar customer experiences. So why not start implementing these strategies today and watch your customer satisfaction ratings soar?