WordPress is one of the most popular content management systems, powering millions of websites worldwide. However, like any other platform, you may face some challenges when using WordPress. Whether it be resolving a technical issue or providing exceptional customer support to your clients, having a comprehensive guide on WordPress customer support is essential.
Thankfully, "what is WordPress customer support system: In-depth analysis" is here to provide you with the knowledge and expertise you need. This guide offers an in-depth analysis of WordPress customer support, providing you with all the tools and resources you need to enhance your customer support skills. 
With this guide, you'll be able to navigate through any customer support issue effectively, ensuring that your clients remain satisfied with your services. So, if you're looking to up your WordPress customer support game, look no further than this comprehensive guide.
Support Genix
WordPress Support Ticket Plugin
Take Your Customer Support to The Next Level and Boost Customer Satisfaction Rates
What is WordPress?
For those who are new to the world of website creation, WordPress can initially seem like a daunting platform to navigate. However, once you get the hang of it, you will quickly realize how user-friendly and customizable WordPress truly is. One of the biggest advantages of using WordPress is the level of support that is available to its users.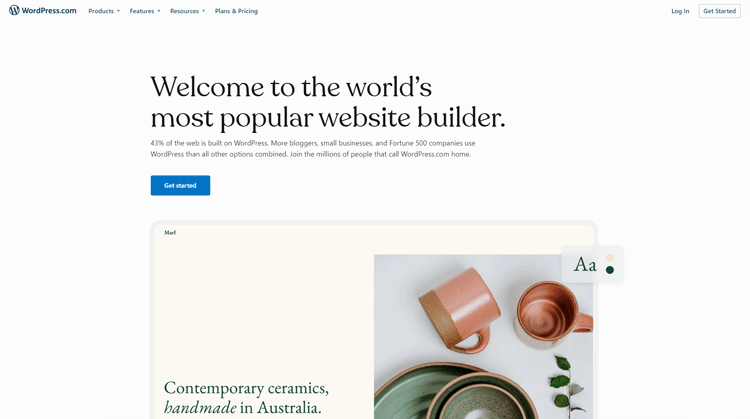 With a vast community of developers and designers, as well as a dedicated customer support team, those who are building their website on WordPress can rest assured that they have all the resources they need to create a high-quality and fully functional site.
Whether you need assistance with troubleshooting technical glitches or simply need some guidance on setting up your website, the WordPress customer support team is there to help.
Understanding WordPress Customer Support system
WordPress has been around for nearly two decades and has quickly become the go-to choice for millions of website owners worldwide.
With its user-friendly platform, customizable themes and plugins, and powerful content management system, it's no wonder why so many have turned to WordPress for their online presence.
However, like any platform, there may come a time when you need help. Thankfully, WordPress customer support is here to assist you with any questions or concerns you may have.
What does a WordPress customer support do?
WordPress customer support is a vital aspect of the platform's functionality, ensuring users get the most out of their experience. At its core, customer support for WordPress involves a team of dedicated experts who can answer any question you might have, from simple issues to complex problems.
This team exists to provide users with the help they need to troubleshoot any issues that arise, as well as provide advice on how to optimize their site's performance. Whether you are new to the platform or have been using it for years, WordPress customer support is a valuable resource that can help you overcome any challenge.
So, if you ever find yourself in need of assistance, reach out to the friendly and knowledgeable team of WordPress support professionals and get the help you need to succeed.
Why is customer support important for WordPress users?
Customer support is crucial for WordPress users for several reasons:
Technical Assistance: WordPress is a powerful but complex platform with various features and functionalities. Users often encounter technical issues or have questions about how to use certain features. Customer support provides them with the needed assistance to resolve their problems and navigate through the platform effectively.
Troubleshooting: Sometimes, users may face errors or bugs on their WordPress websites. Prompt and reliable customer support can help diagnose and fix these issues, ensuring smooth website performance and user experience.
Customization and Personalization: WordPress offers a wide range of themes, plugins, and customization options. However, not all users have the technical expertise to make these customizations themselves. Customer support can guide users in tailoring their websites to meet their specific needs, enhancing their online presence.
Updates and Security: WordPress regularly releases updates and security patches to protect websites from vulnerabilities. Customer support informs users about these updates and helps them implement them correctly, safeguarding their websites from potential threats.
Knowledge Sharing: Customer support teams are knowledgeable about WordPress and its ecosystem. They can provide valuable insights, tips, and best practices to users, helping them make the most out of the platform and optimize their websites.
User Feedback and Suggestions: Good customer support teams actively listen to user feedback and suggestions. They act as a bridge between users and the WordPress development community, ensuring that user concerns and ideas are heard and considered for future improvements.
Common Customer Support Issues Faced By WordPress Users
WordPress users often encounter various customer support issues. Here are some common ones:
WordPress Installation and Setup: Users may face difficulties installing and setting up WordPress on their hosting servers, such as database connection errors or incorrect file permissions.
Theme and Plugin Compatibility: WordPress offers a vast collection of themes and plugins, but not all of them are compatible with each other or with the latest version of WordPress. Users may experience issues like broken layouts, conflicts, or errors after installing themes or plugins.
Website Performance: Slow loading times, server errors, or performance issues can negatively impact user experience. Support may be required to optimize website performance, troubleshoot server-related issues, or suggest caching solutions.
Content Management: Users may need assistance with creating and organizing their content, setting up menus and navigation, or troubleshooting issues related to post or page editing.
Security Concerns: WordPress websites can be vulnerable to hacking attempts, malware infections, or other security breaches. Users may require support for implementing security measures, resolving security-related issues, or recovering compromised websites.
SEO and Website Visibility: Users might need guidance on optimizing their websites for search engines, configuring SEO plugins, or resolving issues that affect their website's visibility in search results.
Updates and Upgrades: WordPress regularly releases updates, including core updates, theme updates, and plugin updates. Users may face compatibility issues or encounter errors during update processes, requiring support to resolve them.
Payment and E-commerce: WordPress supports eCommerce functionality through plugins like WooCommerce. Users may need assistance with payment gateway integration, inventory management, or troubleshooting issues related to online transactions.
Backup and Restoration: Users may require help with setting up regular backups, restoring backups in case of data loss, or migrating their WordPress websites to new hosting environments.
General How-To and Guidance: Users may have general questions about using specific features, customizing their themes, or understanding WordPress functionality. Support can provide step-by-step instructions or point users to relevant resources.
Recommended Blog for You:
👉 How Can You Collect Customer Feedback: 7 Easy Strategies
👉 How Can You Create a Customer Persona?: A Step-by-Step Guide
👉 What Is a Service Level Agreement?: A Complete Guide
👉 How to Personalize Customer Experience- A Detailed Guide
👉 How to Handle Customer Complaints Effectively: Best Practices and Strategies
Best Practices for WordPress Customer Support
Responding to customer inquiries and complaints
When it comes to managing a WordPress website, effective customer support is crucial to keep your users happy and coming back for more. Your customer support team plays a vital role in addressing any inquiries or complaints from your customers, so it's essential to establish some best practices for handling these interactions. One vital aspect is to ensure timely responses to customers, no matter the nature of their requests.
Your customer support team should have access to all the necessary tools and resources to address customer queries efficiently. Regular training and upskilling can help your team stay updated with new trends and technology to improve your website's overall user experience. With the right approach, your team can turn even the most disgruntled customer into a loyal and satisfied user.
Providing timely and effective solutions
Timely and efficient response to customer queries is crucial in managing a thriving WordPress website. Customer support, particularly, plays a pivotal role in shaping your business's image. Incorporating a customer support ticket system can significantly enhance this process.
This system not only enables transparent communication and monitoring of customer problems but also aids in task distribution among team members based on their expertise. By swiftly resolving customer issues and providing apt solutions, you can foster a strong bond of trust and loyalty with your customers. Prioritizing customer support can eventually result in heightened customer contentment and retention.
Maintaining a positive and professional attitude
When it comes to WordPress customer support, maintaining a positive and professional attitude is paramount. Whether it's troubleshooting bugs or helping users optimize their websites, providing customer support can be challenging. However, by prioritizing kindness and a willingness to help, you can provide excellent customer service.
It may be helpful to have a list of frequently asked questions and common issues on hand, but make sure to listen to each user's unique concerns and needs. Remember, working in customer support means representing your company and fostering positive relationships with users. By providing a positive and professional attitude, you can build rapport with customers and help them find success with WordPress.
Going above and beyond for your clients
Providing exceptional customer support is a vital aspect of running any successful business, and that holds true for WordPress websites as well. As a platform that powers more than a third of the web, it's no surprise that providing effective WordPress customer support is a top priority for many website owners. However, simply providing basic support may not be enough to stand out from the competition.
Going above and beyond for your clients can not only improve their satisfaction with your service but can also lead to boost brand loyalty and positive word-of-mouth promotion. By offering personalized support, proactive communication, and quick response times, you can ensure that your WordPress customer support sets your business apart from the rest.
Responding to Customer Inquiries and Complaints
To provide the best customer experience possible, it's vital for WordPress Customer Support to respond to inquiries and complaints with active listening, empathy, and a willingness to ask the right questions. Clear and concise answers are equally important to ensure that customers understand and can implement solutions to their problems.
Following up with customers after their initial inquiry or complaint can help establish trust, build relationships, and provide helpful feedback. By implementing these best practices, WordPress Customer Support can create a thriving, supportive community of users who can continue to build on the platform's success for years to come.
Factors to consider when choosing a WordPress Customer Support System
When choosing a WordPress customer support service, there are several factors to consider:
Responsiveness and Availability: It is important to choose a customer support service that is responsive and available when you need assistance. Look for services that offer fast response times, 24/7 customer support, and multiple channels of communication, such as phone support, live chat,or email.
Expertise and Experience: Consider the expertise and experience of the customer support team. Look for services that have a knowledgeable team with experience in WordPress and related technologies. They should be able to handle a wide range of issues and provide effective solutions.
Range of Support Services: Assess the range of support services offered by the provider. Ensure that they can assist with various aspects of WordPress, including installation, setup, theme customization, plugin compatibility, security, performance optimization, SEO, backups, and updates. A comprehensive support service will be able to address all your needs.
Service Level Agreements (SLAs): Check if the support service offers any service level agreements in terms of response times, resolution times, or uptime guarantees. SLAs ensure that you receive timely and reliable support when you encounter issues.
Reputation and Reviews: Research the reputation and reviews of the customer support service. Look for feedback from other WordPress users to gauge their satisfaction level with the service. Check review sites, and social media platforms for unbiased opinions.
Pricing and Plans: Evaluate the pricing structure and plans offered by the customer support service. Consider whether they offer flexible payment options and scalable plans based on your needs. Compare prices with other providers to ensure you are getting a fair deal.
Documentation and Resources: Determine if the support service provides comprehensive documentation, tutorials, guides, and knowledge bases. Having access to self-help resources can be beneficial for resolving minor issues or acquiring additional knowledge.
Integration with Other Tools: If you use other tools or plugins with your WordPress website, check if the support service is familiar with those tools and can assist with any issues that may arise.
Customer Feedback and Satisfaction: Reach out to existing customers or look for testimonials to assess their satisfaction level with the support service. Positive feedback and high customer satisfaction indicate a reliable and trustworthy service.
Scalability and Growth: Consider whether the customer support service can accommodate your future needs as your WordPress website grows. Ensure they can handle increasing traffic, additional features, and evolving technical requirements.
Recommended Tools for WordPress Customer Support
Support Genix
As a business owner, you want to prioritize exceptional customer support to ensure the satisfaction of your clients. Unfortunately, managing customer requests and support-related issues can be time-consuming and overwhelming.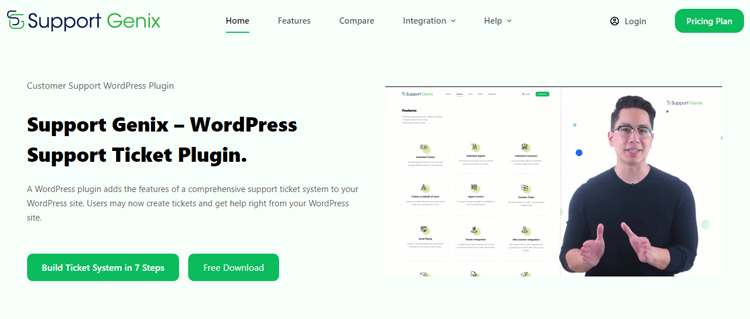 This is where Support Genix comes in. It's a powerful WordPress support ticket plugin that offers an easy-to-use solution for adding a comprehensive ticketing system to your website.
With Support Genix, you can streamline the support process, making it more efficient and effective.
Its ability to integrate seamlessly with WordPress Customer Support makes it an ideal solution for businesses that want to increase their overall customer experience. By using Support Genix, you'll be able to manage customer requests while prioritizing exceptional customer service effectively.
Key Features
Unlimited Tickets
Unlimited Agents
Unlimited Customers
Tickets on Behalf of Users
Easy Email Handling
Elite Licenser Integration
Webhook
Pricing–
Yearly plan-
Personal for $59 (1 website)
Developer for $99 (5 websites)
Agency for $149 (100 websites)
Lifetime Plan-
Personal for $99 (1 website)
Developer for $199 (5 websites)
Agency for $399 (100 websites)
LiveAgent
If you're in a business that utilizes WordPress for your business website, it's essential to have a customer support system in place to assist users with their inquiries. That's where LiveAgent comes in. This user-friendly solution is perfect for managing customer support inquiries and is specifically designed to integrate with WordPress.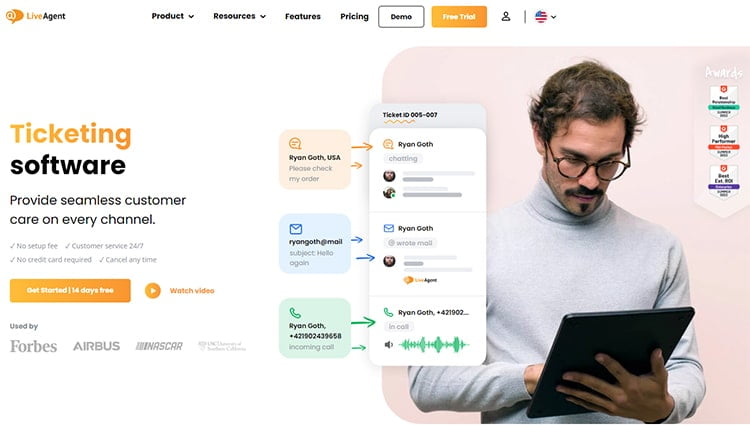 With its sophisticated suite of software solutions, including ticketing, CRM, accounting, and social networking, LiveAgent has everything you need to improve your customer service process. Even team members with little technical expertise can utilize this powerful tool thanks to its intuitive interface.
With LiveAgent's live chat software, you can connect with your customers in real-time, replaying their questions and resolving their issues quickly and efficiently. So, if you're looking for a reliable solution to improve your WordPress customer support, LiveAgent is the way to go.
Key Features
Agent Collision Detection
Agent Ranking
Automated Ticket Distribution
Canned Message
Contact Form Gallery
Email Forwarding
Pricing
Small: $9/agent
Medium: $29/agent
Large: $49/agent
Enterprise: $69/agent
👉Check The Benefits of Personalized Customer Experience: Enhancing Satisfaction, Loyalty, and Success
Zendesk
Zendesk is a powerful solution for businesses seeking to enhance their customer service capabilities. This plugin lets you integrate your helpdesk, powered by Zendesk, directly into your WordPress site or blog.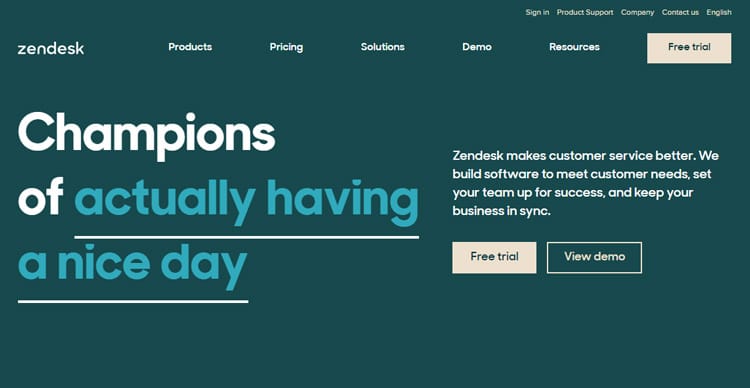 Furthermore, Zendesk provides effective tools for managing customer service interactions. It enables businesses to streamline their support processes by automating certain tasks and providing multiple communication channels.
Moreover, the plugin features a customizable support ticket form, which can be created and activated using WPForms. This feature gives businesses the ability to take a conversation offline and escalate any questions or problems to an agent in the company.
Key Features
Zendesk Support
Zendesk Support Suite
Zendesk Chat
Zendesk Explore
Zendesk Guide
Zendesk Sell
Zendesk Gather
Zendesk Sales Suite
Pricing Plan:
Annual
Suite Team: $55 per agent/month
Suite Growth: $89 per agent/month
Suite Professional: $115 per agent/month
Monthly
Suite Team: $69 per agent/month
Suite Growth: $115 per agent/month
Suite Professional: $149 per agent/month
👉Check Difference Between Customer Service and Customer Experience: The Complete Guide
SupportCandy
Support Candy is a top-tier ticketing software that stands out among the many options available to WordPress users. It offers an intuitive ticketing system, a comprehensive FAQ, and helpful live chat capabilities.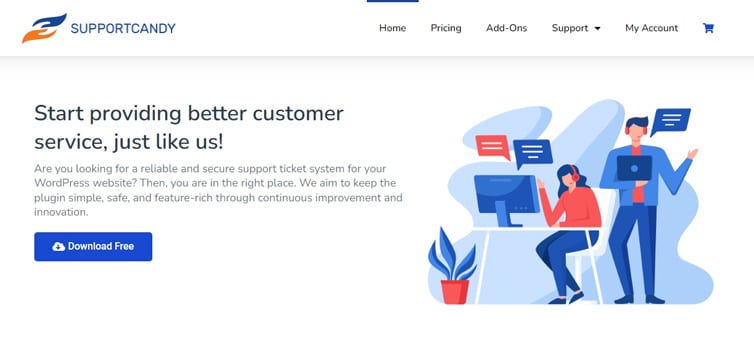 Its user-friendly interface, comprehensive features, and seamless integration with your WordPress site make it an ideal solution for businesses of all sizes.
Whether you're a business seeking to improve your customer support experience or an individual looking for an easy way to manage your queries, Support Candy's ticket plugin offers a wealth of user-focused features.
From creating your tickets to real-time notifications of critical changes, it's never been easier to manage your WordPress customer support.
Key Features
Unlimited number of tickets
Unlimited number of agents
Advanced custom filter and search functionality
Saved filters for customers and agents
Private notes for internal communication of agents
Agents can create a ticket on the customer's behalf
Pricing
Yearly
Personal: $79
Professional: $179
Agency: $299
Lifetime
Personal: $249
Professional: $499
Agency: $999
👉Check What is an IT Ticketing System? A Comprehensive Guide
Awesome Support
WordPress customer support just got better with Awesome Support, the best helpdesk plugin for WordPress. With this plugin, you can make customer support a breeze from within your WordPress site. One of the standout features is its complete ticket history, where every action ever taken on every ticket is logged, giving you complete control.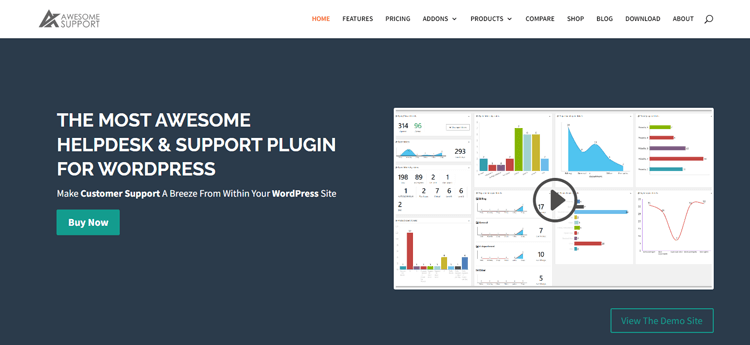 Additionally, customizable email notifications let you trigger automatic emails on 6 key events, such as tickets, tickets replied etc. All text and graphics are entirely within your control, and you can even get more email options and events with their premium add-ons.
Automatic agent assignment further simplifies the process, assigning tickets to the agent with the least number of open tickets. For even more sophisticated ticket routing, you can use their smart-agent add-on. Say goodbye to the headache of customer support with Awesome Support.
Key Features:
Custom Field
Automatic Agent Assignment
Complete Ticket History
Time Tracking
Pricing
Standard: $149/year
Pro: $229/year
Enterprise: $289/year
Agency: $409/year
👉Check 10 Top Tips for Better Customer Support
Support Genix
WordPress Support Ticket Plugin
Take Your Customer Support to The Next Level and Boost Customer Satisfaction Rates
Frequently Asked Question
Does WordPress offer customer support?
Yes, WordPress does offer customer support options. While WordPress.com, the hosted version of WordPress, does not provide phone support, they offer support through live chat, help guides, forums, and their website contact form. Users can visit the WordPress.com support page to access these resources and get assistance with their questions or issues.
Can I hire someone to make my WordPress website?
Absolutely! Hiring a professional to build your WordPress website is a smart move. It ensures a polished and functional site tailored to your needs, saving you time and potential headaches. Look for a skilled web developer or a reputable agency with experience in WordPress to bring your vision to life.
How do I contact WordPress support?
To contact WordPress support, options vary based on your usage. If you're self-hosted, utilize the WordPress Support Forum, a community of users and developers. WordPress.com users can access dedicated email and live chat support, along with the WordPress.com Help Center.
For plugin or theme-related problems, visit the respective developer's site or forums. General inquiries find answers in the WordPress Codex, online blog posts, and tutorials. When reaching out to support, articulate your issue clearly, practice patience, and feel free to follow up if needed.
Final Thoughts on WordPress Customer Support
In concluding our analysis of WordPress customer support system, it's evident that its quality profoundly impacts user experience. Access to reliable assistance, encompassing robust resources and skilled, responsive support agents, is paramount.
A well-maintained knowledge base and active community forums empower users for independent issue resolution. Beyond technical proficiency, effective communication and a customer-centric company culture are vital.
Regardless of expertise, selecting the right support channels is crucial for users to navigate challenges and maximize their WordPress websites' potential. Ongoing commitment to improvement ensures WordPress remains a user-friendly and empowering platform.